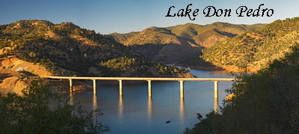 LA GRANGE, Ca. - As low-water conditions on most of northern California's reservoirs wreck havoc with the scheduled plans of tournament organizations big and small, Future Pro Tour anglers preparing for the final event of the 2008 season would be wise to ignore the current banter regarding the change of venues, and concentrate on the serious task that lies before them. And that is, how to catch a good limit of bass on Lake Don Pedro in the early fall.
For conquering fear and apprehension of the unknown is and will always be, an integral part of the mental training required for novice, intermediate and advanced level bass anglers who desire to improve upon their overall skills and become more competitive. Anglers serious about competitive angling have to accept conditions and unexpected "wildcards" such as venue changes as just part of the game, as NOTHING when it comes to bass fishing is ever guaranteed.
In last Friday's pre-registration seminar at C&C Marine, 2-time B.A.S.S champion, Ish Monroe emphasized this point, as he explained to FPT anglers in attendance, how he, needing a top 45 finish in the event to qualify for the 2008 Bassmaster Classic, was two fish shy of a limit with fifteen minutes left to go during the B.A.S.S. Elite Series event on Lake Onedia. His unfamiliarity with the lake notwithstanding, Ish overcame his deficit by focusing on the task at hand – and not the difficulty, catching two big Snag proof frog fish with just minutes left to go, securing his berth in the 2008 Bassmaster Classic.
And Monroe's experience is no different than what many FPT anglers – both north and central regions - may face in this all-important event to be held at Lake Don Pedro on Oct 11th. Yes, it is fall. And yes, the bite on Don Pedro can be tough. But you know what happens to real competitors when the going gets tough….
I don't think it's necessary to have to finish that line for you.
The good news is that Don Pedro is a massive impoundment with a healthy population of gigantic large mouth bass and more broad shouldered small mouth bass than you can shake a stick at, which by the way, have not just mysteriously evaporated with the water. They are still in the lake and you simply have to find them.
And those that find them will not only leave the event with a nice wad of cash due to a payout that will be based on the anticipated field of two-hundred teams, but will also come that much closer to a possible qualifying berth into the 2008 Future Pro Tour Classic - the most prestigious amateur level championship event in the western United States.
At stake besides the title as best amateur team in the west, are the keys to a brand new Ranger 188vx powered by an Evinrude 150 E-Tec, Minn Kota Pro Maxx 101, Humminbird electronics, with NAVIONICS mapping, all rigged by Capitol City Marine of Citrus Heights. A package is valued at over $35,000.
Many of the FPT northern region anglers have never seen Lake Don Pedro, yet alone fished it, which will serve to level out the playing field, and requires those desiring to do well to fully apply themselves to the task at hand.
"I haven't fished Lake Don Pedro in over 15 years," stated Corky Williams, a Roseville resident who currently sits right on the northern region's classic qualifying bubble in 44th place. Partner Mike Yee and I are simply going to have to approach this event focused, where we formulate the best game plan we can…and stick to it."
"We just have to make the Classic event," stated the team of Mike Markham and Travis Moran, who posted a disappointing finish at this month's Lake Sonoma event and falling several slots down in the points race for a FPT Classic berth. We missed last year's Classic by a very narrow margin and had to bear the anguish of following the results from home…and you can bet that WILL NOT happen this year," they added confidently.
Many central valley anglers new to the Future Pro Tour, who are unaware of all the fun and excitement generated by the presence of the special guests invited to the Classic celebration such as guest speakers Gary Dobyns, Ish Monroe, Mark Crutcher, Jimmy Reese and others, are extremely optimistic about their chances in the upcoming Pedro event, and look forward to a chance at attending an event that gives them the opportunity to be crowned the best team in the west.
"This has been a long grueling year for us, and making the FPT Classic will truly help us feel the effort we put forth was worth it," stated Nelson Fowlkes of Fresno, who fishes with partner Dennis Bingham of Madera California. I don't know where else you can find this level of diverse competition, educational support, media coverage and overall value for your tournament dollar….which is exactly why we chose to fish this Tour."
Angler of the Year races
The chase for the Angler of the Year title – in both regions, is exciting as well. In the northern region, virtual new comers Jose Soto and Michael Nunez of Santa Rosa, made good use of their "home lake advantage" in last week's Sonoma event, and fortified their lead for a title that measures a teams overall consistency. Jose has lots to prove as he started fishing competitively only three years ago in the Tour's small boat division, moving to the big boat division as his skill levels increased.
Confident in his abilities, he joined up with Michael Nunez in 2008, and together, they have proven their combined strength with each passing event.
But Jose and Michael had better hold on to the ball. For right behind them, poised and ready to take possession of the coveted AOY title is the team of John and Ed Zinda, who sit a mere six points out of striking distance. For John, capturing the title has become a personal quest, as he still remembers in anguish, losing the AOY title after being 25 points ahead of the pack, going into the last event on his home water at the California delta, where all he and his partner had to do was catch a few fish to win the 2005 title. Needless to say, they got bit by the "home lake" jinx, bringing in only one tiny keeper, and losing the 2005 AOY title to Norm and Lucas Boden by just one point.
And Don Pedro, a lake that neither these teams has ever fished, is the perfect battle ground to see who is the best.
In the central valley race, Albert and Albert Azevedo Jr. of Turlock, know they have their work cut out for them as they attempt to be the fifth father and son team in the Future Pro Tour's six-year history to be named anglers of the year. In last weeks New Melones event Albert and Al Jr. made a poor showing, and were overtaken in the point's race by perennial favorites Mike Martinez and Tommy Reyes of Fresno.
Tommy and Mike have had an outstanding year, and after capturing their first FPT title at Lake Comanche in May, seem to have found their stride capturing two top five finishes since that win. All I can say is that this race is also too close to call.
For those of you that wish to gain an edge for this event, don't forget that we will host our traditional pre-registration seminar at C&C Marine in Modesto the Friday before the event, featuring the best pro anglers in the west sharing tips on how to catch Pedro bass in the fall. Past speakers have included Ish Monroe, Don Payne, Mike O'Shea, Bub Tosh, and Jeff Huth, who all know how to pattern fish in the early fall, and for this event we will have a stellar line up of west's top pros.
All are invited to this seminar – even if you do not fish FPT events, and there will be a great BBQ, and raffle for premium product, with special gifts for all kids that attend.
Late registration will be taken from 4 to 7am the morning of the event at Fleming Meadows with a safe-light blastoff ensuing. For those of you that have never fished a Future Pro Tour event…this is your chance to get in on all the fun and excitement of fishing in a big field for a low entry fee of only $90. Limited memberships of just $5 per angler will be available for those that want to try us out…so what are you waiting for?...sign up today and get in on all of the fun to be had at this last event of the season!
So get ready central valley….as the Future Pro Tour comes to Lake Don Pedro, a fertile battle ground that will determine angler of the year titles, classic berths, and test the resolve of the west's best amateur anglers.
See you all there! FPT www.futureprotour.net (916) 768-0938