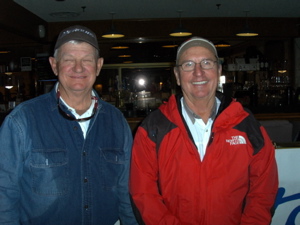 Callville Bay, NV – With the forecast of thundershowers in the early morning hours, fairly clear sky greeted anglers at Lake Mead as 22 teams blasted off from Callville Bay Marina. By 7:30 the skies opened dropped a deluge on the lake. After several weeks of poor fishing, the rain turned on the bite.
Last tournaments winner, Pat Donoho and Bob Ellis used the rain and the changing pattern to their advantage. Only catching five fish Donoho and Ellis made the most of it by bring in a kicker to top off their limit. Being on a roll winning their third tournament in four weeks, a cold and soaked Donoho and Ellis weighed in 9.89 lbs. with their hefty kicker weighing 3.67 lbs. For their efforts Donoho and Ellis had a $1792 payday.
Our second place team is new to our circuit this year. The team of Stephen Camden and Moses Mokuahi were fishing their first tournament of the year. Having survived the downpour they had a great day fishing. They weighed in one of nine five fish limits of the day for a total of 9.85 lbs. and big fish of 2.15 lbs. to finish just .04 pounds behind the winners.
The team of Matt Warner and Jesse Milicevic is one of our long standing teams finished in third. After a slow start this year Warner and Milicevic turned it on and had four fish in the live well by 9:30. During the height of the thunderstorm Milicevic picked up his rod when it started to vibrate. Because of the lightning in the area he decided to put the rod down and wait for the lightning to subside. After a short wait Jesse picked up a second rod and was zapped. Fortunately for Jesse it was only static electricity and not lightning. Warner and Milicevic brought another nine pound limit that top the scales at 9.67 lbs. and big fish at 2.43 lbs.
Coming in fourth place was another new team. Joining us for the first time was a team familiar to our San Diego anglers. The young team of Klayton Belden and Wade Strelic braved elements to drive up from El Cajon to fish our tournament. Leaving a rainy Southern California, to fish in even heavier rain in Nevada, took a lot of guts from the So. Cal. youth. All their efforts paid off as they brought another nine pound limit in to weigh. Weighing a bag of five bass they end up less than a pound from the top spot with a total of 9.45 lbs. and big fish of 2.35 lbs.
Rounding out the top five was former Anglers of the Year Marc Knudsen and Ron Walls. Having only finished in the top five once this year Knudsen and Walls were looking to move up in the standing. After spending the day soaked to the bone they came in with a limit that tipped the scales at 9.28 lbs. with a big bass of 2.20 lbs. Knudsen and Walls had the final nine pound sack of the day.
After several weeks of slow fishing the weather seemed to be the turning point for the anglers. Last week a tournament was held on Lake Mead where eight of the 13 teams failed to catch any fish, while the other five only managed to limits for the day.
Thanks to our National Sponsors, Nitro Boats, Mercury Marine, MotorGuide, Lowrance Electronics, Plano and all of our other sponsors.
Thanks to our local sponsors Stoney's Rockin Country and North Forty, Blue Ribbon Trophies, that provides our big bass trophy, GEST Properties the official lodging for WON Bass Nevada including the Microtel Hotel in Las Vegas, Hawthorn Inn and Suites in Henderson, where we hold our sign ups, and the Falcon Ridge Hotel in Mesquite Nevada, Phillips Fishing Products and West Coast Fund Raising. We would like to thank Callville Bay and Forever Resorts for there continued help and support of the WON Bass Nevada Team Circuit.
A special thanks to all of our new teams this year. With more interest from other angler has been a turning point for the circuit. WON Bass Nevada has always had some of the best anglers of any circuit, but with the addition of our new teams the circuit has become even a more competitive. Thanks to the teams of Yamagata & Yamagata, Naugle & Van Reil, Thompson & Varnado, Hilton & Luby, E. Stumpf & Vermilyer, Devlin & Kunkle, Cowan & Hemsley, Bosarth & Bosarth, Powers & Powers, Clay & Kirkwood, Piacenza with Clark and Montez, Clouse & Leon, Snyder & Zamora, Camden & Mokuahi, Belden & Strelic, and Billmaier & Kolender.
Finally to my staff, Terri and Mike Helm, Danny Branscum and Troy Duncan without whose help would make it impossible to put on our circuit.
Our next tournament is at Lake Mohave at Cottonwood Cove on March 7 and a second tournament on March 8. On March 7th after the weigh in WON Bass Nevada will be hosting a "Pot Luck" dinner at the Cottonwood Cove campground with the help of Dwayne Kurr and Ken Radke. We will be having deep fried turkey, salads, fruit and veggies. All of our anglers and their families are invited to attend. Please let me know if you will attend and what you would like to bring. Bring something is not required. We expect around 30 to 40 people. You can call me at 714 580-7261 or e-mail me at info@wonbassnevada.com.
Friday night sign ups will be in my motel room beginning at 5:30 pm. See you all there.
Larry Duncan
Tournament Director