Hello, my name is Mike and I am a dropshot-aholic! I love everything about drop shotting and there isn't a day that I am on the water that I don't have a dropshot rigged up on one of my rods. Dropshotting to me is the absolute pinnacle of finesse fishing. I love this technique so much that I only have 5
Plano boxes
dedicated just to drop shot fishing, but as much as I like this technique I do have one pet peeve about the dropshot rig. It's the simple fact that the drop shot rig is one of the most difficult rigs to store for transport on your rod and reel.
For the last two years I have been going to ICAST and have talked to not only numerous rod builders but also several CEO's of many blank and rod manufacturers about a drop shot keeper solution. They all say the same thing. They haven't found anything that is practical and if I ever find something to let them know about it.
Personally, I have tried it all. I have hooked the dropshot hook on a rod guide and slipped a rubber band on my rod just in front of my reel and just inserted the dropshot weight under the rubber band. To me that just looks tacky and I thought to myself that there just has to be a better way than this. For just a second, I thought the Kistler hook keeper was going to be the bomb but I was again disappointed. Although the Kistler keeper is a great keeper idea, when the dropshot weight was locked into that little keeper the weight would rub against the carpet and even during a very calm boat ride a wave or even a gentle wake would dislodge the weight and cause a tangle among all of my rods on the front deck of my boat. One other method that I stuck with using for a year or so was to take the dropshot hook and thread it through the opening in the drop shot weight swivel and then put the hook onto a rod guide. This method still gave me a loop of line dangling and it frequently got caught up in the treble hooks on my Lucky Craft jerkbaits. However, that method was probably the best of all of my unsuccessful attempts to solve this worldwide crisis. I've tried numerous other ways to solve this dilemma and I finally just gave up and just wrote the dropshot keeper idea off as the 9th wonder of the world that has yet to been solved, at least not efficiently. I wanted something small, and more importantly simple and versatile that will work with not only the dropshot rig but also with other types of baits as well.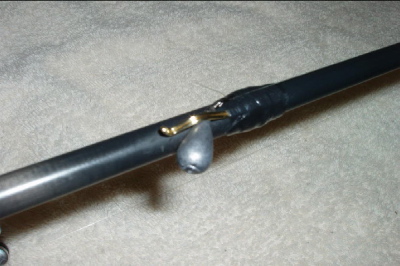 A Quick Drop dropshot weight being secured by Reel Time Designs' new Drop Shot Weight Keeper System PROBLEM SOLVED!!!
I wish I could say that I solved this giant mystery. In fact the idea is so simple and efficient you might kick yourself when you see it. Reel Time Designs' out of New Jersey has solved the drop shot problem. Both Steve Kokai and Diane Johnson of Real Time Designs' have spent a good bit of time on their very unique Drop Shot keeper. In fact, my good friend Russ Comeaux of Bassdozer.com fame has stated that this new dropshot keeper design is "Potentially one of the best answers to the hook keeper conundrum I've ever seen… It could set a new industry standard." And you know what? I don't doubt this statement one bit.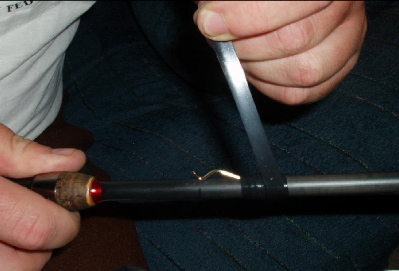 Stretching the silicone tape will help secure the dropshot keeper in place
The drop shot keeper is made out of stainless steel and is gold plated. Not only will this keeper handle a drop shot rig but it will accommodate any other type of bait as well. One unique thing about this keeper is that you don't have to unrig your texas rig plastics to put it on the keeper, which will help prolong the life of your plastics and prevent timely re rigging. The keeper can also handle baits as small as a 1/8th oz dropshot sinker all the way to a jumbo-sized swimbait. The good thing about this new keeper is you don't necessarily need a rod builder to install the keeper. With every keeper comes an adequate supply of silicone tape to allow you to manually put the keeper on your rod in only a matter of seconds. The tape is not a sticky substance but it does allow you to secure your keeper anywhere on your rod by stretching

A multitude of different lures will work with this new Keeper System
the silicone tape and wrapping it tightly around the base of the keeper to hold it in place. The tape is waterproof, heat resistant, gas and oil proof and it can withstand 700psi, 500 degrees of heat and down to 0 degrees of cold. In other words it's "bomb proof". This keeper is currently being used on Rogue's line of rods and I suspect it will become a mainstay not only on a lot of custom rods, but also on several other major and minor rod manufacturers as well. Retail for the drop shot keeper is $2.75 each, 2 for $5.00 or 3 for $7.75 and they are available now for sale at http://reeltimedesigns.com/. Be on the lookout on September 17th at 9am the Drop Shot Keeper will be featured on ESPN2's Bass Tech TV show.