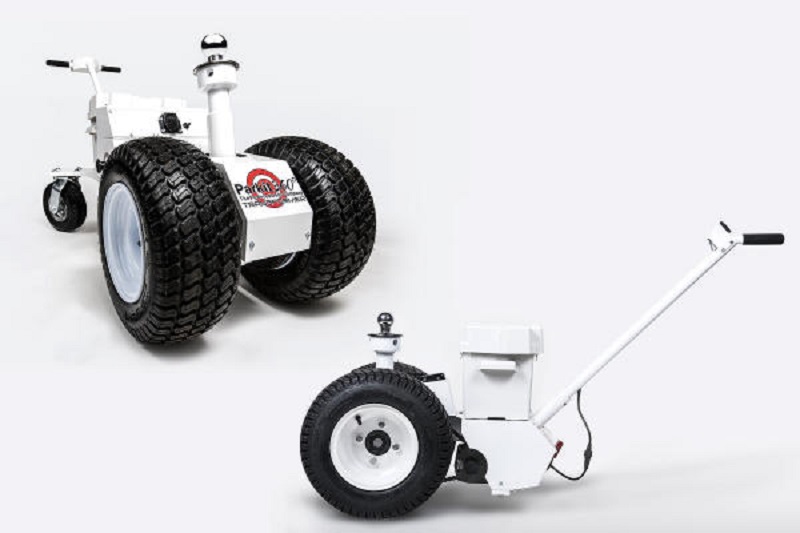 For many boat, RV and UTV owners, autumn means putting the toys away for the season. Because they'll be in storage for months, most people want their trailers tucked out of the way. But backing and steering them can be difficult to do without damaging something, so they often end up on a driveway. With Parkit360's line of rechargeable electric trailer dollies, a single person can move up to 15,000 lbs. with absolute ease, maneuvering around obstacles and tight corners. And because it can be parked tongue-end in, it's an incredible theft deterrent.
Parkit360 makes three versions of its trailer dolly. The Force 5K and Force 10K move 5,000 lbs. and 10,000 lbs., respectively, and accommodate a 900 lb. tongue weight. The massively powerful Transformer 15K muscles 15,000 lbs. with a 2,200 lb. tongue weight. But for all their brawn, they're light and compact—about the size and weight of a lawnmower.
The power of a Parkit360 trailer dolly comes from its robust Bosch electric motor and planetary gearing. Wide tires provide extreme traction, moving the trailer over varied terrain and up slight grades. It runs off a 12V battery, either onboard or from the boat or RV with the included 80" connection cable, and has a voltage meter and a built-in charger.
The magic of a Parkit360 electric trailer dolly is how easy it is to use. Once secured to the included ball using the company's innovative StableloC Technology, it's simply a matter of steering. A thumb toggle provides forward and reverse. If the trailer has electric or surge brakes, Smart Brakes apply whenever the switch is in neutral.
Jackknifing is nearly impossible with the Parkit360. Because the operator is facing the trailer and so close, it can be maneuvered within inches of trees, rocks and buildings. The Transformer 15K comes with a remote, making steering effortless. A video is at bit.ly/2hOhrDJ.
Parkit360 electric trailer dollies come with a two-year warranty. They start at $1,200, with online pricing commonly available.
Contact Parkit360, 130 Industrial Ave. Unit 600, Carleton Place, ON, Canada K7C 3T2. Toll-free 888-926-5517. sales@parkit360.com, www.parkit360.com.