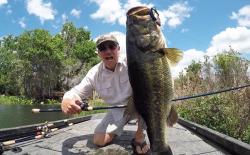 An 11-8 on the 8' 11"

Account of 11-1/2-pound bass caught while testing St. Croix's Legend Tournament Bass 8'11" Flippin'/Punchin' rod

By Joe Balog

As the wind picked up, I knew it was time to head toward the ramp. While the small lake was incapable of getting dangerously rough, afternoon thunderstorms aren't something you want to mess with in Florida…and the sky looked like it had potential. Besides, the day had already been a solid success.

My goal was to test a few of St. Croix's new Legend Tournament Bass series of long rods – sticks measuring up to 9' 11'', designed to increase the efficiency of specialized bass fishing techniques like punchin' and cranking. A junky for matted vegetation, I immediately keyed into two of the heavier models, and rigged them for a day of flippin' the thick stuff.

Throughout the morning, I'd caught several decent fish to about five-pounds, and found the rods up to the job for pulling fish from Florida's thickest hydrilla and floating mud mats.

Little did I know that the real test still lay ahead...

I grabbed the 8'11" Legend Tournament Bass Flippin' / Punchin' model (LBC811HMF), and pushed into the wind a little harder, determined to hit one more gnarly pile of vegetation on my way to the truck. The long pitch didn't immediately penetrate the mat, but a jiggle of the rod tip quickly sent the one-ounce weight through, a Zoom Z-Hog, pinned to a heavy VMC Flippin' hook, trailing behind.

I quickly pumped the bait once, ready to pull it from its lair and send it to the next likely spot. A subtle thump triggered a reaction hookset.

Immediately, I saw the fish. At that point, I vividly remember saying: "Look at this one!", although I was the only person in the boat, or on the lake for that matter. I knew it was the fish of the day, but had yet to recognize it as the catch of a lifetime.

Once hooked, the big bass pulled hard and got back under the floating mat. I tried to balance pulling back hard enough to bring it out, but not so hard as to possibly tear the hook free. It's been my experience that most giant bass that are lost flipping with heavy braided line come off as a result of pulling too hard, rather than the other way around. This time, however, I was equipped with a rod that walked that delicate line perfectly, blending taper and power through it's massive, nine-foot frame.

Once back out of the mat, the fish dove into heavy hydrilla, and then pulled beneath my boat. Going down on my knees, I again tried to apply just enough pressure. Over and over, I remember thinking: "How in the world is this fish NOT going to come off…"

Once she came out of the grass, the big bass again made a move for the mat. I eased back a bit and just held on to her.

For the most part, giant Florida bass usually don't fight abnormally hard. In fact, they can often be subdued rather quickly, if grabbed before they know what hit 'em. This fish, however, was an exception. After what seemed like an eternity, I finally had the fish next to the boat.

As I laid down on the deck and reached for the fish's mouth, I began to realize just how special this bass was. Lying on my stomach, I immediately got my hand in her mouth, but then found that I simply couldn't lift her over the gunnels from the awkward angle. The fish was so big, so long in fact, that I couldn't lift my arm high enough for her to clear the side of the boat.

I reached out with my left hand, grabbed her tail, and got her onboard. Reaction took over as I immediately moved the fish to my chemically-treated livewell, and turned on the bubbler. The only thing better than catching the bass of al lifetime is releasing one alive.

I was really shaking as I broke out my scale and measuring tape. A post-spawn monster, the amazing bass was nearly twenty-nine inches long, weighing an even 11-1/2 pounds. A few months prior, she probably would have tipped the scales well into the teens.

After measuring her, I again placed the magnificent fish back in the livewell, regained my composure, and got her out for a quick video. After a big kiss, she went back home.

I noted the time, location and cover-type for my records, and began to troll away. Then, nearly twenty yards from the lunker's lair, I saw her again, swimming next to the boat. In no apparent hurry, she swam out to deeper, open water to recuperate. It was as if somewhere, somebody wanted me to see that fish again, in her natural beauty.

The bass had given me, and my prototype rod, the ultimate test. While I'll claim nothing but luck for my performance, the rod can whole-heartedly claim engineering perfection.