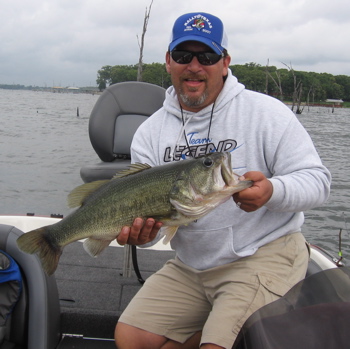 Meet Pure Fishing's newest fishing rods in both design and technology. "The Fenwick® ELITE TECH rods are the PERFECT Fishing Rods"- says Hank Parker.
As one of the worlds premier rod builders, Fenwick® challenged their Senior Engineers and Elite Pros to think outside the box, and to design and produce the finest fishing rods ever built, and they overdelivered. They not only built some of the the finest fishing rods made, but they built one to perfectly meet the specific technical needs of each and every fishing technique.
Whether you pitch, flip, crank, drop shot, jerk, skip, stroke, jig, worm, carolina rig, spinnerbait, swim bait, or fish frog baits, Fenwick® has built the PERFECT rod to meet your specific need.
Each model is designed with unique components to provide maximum performance. Special handles were designed for each fishing application, and the blanks and guides are tuned for maximum strength and sensitivity.
RIGGIN'STIK - Spinning or Casting Rod
Carolina rigging is probably the most often used open water technique available. 3 Models, 2 Casting and a spinning are required to cover all needs from long distance casts, to ultra sensitivity for lighter bites.
Specially designed to combine sensitivity and durability make these high performance rods, yet they can stand up to the riggers of tournament fishing. There is nothing worse than having your equipment fail just when you are going for the big win. It has taken many years of development by Fenwick® to perfect this balance resulting in these Fenwick® Elite Tech RIGGIN' STIKS.
CrankShaft - Casting Rod
These crankbait fishing rods have been designed feature by feature to be the best tool available for the competitive crankbait angler. 3 Models for every power requirement, type of line and bait combination.
The unprecedented combination of carbon and glass fiber in the blank produce a long casting super delay action. Super delay helps prevent over reaction when jerking the crankbait away from an attacking fish. A secure trigger butt cap improves the power input to the rod for long distance casting. Extremely durable guides and secure lock reel seats round out these high performance Elite Tech CRANKSHAFT rods.
Flippin' Stik - Casting Rod
With the Elite Tech FLIPPIN' STIK, every aspect of the flippin rod has been improved for increased success when fishing competitions.
Flipping for an entire tournament without a balanced, comfortable, light weight, power storing Flippin' Stik can discourage even the hardy pro-angler. This super light and super strong Flippin' Stik is available in 7'6" and 7'11" lengths, and feature the Fuji handle balancing system for outstanding balance. The heavy duty Texas Rigged hook-keeper design saves time and energy when safely stashing your rod. Fenwick® Elite Tech Flippin' Stik will rock your flippin world!
Skippin' Special - Spinning Rod
The bait skipping technique requires extreme accuracy. This is achieved by using special blank materials, and fiber orientation methods. The Elite Tech SKIPPIN' SPECIAL rod blank has reduced spine to allow "low to the water" casting techniques. Forehand, backhand, or underhand cast in any position to consistently place the bait into difficult fish holding zones on every cast.
Jerkin' Stik - Spinning Rod
The accuracy of the cadence for jerk bait fishing requires a balanced tip and backbone blank action. Special blank making materials and constructions are combined to achieve ultimate balance and strength in the Elite Tech JERKIN' STIK rod. Featuring Fenwick® secure lock real seats, Fuji lightweight guides, time saving components such as special color coded cosmetics, and a time saving hookkeeper for Texas Rigs and jerk bait techniques. Perfect tools create much better opportunities to catch the winning bag of fish.
Pitchin' Stik - Casting Rod
Balance, accuracy, light weight, and sensitivity are the attributes that the highest performance pitching rods must have. With the Elite Tech PITCHIN' STIK, these attributes along with Fenwick® sensitive secure lock reel seat and Fuji light weight guides give the angling competitor a better chance to win. The Texas rig bait hook-keeper provides a time saving advantage when quickly moving to the next hot spot. A unique PS icon on the handle makes it easy to identify this rod when switching rods in a hurry during competition.
Strokin' Stik - Casting Rod
The stroking technique benefits from a special blank design that makes the tip rebound, then dampens quickly allowing the competitive angler more strokes per minute. Pro's know more strokes, like more casts, improve the chances to win. Soft touch paint on the back blank section of the rod reduces wear on an angler hands, resulting in less fatigue. This rod is cosmetically easy to identify when switching rods in a hurry, with a unique SS icon on the butt cap. The Texas rigged bait hook-keeper saves time re-rigging.
Target/Spinnerbait - Casting Rod
The blank of the Elite Tech TARGET/SPINNERBAIT rods are designed to give a 60/40 action with moderate delay for sight fishing. This feature improves the chance to hook-up on a fish when angler reaction time is too quick. The 60/40 action is also the most controllable Target casting blank available anywhere. These are perfectly balanced rods with shorter handles for cadence fishing techniques. 3 models to fit all line power and bait choices used by most tournament anglers. Elite Tech TARGET/SPINNERBAIT SPECIAL rods are one of the most innovative rods ever developed.
Swimbait - Casting Rod
Competitive anglers know that speed control is the key to successful swimbait presentations. This 7'9" heavy Elite Tech SWIMBAIT rod with a fast tip is an exact combination of action, length, and handle components to precisely control swimbaits. With the control over the swimbait technique, an angler who uses this rod will have a serious advantage. This Swimbait Special rod was mastered from many years of collecting data points from tournament anglers.
Froggin' Stik - Casting Rod
Working a frog pattern can be productive and demanding on the tournament angler. In order to improve the performance of the frog swimming technique you need an ultra high power rod that is perfectly balanced, and light weight enough to fish frogs and land fish from the slop all day. Those characteristics combined with super sensitive Fuji guides, and the Fenwick® sensitive secure reel seat make up this specially designed Elite Tech FROGGIN' STIK rod.
Drop Shot - Spinning Rod
Extremely light weight and sensitive rods for the dropshot technique. Elite Tech DROP SHOT rods feature an innovative composite hollow bell fore grip that amplifies the softest touch of the bait.
This rod series presents the lightest most durable guides on the planet. Recoil guides are being used for flexibility, sensitivity, improving casting distance, and zero corrosion. The DROPSHOT rods also feature a split grip to reduce weight, provide exceptionable balance, and increase sensitivity. Elite Tech DROP SHOT rods are the PERFECT drop shot fishing rod.
Fenwick® ELITE TECH rods are truly perfect fishing rods for every fishing application.