Fishing News from Arizona This Week
It's winter trout time. With some calm and stable weather, it should be crappie time, too. Fishing for trout in Community waters can be some of the best fishing in the state this time of the year. See the schedule -- "core" waters are scheduled to be stocked again next week.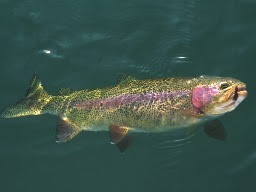 With this week's storm, expect more skim ice -- and unsafe ice -- to continue forming on high elevation lakes (8,000-plus feet). Consider all ice at this time to be unsafe and not yet ready for ice fishing.
Don't forget: Silver Creek is a spring creek that comes out of the ground at a constant temperature and does not freeze during the winter. Catch-and-release fishing for big rainbow trout with artificial lure and flies, with single-point barbless hooks, will continue through the winter.
Late fall/early winter fishing is just starting in desert regions. More and more, expect bass to be scattered in many desert lakes, moving into warmer and deeper water. Wintertime bass fishing can mean fishing is hot one day, slow the next. Cover a lot of water and try numerous presentations. On calm nights, night fishing for stripers can be productive at places like Pleasant and Havasu.
Don't forget to check out our new Fish & Boat AZ map to plan your next hook-and-line adventure.
Avondale's Festival Fields Park
celebrates grand re-opening Saturday
The public is invited to the grand re-opening celebration of Avondale's Festival Fields Park on Saturday, Nov. 30, from 4 to 7 p.m. at 101 E. Lower Buckeye Rd in Avondale.
The lake is our newest Community Fishing Program water. This free event is being held in partnership with Haydon Construction and the City of Avondale to unveil the massive renovation and 30-acre expansion of the existing park. New features include a fishing lake that has been stocked with rainbow trout, splash park, skate park, pump track, play courts, ball fields, multi-use fields, restrooms, picnic shelters, dog park, and custom designed play structures. Read more.