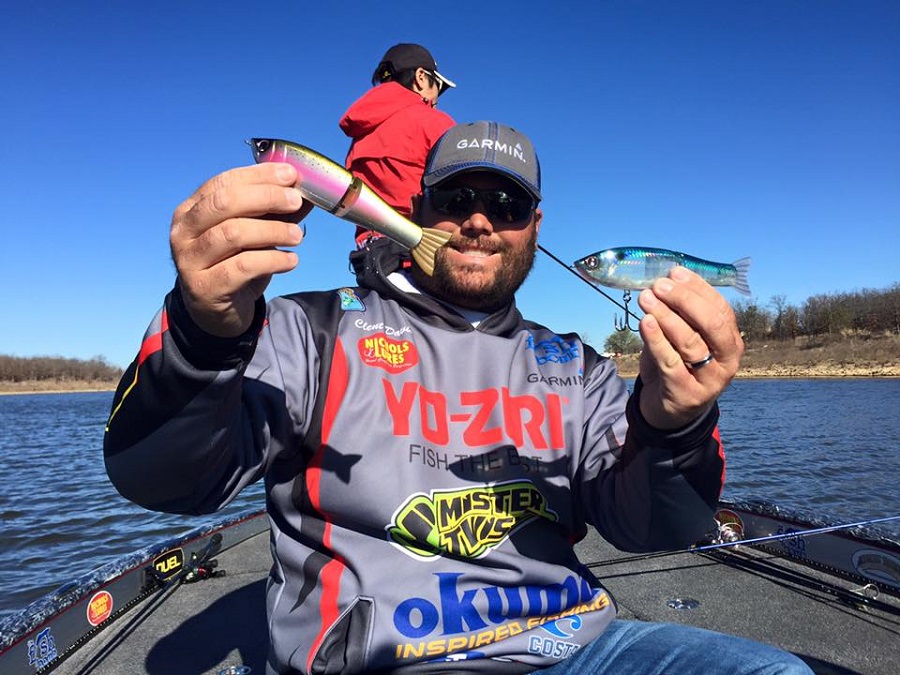 Glide baits have become more and more popular over the past several years. They have a unique action and big profile that appeals to larger fish. One glide bait fanatic is Bassmaster Elite Series pro Clent Davis.
He reaches for one early in the year and then again in late summer and fall and he says that they are a great tool for catching giant bass that are used to seeing other types of lures.
Fishing a Glide Bait
If the idea of throwing a seven-inch bait that weighs over 2.5 ounces scares you, don't worry says Davis.
"This is a bait that you can just tie on and go fishing. It is just like fishing a big spinnerbait because it gets their attention," he says.
Davis prefers the Duel Hardcore Twitch'n Ninja Glider and has used it since it became available and he also helped with the prototype to get the weighting just right. "This bait sinks flat as it is falling. Some other ones just go dead and fall straight down to the bottom," he shares. The Ninja Glider is a slow sinking bait and Davis estimates that it falls a foot every four or five seconds.
When to Fish a Glide Bait
While common thinking is that glide baits are best with ultra-clear water, Davis says they can be used in dirty water as well. "I have caught them when the visibility is just six inches. Clear water helps them see if from a longer distance, but it is not required."
Water temperature and fish activity are two factors that Davis takes into an account when deciding to use the Twitch'n Ninja Glider.
"In the spring when the water warms up to the low 50's, the glide bait bite is on. 52-degrees seems to be the magic number for when they start eating it," he shares. "In the fall, when the fish suspend on vertical cover or when they are under docks or on grass lines, the glide bait bite can be great."
Gear for Glide Baits
With a bait that weighs this much, special gear is required to handle it. Davis likes a 7'11 XH Okuma Guide Select "a" Series Swimbait rod paired with a Komodo SS 364 reel spooled with 20-pound Yo-Zuri Top-Knot fluorocarbon.
Retrieves to Use
While many anglers prefer to work the bait with their twitches of the reel, Davis prefers an approach similar to how he fishes a walking topwater bait.
"I like to twitch it to get it to walk side-to-side and then let it sit. The bait jumps back and forth and I will work it like that and kill it when it is around a target like the end of a dock," he shares.
Getting Followers to Commit to the Bait
One of the biggest pains of fishing glide baits and other swimbaits is interested fish who follow but do not commit. When asked how he overcomes this, Davis says the best thing to simply make longer casts.
"If you make a really long cast, the fish will follow longer and they will get to a point when they are following it where they just have to have it. Also, most of the time when they are eating the glide bait, you won't have many followers because they will crush it," he believes. "If you have a lot of followers, they just may not want it that day."
Having bass follow the lure can be frustrating, but it can also turn out great, especially if you are pre-fishing for a tournament. Davis often uses the glide bait strictly as a search tool and then marks fish he sees.
"It is easy to mark a waypoint when one shows itself. You can come back with a soft stickbait, fluke or something smaller like a jerkbait and you will often catch that fish," he says.
Modifications and Color Selection for Glide Baits
The Twitch'n Ninja Glider comes out of the package ready to glide, but Davis does make one crucial change.
"I always add a split ring because tying your line straight to it can cut your line," says Davis who makes no other major changes when he gets a new bait. "The hooks that come on it are really sharp and strong and you do not need to swap them out."
Davis has a simple approach for his glide bait fishing and the colors he uses follow that theme. "I use the Gizzard Shad pattern almost all of the time, but really like the Ghost Pearl Chartreuse Back when fishing for spotted bass or smallies."
The use of a glide bait is a great way to imitate large baitfish and catch a giant. Clent Davis has become a believer over the years and his best advice is to keep it simple and fish it often.