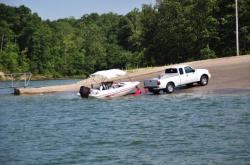 By Debbie Hanson, TakeMeFishing.org

These are your license dollars at work for fish habitat, water quality, and the next generation of anglers

When you're buying or renewing your fishing license, you're probably only thinking about the possibility of the new season or exploring a promising new stretch of river. But are you aware of just how hard your fishing license is working on your behalf of your future days on the water?

Here are five examples of how the dollars spent on your fishing licenses, boat registrations, and excise taxes on fishing gear and boat fuel purchases go back to conservation and public access. And at $1.1 billion that's a sizeable down payment on the next generation of anglers in America.

Improving Fishing and Boating Access

First, funds from license sales go toward fishing and boating access projects. One example is the Ramps & Pier Program in Mississippi, which helps pay for repairs to existing access points and the construction of four to six new boat ramps each year. The state of Oregon also has an excellent model of involving state and federal agencies in adding and upgrading new boating facilities.

Enhancing Water Quality

Boat registration funds help implement clean water projects that benefit fish habitat and improve the experience of anglers and boaters. The Clean Vessel Act program in Hawaii, for example, helped use these funds to construct a new sewage pump-out station and three new floating restrooms at the Haleiwa Small Boat Harbor—all in an effort to protect the sparkling turquoise waters of Hawaii for future generations.

Maintaining Fish Habitat

The excise taxes on your fishing gear go toward fisheries maintenance projects that help manage our state sport fisheries. For example, in New York State, biologists collect data through creel surveys and work to restore fish habitat for native brookies, American shad, river herring, and striped bass largely thanks to the taxes paid by the manufacturers of your fishing rods, reels, lures, baits, and flies. In Massachusetts, these funds are used to map fish habitat with GPS technology, sonar, and underwater vehicles through the state's Fisheries Habitat Program. The more these experts learn, the better prepared they are to spot habitat issues and plan for improvements.

Teaching and Recruiting New Anglers

Fishing license funds also go to work for educational and recruitment programs that introduce new anglers to the sport. As more people take up fishing, there is a greater need for education on topics like species identification, conservation, regulations, and proper catch-and-release techniques. The state of Texas offers free workshops for first-timers or anyone who wants a refresher on the basics, and the saltwater angler education programs hosted by the Massachusetts Division of Marine Fisheries have been so successful that they hope to extend courses to all coastal areas of the state.

Planning for Long-Term Conservation

With an eye toward investing in our marine and freshwaters resources, as well as the next generation of anglers, fishing license fees support long-term conservation plans for our rivers and streams. This robust funding, which has nothing to do with the federal balance sheet, is critical to ensuring an adequate quantity and quality of water to maintain the natural balance of aquatic ecosystems. Texas has used this money to fund its River Studies Programthat addresses long-term water development, water planning, and water quality issues.

Whether state agencies are studying rainbow trout populations or repairing boat ramps, your license fees are put to excellent use. Want to get started on your next fishing trip and give back to conservation? Buy or renew your license here.

Sportsmen and women have a long history of giving back to conservation through our purchases. Read about the federal program responsible for that funding model and the hunters in one Western state who wholeheartedly supported raising license fees earlier this year to do even more for fish and wildlife.

TakeMeFishing.org contributor Debbie Hanson is an outdoor writer and avid angler who has written articles on fishing and boating for publications such as USA Today Hunt & Fish and Game & Fish Magazine. She is a member of the Florida Outdoor Writers Association. Read her blogs at takemefishing.org/blog and visit her personal blog at shefishes2.com.