BATON ROUGE, LA – Five years after the Deepwater Horizon disaster that claimed 11 lives and dumped nearly 3.2 million barrels of oil into the Gulf of Mexico, officials in Florida, Alabama, Mississippi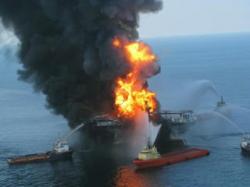 and Louisiana announced an $18.7 billion settlement with BP. Ducks Unlimited views the settlement as a critical down payment on a sustainable Gulf Coast and believes that these dollars should be dedicated wholly to the restoration of the region's natural resources.

"The Deepwater Horizon tragedy and the resultant investment by BP and other liable parties in coastal environmental and economic restoration is a down payment to a sustainable path forward," said DU Chief Conservation Officer Paul Schmidt. "The balanced and sustainable coast we envision as a fitting legacy for our children will only be such if we make wise use of this once in a lifetime windfall to invest in the planks that underlie a resource based economy."

Those planks are the very marshes and mud that make the Gulf Coast a haven for millions of waterfowl each year. The new settlement will direct more than $750 million to Texas and more than $6.8 billion to Louisiana over the next 16 years.

"We must seize this moment and make wise restoration decisions while being mindful of the fact that this impressive investment is only a fraction of the required expense to once again find ecological balance along the Gulf Coast," said Jerry Holden, DU director of conservation programs.

In the years since the spill, Ducks Unlimited has received $5.35 million in funding from the National Fish and Wildlife Foundation (NFWF) for projects to improve migratory bird habitat in coastal Texas and Louisiana, the two most important Gulf Coast states for waterfowl.

In 2013, two plea agreements resolving certain criminal cases against BP and Transocean established the NFWF-managed Gulf Environmental Benefit Fund (GEBF). A total of $2.54 billion will fund projects benefiting the natural resources of the Gulf Coast. According to the ruling, Louisiana's portion of the GEBF will be directed toward diversions and barrier island restoration. In Texas, Ducks Unlimited has received GEBF funds for projects providing shallowly flooded habitats on private lands and a project to restore Greens Lake Marsh in Galveston Bay.

In addition to the NFWF funding, DU has secured $17.65 million in North American Wetlands Conservation Act grants that were supported by BP funding following the spill to deliver important habitat projects for migratory birds impacted by the spill.

"Even this disaster has a silver lining," said Ducks Unlimited CEO Dale Hall. "Since our founding during the Great Depression Dust Bowl era, Ducks Unlimited has been making the best out of bad situations for North America's wetlands. While our focus is waterfowl, it's important to remember DU's conservation work makes a huge difference for all wetland dependent species, including people. Gulf Coast wetlands protect nationally important economic infrastructure and provide critical waterfowl, fisheries and cultural resources."