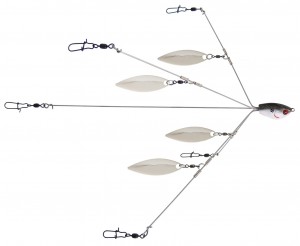 Flash Mob Junior joins 'Yumbrella' rig range
The Flash Mob Junior is the latest addition to the 'YUMbrella' rig family.
Pradco-Fishing has already announced its intention to exploit the multi-lure phenomenon to the full and it has taken another strong step on that road with the launch of the Flash Mob Junior.
The Fort Smith, Arkansas, company says: "Sometimes bass and stripers are feeding on big baitfish, but there are times when a smaller offering gets more action.
"Anglers are discovering that full-sized multi-lure rigs are great in the summer and winter, but after the baitfish spawns these bulky rigs get ignored. That's when a smaller multi-rig shines – especially if it's equipped with four flashing blades."
The YUM Bait School Technology Flash Mob Junior is a downsized five-wire 'YUMbrella' rig with four spinning blades positioned midway down the outer arms.
Two versions are available – one with Colorado blades and one with willows.
Another advantage of the Flash Mob Junior is that it's light enough to be fished on any type of equipment. Prado-Fishing says: " It's a terror on largemouth, smallmouth and spotted bass, crappie, white bass and just about any predator fish. Rigged with curly-tail grubs or other lures, it catches fish of all sizes."
The Flash Mob Junior is made with the same super-tough stainless steel wire and durable connections as the full-sized model.
"It doesn't matter if you are fishing a stream for smallmouth or giant striped bass, a reservoir during a shad spawn or a pond for crappie, the Flash Mob Junior creates the illusion of a small school of baitfish and provokes strikes even from inactive fish."