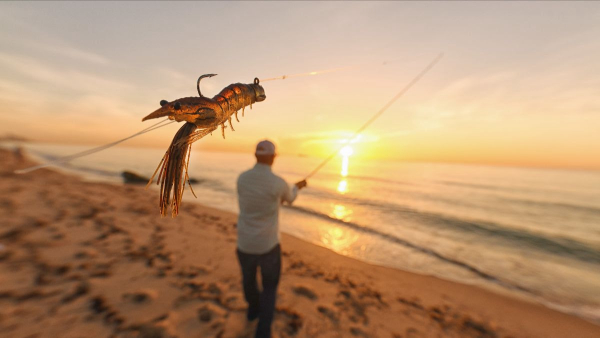 A Shrimp Cocktail For Fish
Saltwater anglers recognize the significance of shrimp to the forage base of their favorite fisheries. Live shrimp are a mainstay of light-tackle anglers targeting a wide variety of predators; same goes for ground fish and cut shrimp.

Recognizing the innate, evolutionary link between shrimp and the predators that consume them, the master lurecrafters at LIVETARGET have designed a unique soft-bodied lure, exceptionally lifelike in both form and function. Our Fleeing Shrimp sets a new standard in shrimp imitations!
Match The Hatch
Sporting a custom designed jighead built around an extra-strong, corrosion-resistant hook blends seamlessly with the Fleeing Shrimp's soft body, accentuating the lure's ultra-natural profile. A broad spectrum of eight color patterns completes the visual deception.

The LIVETARGET Fleeing Shrimp truly comes to life when the angler imparts action, either popping it along the bottom or swimming it beneath the surface. The Fleeing Shrimp's proprietary skirt masterfully emulates the motions of a living shrimp's front legs, both in motion and at rest.

When the shrimp is "fleeing" in a natural, backwards direction, the skirt folds together like the front legs of a living shrimp. When the shrimp comes to rest on the bottom, it stands perfectly upright with the head tipped slightly upward, while the skirt material fans outward and gently flows up and down, creating a subtle life-like action that will entice a bite and not spook wary fish.
Exciting Inshore Action
This LIVETARGET Fleeing Shrimp is particularly effective in skinny waters when targeting redfish, snook and speckled trout. It can be cast exceptionally long distances, hopped over potholes, bounced across the bottom, or fished in the midportion of the water column with intermittent twitches.

With a quick jerk of the rod tip, it flees backwards like an escaping shrimp, its internal glass rattle creating a "ticking" sound on the retrieve – replicating the chatter of a living shrimp.

The Fleeing Shrimp is also impregnated with a long-lasting, natural shrimp scent that helps attract nearby predators, and promotes extended retention of the lure in an attacking fish's mouth – a powerful factor that delivers more fish to hand.

Next time you head out to target your favorite inshore species, try out our Fleeing Shrimp!