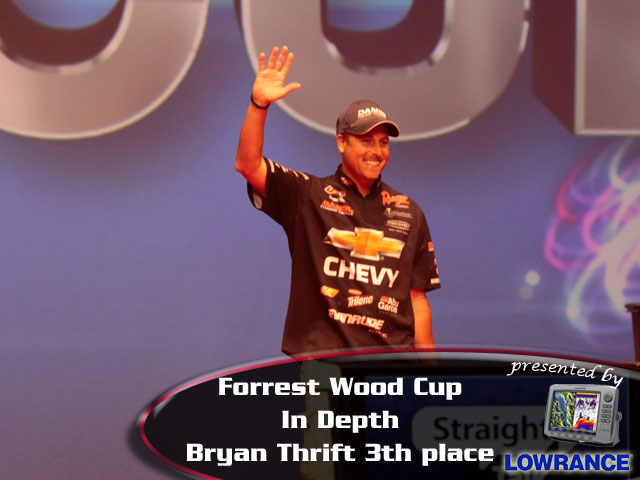 Forrest Wood Cup In Depth Bryan Thrift 3rd place
Story and photos by Dan O'Sullivan

On Friday we examined the story of fourth place Forrest Wood Cup finisher Scott martin of Clewiston, Fla. Martin gave us the in depth details of how he practiced and put his top five program together. Today, we do the same with third place finisher Bryan Thrift of Shelby, N.C.

Thrift was fishing his sixth Forrest Wood Cup of his young career last week, and in his six years, has proven himself a competitor. In his previous Cup appearances, Thrift finished in the top 10 two other times, and in the top 15 twice. His worst Cup finish was a 29th place in the 2011 event on Lake Ouachita.

He has also proven himself capable of winning at this level. His five FLW wins include Tour Majors at Lake Norman and Beaver, and he prepared himself to look for the win this year.

Practice
Thrift said that he spent two days in pre-practice and found the fishing during the event to be off, compared t what he found in his scouting trips. "I went to Lanier for two days before the cutoff," he said. "Honestly, I found the fishing to be pretty good then, and a little off during official practice and during the tournament."

He said that he had little problem catching quality fish shallow and deep, and that overall, the topwater bite was solid, producing 30 to 40 bites a day. But, he would not be greeted with the same efficiency, during the practice period and event itself. "I didn't fish a lot at all on the first practice day," said Thrift. "Then, I fished both shallow and deep on days two and three."

Even after five total practice days, Thrift said he wasn't sure what he would do come the first morning of the tournament. "It was a tossup as to what I would be doing to start the tournament," he said. "I was still in decision mode; which happens a lot during summer events, but I kind of like it that way anyway."

The Weapons
Thrift did say that he refined his approach down to two main approaches; three topwater baits and a Shaky Head with a Finesse Worm.

The finesse worm was 6.5" Damiki Finesse Miki that he rigged on a 1/8-ounce Evercast Lures Football Shaky Head. He rigged that on a 6'7" medium-heavy spinning rod and an Abu Garcia Revo Premier size 30 spinning reel spooled with 8-pound-test Berkley Trilene 100% Fluorocarbon line.

He alternated mainly between two topwater baits, a wooden, baitfish shaped prop bait made by Barry's Custom Lures in a bluegill pattern and a Damiki D Pop 70 in Holo Bluegill. He threw both lures on an Abu Garcia Revo MGX reel spooled with 12-pound-test clear Berkley Trilene Big Game monofilament; but used two different rods. He chose 6'6" Damiki Dark Angel casting rods, using a medium action for the prop bait, because "it's a lighter bait," and a medium-heavy action for the popper.

Tournament
Thrift said that he started the first morning of the Forrest Wood Cup without a true plan. His approach for the morning was going to be to cover water first thing with a topwater bait trying to continue in practice mode. He said that he initially began his day with a buzzbait, and managed to catch two keepers on it.

Then, he made a stop on a brushpile that he had marked, and when he arrived, the bass started schooling near where he set the boat down. "I pulled out my topwaters and put together a limit by about 10:30," he said. There really wasn't much to the day, I had my final weight in that first limit, so I ran a bunch of new water looking for more of a plan.

His 13-pound, 12-ounce limit landed him in seventh place after day one.
He started the second day of the event at the spot that the bass had come up schooling on the first day, howver, they failed to come up again. So, he adjusted by picking up the DPop and the Barry's Prop Bait and covered water. "There really wasn't any rhyme or reason to it," he said. "I was running banks looking for cruising fish, and by 12:30, I'd filled my limit with those."

But, he only managed to get six or seven keeper bites that day. "That's the way things had been going," he said. "I had to run enough water and see enough fish, and I'd get one if five to take a swipe at the lures." he boated another 13-pound, 11-ounce limit to move up one place into sixth place.

Day three started out even slower. It took him nearly four hours to catch his first keeper on a topwater. "I wasn't seeing a lot of fish cruising," he said. "So, I left the bank and ran to some shallow brushpiles I fished in 2010." He picked up his Evercast Lures Shaky Head and Finesse Miki worm and started targeting his few brushpiles.

"It happened pretty quick then," he said. "I caught a two and a half pound spot out of the first one, then the same on the next one, and before I knew it I had a limit." He finished the day with 12 pounds, 8 ounces and jumped three places to third.

Day four once again started out slow. he said that he knew he had some ground to make up, so he tried to force the topwater bite to try and eat into Jacob Wheeler's eight pound lead. "The cruising fish just didn't show up again," he said. "So, at 12:30, when I didn't have any fish in the boat, I went back to my shallow brushpiles."

He used the Shaky Head Rig and Finesse Miki again, and by 1:30, he had filled his limit, but they were small. After filling his limit, he felt a little more comfortable, so, he returned to the bank. He entered a pocket near Brown's bridge and saw four fish cruising. he caught two of them on topwaters; both four pounders, and another keeper which pushed his limit to 12 pounds, 5 ounces, keeping him in third place for the championship.

Wrapping Up
Thrift said that his big turning point in the event was being able to get in a good groove on the first day. "I really didn't have anything going, and to have a good first day really helped me relax and get on a good roll," he said. "I'm not sure how it would have gone if I didn't get it going early; that first morning really set the tone for me."

He said that he was please with his performance, although he did have a few regrets. "I'm really happy with my finish, and I don't want to try and take anything away from Jacob (Wheeler), he fished a great event," he said. "But, I lost quite a few good fish this week that might have made things interesting.

"But, that is the nature of summer fishing, and topwater baits," he said."I had a chance at a 22 to 23-pound bag on day two and another 20-pound bag on day three, and they just came off. These fish would just get mad and take a swipe at the lure, not eating it well. If I land three or four of those, it's a different story."

"This was my best finish at the Cup, and I've been consistent so far, I feel like it's only a matter of time until I win one of my own; I'll just keep going and do the best that I can."
Read more like this at AdvancedAngler.com