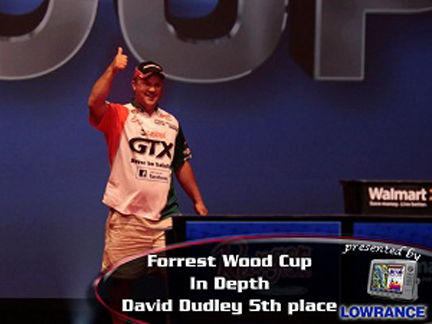 8/16/2012 - story and photos by Dan O'Sullivan

The 2012 Forrest Wood Cup is now complete, and it's time for Advanced Angler to dig deep and get the info from the top five finishers. Of course, we all know that the event was won wire-to-wire by 21-year-old Jacob Wheeler, but to tell the whole story of the event, we must dig into the depths of the high finisher's programs.

The legacy of the 2012 Forrest Wood Cup will come down to a matter of opposites. Lake Lanier is a world class spotted bass fishery, and as such, anglers came into the event with a set of expectations of how the tournament would be won. Because the 2010 Forrest Wood Cup was won deep by Kevin Hawk, much of the field expected the tournament to be won in a mirror of that pattern.

But, their projections would be wrong.

Most of the top five anglers found better opportunities with shallow patterns, and we wanted to delve into their thought patterns; why they made their decisions and how their programs came together. We also wanted to find out what made them search for shallow fish when most were predicting a deep bite.
We start our Forrest Wood Cup In Depth pieces with fifth place finisher David Dudley of Lynchburg, Va.

Practice
Dudley said that he began formulating his program in the pre-practice period. "I spent my pre-fish time looking around the lake and liked what I saw shallow," said the three-time FLW Tour Angler of the Year. "I really learned a lot in those visits and decided that fishing the bank was an option."

Armed with the thought that he may be fishing the bank, Dudley started his official practice by fishing deep. "I caught a lot of fish on that first day of practice, but I wasn't sure it would provide enough weight to win," he said. "I hadn't ruled it out with only one practice day, but it didn't take long for me to decide in the second day of practice."

Dudley revealed that it took his until about 10:00Am on the second day of practice to commit to a shallow water program. "I wasn't getting as many bites shallow, but the keeper ratio was better," he said. "I was getting better quality bites, and had some big one's coming up to chase my topwater."

So, by the end of the three day practice period, Dudley had convinced himself of the potential to not only do well shallow, but he felt that he had a great shot to win.

The Weapons
Dudley found that he was able to produce quality bites on three presentations. Two of them produced the majority of his keeper bites and one of them produced the better quality. He relied heavily on watermelon colored Berkley Havoc Bottom Hopper Worms and a topwater prop bait.

He fished the Bottom Hopper in two methods depending on the depth. When he was fishing deeper water, he would use a shaky head, then turn to a wacky rigged version on a straight shank hook He also used a bluegill shaped topwater prop bait and threw it all around shallow water targets and in between.

He said he assumed that bass were on some sort of a bream feed; which is what caused them to be shallow. However, he said there was no real way to know. "We all say that bass are on a bream bite in these situations, but we truly don't know," he said. "Without cutting one of them open and examining their stomach contents, we don't know, but we assume that's what it was."

He threw the Bottom Hopper rigs on the same setup, a 7' medium-heavy Abu Garcia Verdict spinning rod paired with an Abu Garcia Revo Premier 30 reel and 8-pound-test Berkley Trilene 100% Fluorocarbon. He chose the weightless wacky rig in super shallow water and used the 1/8-ounce Shaky Head in water to three-feet deep.

For the topwater baits, he selected a 7'3" medium-heavy Verdict casting rod and a Revo MGX reel with 20-pound-test green Trilene Big Game monofilament.

Tournament
Dudley said that he never turned his fishfinders on, instead he ran shallow banks in both the Chattahoochee and Chestatee Rivers looking for likely objects to throw his lures at. He said he fished everything from bare banks, docks, laydowns and everything in between.

He found that the bite for quality fish was better after 10:30 in the morning on the topwater bait, so he spent much of his mornings with the worm in his hands. He would mix the topwater bait in the morning hours, but, the worm was his best producer early.

He said that he did underestimate the weight he would need to be in the hunt on the first day of the event. Despite his 13-pound, 11-ounce opening round, he found himself in eighth place, more than eight pounds behind the leader, Wheeler. "I didn't expect the weights to be that high, and I kind of pulled back in the afternoon looking for more water," he said. "I caught a few fish, but nothing that would help me cull up the weight I had."

Day two proved to start a trend for Dudley as he began struggling with lost fish. Dudley said that he saw a wolfpack cruising the back of a pocket, but as he was picking up a rod to make a cast, he lost sight of them. He quickly changed lures to a horseyhead (an underspin type of bait) and made a cast into the drain of the pocket.

He began slow rolling the bait and felt a tick. After setting the hook, a fish he estimated to be at five pounds jumped. Excitedly, he fought the bass to the boat and as it neared, he found that it had four bass of equal size chasing it trying to steal the lure. He said that he hurriedly tried to get the bass into the net so that he could cat again, but instead, he lost the fish. "I tried to hoss that one into the net, and it cost me," he said. At 1:09PM, he still only had one fish in his livewell, but he was able to fill his limit and cull twice to get his 10 pounds, 10 ounce limit, and he slipped one place to ninth.

Day three proved to be his worst day of the tournament. He lost a four pounder early on the topwater, then had a five pounder come off the wacky rig, and later in the day, he lost a seven pounder, and two more four pounders on the topwater. "Those were really frustrating, but they were my fault," he said. "I don't know why all of them came off, but I believe that it's my fault if I lose a bass, and I killed myself that day."

The biggest fish was positioned on a lone dock, and he made a cast by the walkway with the prop bait. The big bass bit the bait and immediately ran towards some cables anchoring the dock. "I tried to put extra pressure on the fish to keep it from going into the cable, and the hooks pulled out," he said. "I have to admit that I broke my rod over my knee on that one; it was crushing."

He managed to weigh 11 pounds, 2 ounces, but knew he had given himself little chance after losing so many fish.

He managed to land more of his bites on the final day, and his 14-pound, 6-ounce limit brought his total for the event to 49 pounds, 13 ounces and moved him up to fifth place in the end.

Wrapping Up
It would be easy to say that a fifth place finish in the tour championship could be considered a success, but Dudley does not feel that way. After claiming his third Angler of the Year title in 2012, and seeking to be the first angler to win two Forrest Wood Cup titles, he knows he fell short.

"It's hard for me to say anything other than I beat myself," said Dudley. "I had the opportunities to add a total of 14 more pounds to my weight if I just land all of the bass that bit. If I do the math right, that brings my total to over 63 pounds, and I'm the one holding the trophy.

It's hard to accept the end result for me, but at least I know that I made the right decisions and got the right bites. Jacob (Wheeler) did a great job of fishing his plan, but I would have beat him if I catch everything," he said. "It's really hard to overcome all of those errors in a tournament like this, and I really didn't give myself a chance, I pretty much beat myself."

As a side note, Dudley did receive his 2012 Angler of the Year trophy and a certificate for a new Z518 Ranger boat for his Ranger Cup points championship at the event. Finally, Dudley also entertained the weigh-in crowds on the first three days of the event by choosing "The Chicken Dance" as his walk up music. On day three, FLW Outdoors surprised him by bringing a chicken mascot to the arena to perform "The Chicken Dance" with him prior to weighing in. To see a video of Dudley doing his dance with the chicken from our Forrest Wood Cup Raw coverage see it here.
Read more from Advanced Angler at AdvancedAngler.com.