CCA CAL Announces Annual Fred Hall Show Package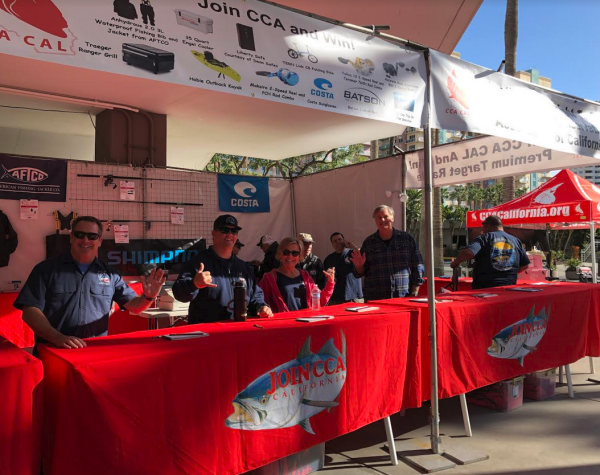 SAN DIEGO -- The Coastal Conservation Association of California (CCA CAL) is once again offering the Fred Hall Show package for current and new members at both the Long Beach and Del Mar shows.

Those who take advantage of the CCA CAL Fred Hall Show Package will receive: 1. 1-year membership or renewal to CCA 2. Entry into a special hourly drawing for fishing tackle, tactical gear, clothing and much more! 3. 2 tickets for a daily drawing for a 1-week Costa Rica stay at Casa Nosara (plus 2.5 hours of fishing with Fishing Nosara ). 4. New reusable CCA CAL tote bag with goodies inside 5. New design CCA CAL T-Shirt (limited to stock on hand) 6. Entry to the Fred Hall Show

That's over $120 of value for just $50!

The show special is only available for purchase at the CCA CAL booth outside of both the Long Beach and Del Mar Fred Hall Shows. The Long Beach Show is March 4th - 8th, and Del Mar is March 26th - 29th.

The winning numbers for the hourly drawing will be posted at the CCA CAL inside booth every hour and can be checked throughout the day. Winners must come to the booth to show their winning number and select their prize by the end of each day of the show. Must be present to win, and limited to 1 sticker per member. All current CCA CAL life members can receive entry to the hourly drawing for $25.

Any new member who signs up, or current member who renews their membership at our inside booth, will also receive 3 tickets into our daily drawing for a 1-week stay in Costa Rica! Anyone who signs up as a life member for CCA will receive either a pair of Costa Sunglasses (limited to stock on hand), or 50 raffle tickets for the 1-week stay in Costa Rica.
For more information about CCA CAL, please visit www.ccacalifornia.org


The Coastal Conservation Association of California (CCA CAL) was created in 2015 when recreational anglers and outdoor enthusiasts grouped together to work for the conservation and enhancement of our marine resources and coastal environments.
Today, we are working to protect not only the health, habitat and sustainability of our marine resources, but also the interests of recreational saltwater anglers and their access to the resources they cherish and use on a daily basis. CCA CAL currently consists of 2,500 members spread across 6 local chapters in Southern California, and is working to expand in Central and Northern California.