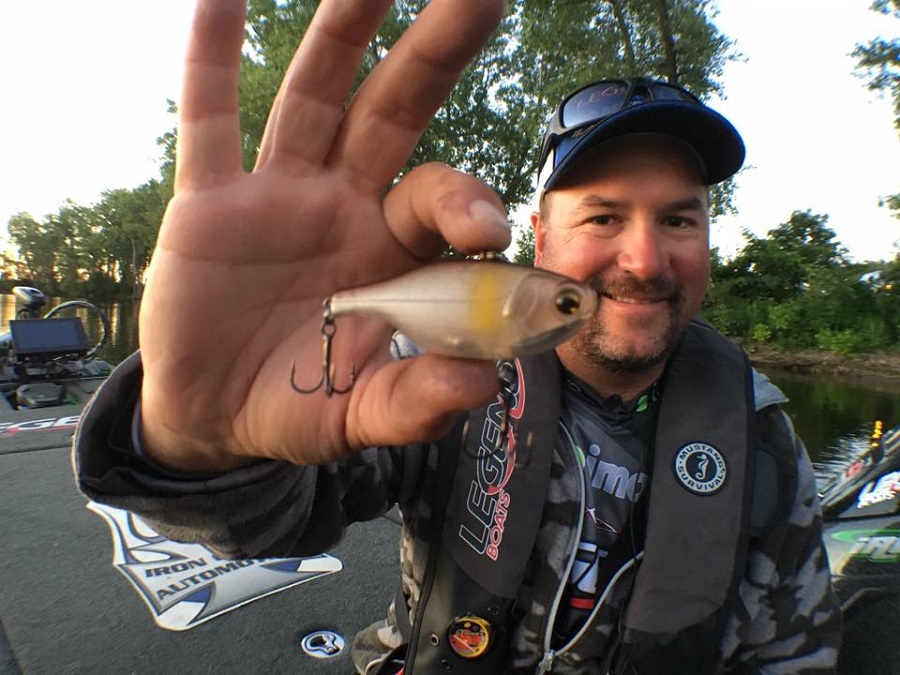 Fall is a time of transition and that gets bass active and moving. With this in mind, Bassmaster Elite Series pro Fred Roumbanis approaches this season with the goal of moving quickly, covering as much water as he can and utilizing baits that can keep up with the speed he wants to fish. Nearly everything he uses is fast-moving and equipped with treble hooks.
Active Bass Feeding Times
With the bass so heavily focused on eating baitfish, the fall can produce non-stop action throughout the day but Roumbanis has realized there are usually two key windows each day when it becomes easy to load the boat in a hurry.
"First thing in the morning is obviously a great time to find active fish. They are often schooled up on shad or other baitfish, but after that, there is usually a lull for a while. I have always thought that it is a time where they can digest their food because they feed so much in the morning," he theorizes. "After that lull, there is usually a very good afternoon bite around 2:00 or 3:00 p.m., which is usually right when you have to head back if you are in a tournament, but it can be just as good as the morning bite."
Bass Search Mode with Topwater

According to Roumbanis, fall is one of the best times to pick up a topwater lure and go into search mode.
"This time of year, I find myself using topwaters that can cast a long ways and those that can be worked very quickly. The IMA Skimmer and Little Stik get a lot of use for me and one of the best things is how quickly you can fish them," he says. "The faster you work them the more you can get them to jump on the surface and it really mimics a fleeing fish. I think that the splash of a pencil popper style bait like the Little Stik looks like a whole school of shad instead of just one baitfish."
For the topwater pattern, Roumbanis looks for bays and flats with shallow water. "This is usually where the shad will be and the bass like to push them up shallow onto the flats that are in two to four feet of water as deep as to six feet, but the shallow water is key," he says. Another thing he looks for is isolated cover on these flats. "The best flats seem to have one or two logs, stumps or other cover on them. The bass use these as ambush points and they are the perfect place to fish your topwaters."
Both of the baits that he mentioned cast extremely well and Roumbanis will help the cause even further by using braided line.
"I like to use a 40-pound braid with a short leader of 20-pound fluorocarbon that is roughly twice as long as the bait. Having that short leader of fluorocarbon won't affect the action of the bait but it will really help to prevent the line from wrapping around the trebles," he shares.
Reel N' Sweep Suspending Lipless Crankbaits
Another proven fall pattern is using a lipless crankbait. Roumbanis likes a new bait from IMA called the Suspending Vibration 70, a lipless crankbait that as the name implies, suspends.
"I fish this in the same exact places as I use a topwater and normally pick it up when the topwater bite slows down," he says.
Fishing this bait is much different than a traditional lipless due to the fact that it suspends.
"I will use a 'reel and sweep' retrieve. Reel it a few cranks then sweep it and then reel up the slack," he says. "I think it is really easy to overwork a lipless crankbait and slowing down really helps get more bites."
Jerkbaits with an Aggressive Retrieve
Jerkbaits are known for being excellent winter and spring baits, but during the fall and early winter, they can produce big bass. Due to the size of baitfish in the fall, Roumbanis will often downsize his jerkbaits.
"This time of year, a lot of the bait is really small, so I will use the IMA Flit 100 a lot instead of the 120 size. I'll also typically fish it much faster and give it a more aggressive retrieve than I would in the winter or spring," he says.
When fishing near grass, Roumbanis likes to fish his bait through the scattered vegetation and rip it free to trigger bites.
"Many times, they are hunkered down in the grass and I do really well with this retrieve for the Flit 100 and use the same approach with the Suspending Vibration," he adds.
During the fall, Fred Roumbanis likes to keep things simple with bait selection and usually relies on fast-moving baits that allow him to cover water as he searches for feeding bass. Sticking with topwater baits, lipless crankbaits and jerkbaits allow him to accomplish this goal and capitalize on one of the heaviest feeding times of the year.