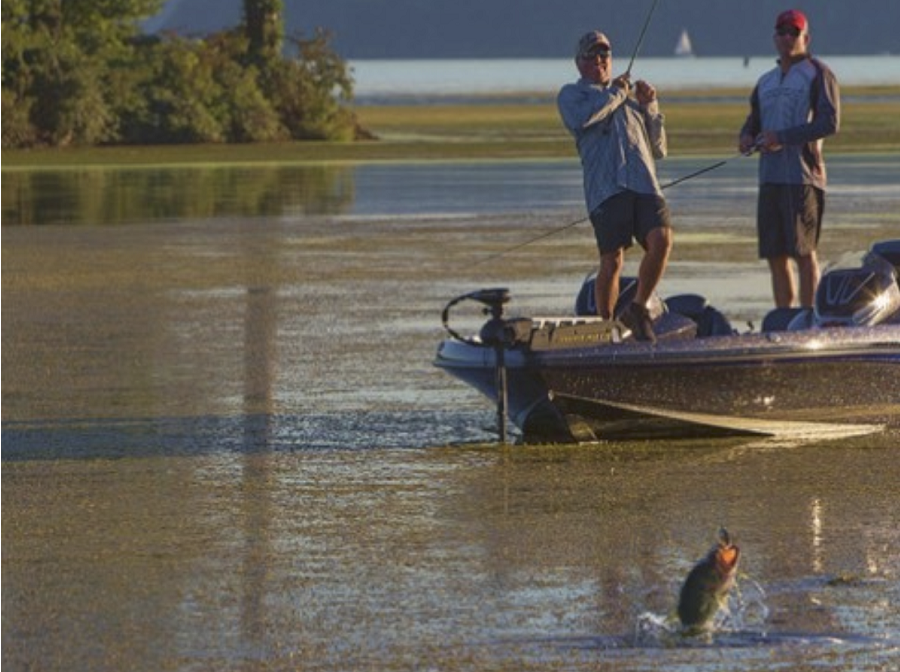 Years ago a hollow-bodied frog was your only option if you wanted to fish a topwater bait over thick grass or matted cover. Today's anglers have several more options and specialized baits that mimic sunfish, mice and frogs that catch bass both in heavy cover and open water. Bassmaster Elite Series pro David Walker loves fishing them all and shares how he fishes each of these big bass lures.
Fishing the LIVETARGET Hollow Body Frog
The LIVETARGET frog is what Walker grabs when fishing matted grass.
"I like the frog anytime I am fishing horizontal vegetation like duckweed, carpets of grass and places where no other lures can be effective," he says.
Walker likes to fish the frog with his rod tip pointing down for all instances, except around lily pads. "I like to watch the bait and work it quickly over matted grass and then when I hit a hole in the grass, I slow way down and work it side to side and keep it in the opening as long as possible," he shares. "For lily pads, I like to work it with the rod tip up to keep the line from wrapping under the pad stems."
Rod selection is key for this technique and Walker uses a 7'1" heavy G.Loomis GLX rod.

"It really depends on how tall you are, but I like to work the rod downwards without hitting the boat or the water. Longer rods work to make those long casts and get leverage for fish buried in the grass, but they make it more difficult to work the bait right," he says.
For the frog, sunfish, and mouse he prefers braided line and fast reel.
"I prefer to use a 30 or 40-pound braid like the Sunline BX2 to get the best casting distance. Too much heavier and it really starts to affect your distance and it seems like most fish hit frog style baits like this at the end of very long casts," he says. "For a reel, I like a fast reel like an 8.1 Shimano Metanium to pick up line quickly and get that fish to the boat."
Fishing the LIVETARGET Sunfish Hollow Body
This lure burst onto the scene with an ICAST Best Soft Lure award in 2015 and hasn't slowed down.
"It really needs to be taken out of the package and fished to get an idea of how great this bait works on the surface. It has a slight curve to it and that allows you to get a really sporadic action with it on the surface," Walker says. "It can be walked and turned on a pivot and will stay in the same place and walk back and forth," he says.
Typically, Walker likes to fish this bait in more open water than he does with the standard frog, but he also skips it often.
"It is a great bait for skipping under docks or overhanging trees. I like to fish it with a nice, quick retrieve to get it to jump a little and dive down under water," he shares.
Fishing the LIVETARGET Hollow Body Field Mouse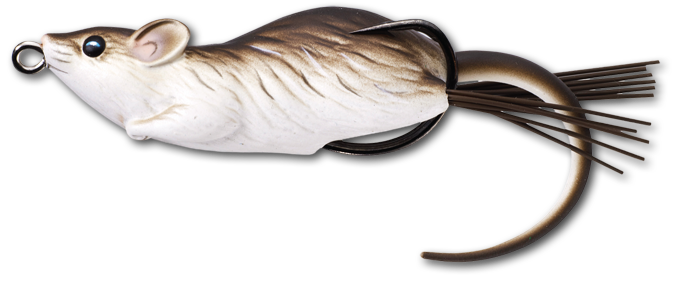 One of the best features of this bait, according to Walker, is how easily it walks.
"It has a long slender body that helps it walk and the movement is really smooth," he says. Walker will fish it in more open water conditions and like the sunfish, skipping the lure is a great presentation. "There are not too many topwaters that can skip as well as the mouse and sunfish. It gives the fish that are used to seeing jigs and plastics a unique look."
The LIVETARGET Hollow Body Popper Frog
This is a new bait that was released at ICAST this year and it was designed by FLW pro Scott Martin. Walker has had the chance to use it and says that it excels in open water situations, holes in the grass and on certain types of vegetation.
"I like to fish the popping frog in vertical vegetation like reeds, cattails and also lily pads. The popping draws them from further away," he says. "It is also a killer during the post-spawn and when they are guarding fry. The popping really gets them angry."
What Makes LIVETARGET Different?
There are many different manufacturers that make a frog and Walker says he likes LIVETARGET for a few reasons.
"The biggest thing about these baits is that they all have a custom hook that was created to fit the bait perfectly. This makes it much more weedless, proportionate to the bait and also helps you hook more fish," he says. "Missing bites with topwaters is part of the trade, but the hook they use and softness of the bait really help to hook more fish."
The frog-style lure evolution has been going on for several years and companies are continually creating new baits that walk, pop and spit better and give us more options to tempt bass.