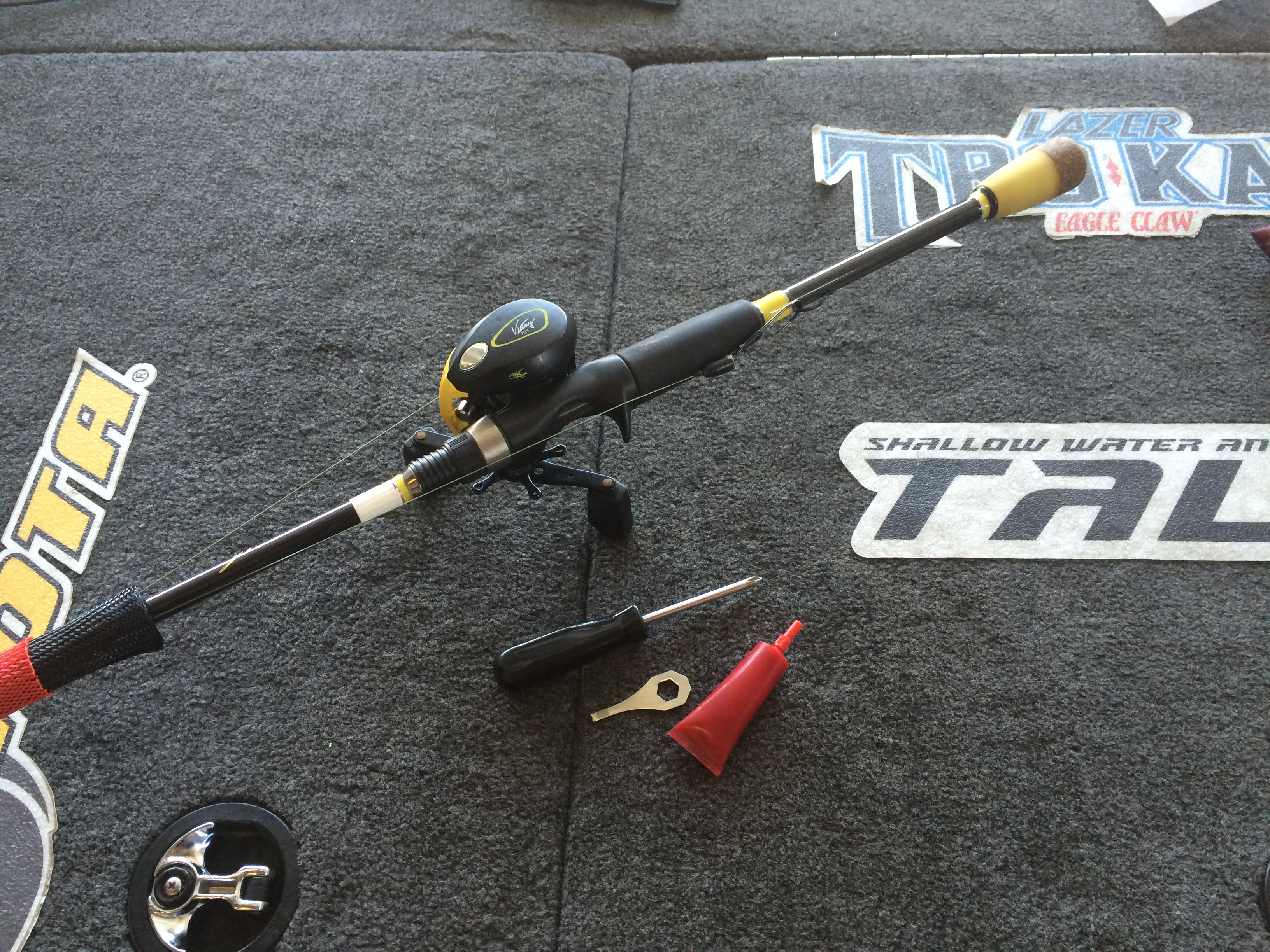 Basic Rod & Reel Maintenance
The rod and reel are the cornerstone tools of the trade for any bass fisherman. The have evolved to be lighter and stronger than ever before. With the advancement of today's fishing equipment, also comes an increased price tag, which makes it even more important to take care of your equipment.
By doing some basic maintenance tasks during the off season, you can prolong the life of your equipment, keeping it in tip-top shape, ready to bring in the big ones and keep you from having to dish out your hard-earned dollars for a new rod or reel every year.
REELS
STEP 1 – Tear Down
The first thing I like to do on my reels is to take the frame of the reel apart and pull the spool out, this allows me make sure there is no foreign debris that could be causing my reels performance to be altered by getting in the way of the spool or the worm gears.
STEP 2 – Clean & Grease
Also it is a good idea to take a Q-tip to clean out the hole that your line goes through, because if that is gunked up your line won't flow freely through it. At this time I will also put a few drops of reel oil on the moving parts of the reel, such as the bearings. I will then put some reel grease on the gears that move the line bar.
STEP 3 – Tighten Up
It is also a good idea to make sure that the handle of your reel is on their tight and does not wobble side-to-side, tightening up the handle is an easy process to complete. Doing this now will eliminate having to do it on the water and more specifically eliminate the chances of the worst case scenario, your reel handle coming lose when bringing in a bass.
STEP 4 – R/R (Optional)
If you are feeling brave and have some time on your hands and want to do some further maintenance to your fishing reels, I would suggest having a clear schematics diagram of the reel, this way you'll know what parts go where, ensuring that you'll put it back together the way it is supposed to go. At this time, you can also choose to replace the stock parts of your reel with aftermarket parts if they are available for your reel.
STORAGE TIP
If your fishing reels are going to sit idle in the boat or on the shelf in your garage for an extended period of time, it is a good idea to loosen the drag and tension knob. This will increase the life of your reel and keep your drag and tension from being put to use all during the offseason.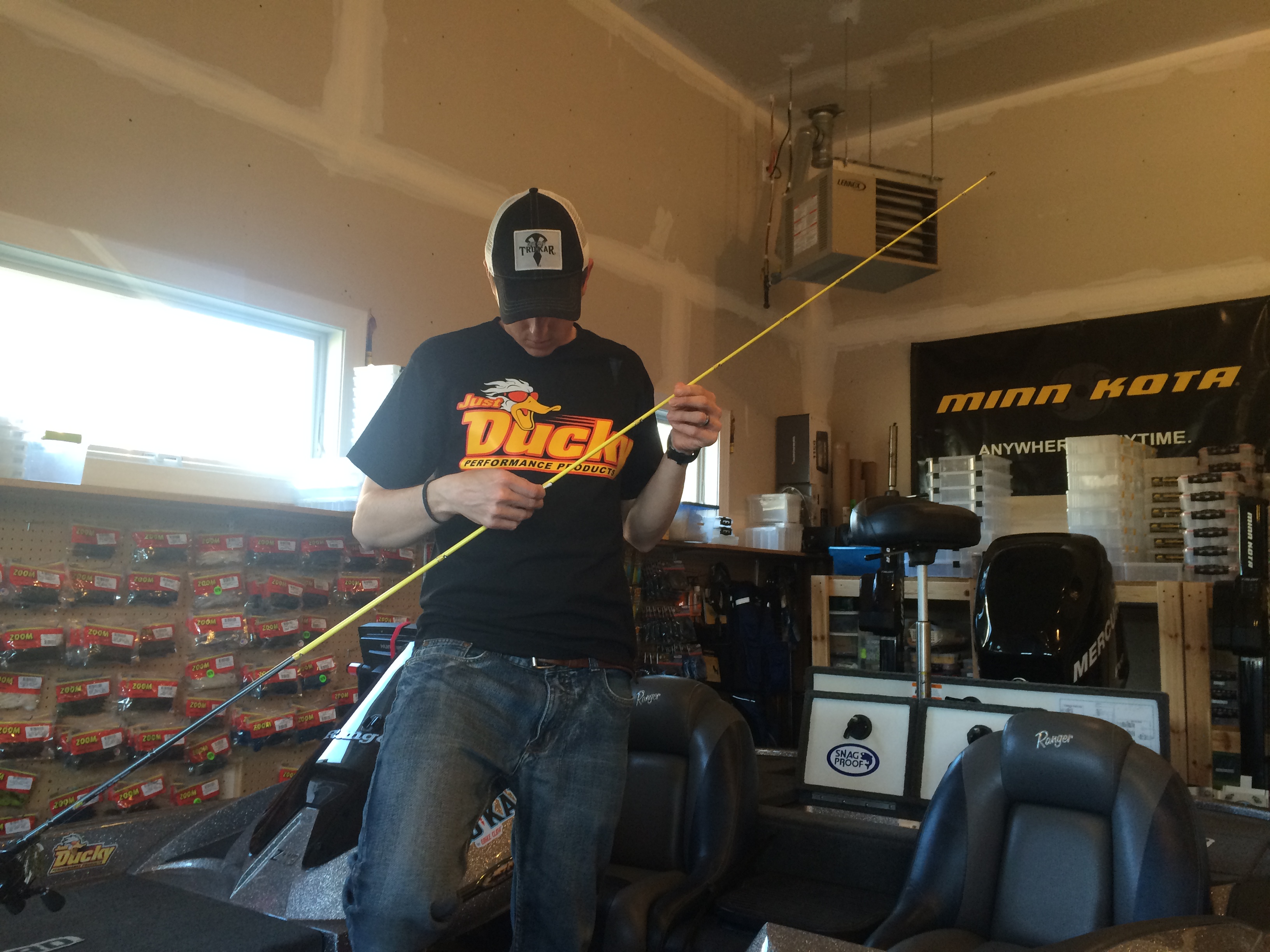 RODS
A broken fishing rod, is heart breaking, as it can mean a lost fish and you could be without one of your favorite rods for some time as warranty replacements take time, or you may have to save up to purchase a replacement rod.
STEP 1 – Guide Inspection
By running a Q-tip through your line guides, you'll be able to see if the cotton snags on any rough spots in that guide. This will indicate that the guide has a rough spot or nick in it, both of which will cause damage to your line and eventually have you wondering why that fresh spool of line keeps breaking.
STEP 2 – Blank Inspection
I will also inspect the rod blank for any small cracks or chips in the epoxy around the line guides. By inspecting the structural integrity of the rod you will help avoid breaking a rod on the hook set while fishing which could in turn cost you a fish.
STEP 3 – Clean
Lastly, I will wipe the handle with a warm, wet rag. This will remove the sweat and oils that have accumulated on it throughout the fishing season. This will help prevent the rod grip from getting slippery when it gets wet when you are fishing or when it is raining.
By doing this preventative maintenance off the water during the off season, you will avoid having to do it while fishing when your reel or rod has an issue, instead you can keep fishing!
Glenn Walker is a tournament angler with over ten years of experience. He enjoys spreading his passion and knowledge of the sport via articles and videos. He keeps busy fishing events across the Midwest and on the Mississippi River. Walker's sponsors include: Ducky Products, Humminbird, Jeff Belzer Chevy, Mercury Marine, Minn Kota, Plano, Rayjus, Seaguar, Simms, Snag Proof, The Rod Glove, TroKar, Wright & McGill and Zoom Baits. For more information check out glennwalkerfishing.com or on Facebook at facebook.com/glennwalkerfishing.