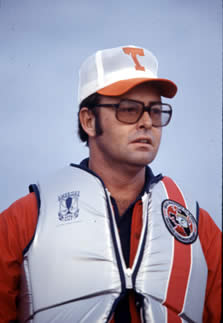 In the early days of modern bass fishing, there was Bill Dance. The spectacled furniture salesman from Memphis with the ubiquitous orange "T" on his fishing cap was the sport's first superstar and has parlayed that success into a television empire with "Bill Dance Outdoors."
Although Dance's success as a professional tournament angler came early in the days of BASS and well before the days of FLW, his successes also came often – very often. Dance fished just 13 years on the BASS trail, won a little more than $57,000 as a professional angler and hasn't hoisted a first-place trophy since 1970, but don't let those numbers fool you into thinking that doesn't have facts and figures on his side. He certainly does.
In the first eight tournaments ever conducted by BASS founder Ray Scott, Dance took three firsts, two seconds and a pair of sevenths. He dominated like a man among boys.
The Greatest Angler Debate presented by John Deere started with a list of 35 top anglers from the world of competitive bass fishing. That list was pared down to the sport's 10 best in January. Fan voting began in January and ended in March. The process ranked the pros third through tenth. The two finalists will face-off in a second round of voting that begins June 4.
Several weeks ago, the countdown began with angler number 10, Mark Davis. Since then, ninth ranked Gary Klein, eighth ranked Jay Yelas, seventh ranked Hank Parker, sixth ranked Larry Nixon, fifth ranked Kevin VanDam and fourth ranked Denny Brauer have been profiled. This week it's Bill Dance's turn at number three. He'll be profiled on Saturday, June 11, at 9:00 a.m. ET on ESPN2.
Dance's three CITGO Bassmaster Angler of the Year awards place him in a tie for second place in that category with Kevin VanDam and Mark Davis and behind only Roland Martin. His seven BASS victories, eight second place finishes, six third place finishes and eight CITGO Bassmaster Classic appearances secure his position among the sport's greats, but it's been as a television host that Dance has had his greatest successes.
"Bill Dance Outdoors" began as a local program in Tennessee in 1968 and is now one of the most popular outdoor programs in the country. Each week, the affable, self-effacing Dance enters living rooms through the television screen, poking fun at his guests and himself and catching fish after fish after fish. He's taught two generations of anglers how to cast, set the hook and locate bass and other game fish.
With his easy-going demeanor and disarming smile, it's easy to lose track of the fact that Dance was one of the most feared tournament competitors of his day. It would be easy to dismiss his third-place finish in the Greatest Angler Debate as a by-product of his television career until you take a closer look at his track record as a pro.
Dance only fished 78 BASS events in his relatively brief career, finishing in the money an impressive 69 percent of the time in an era when few places were paid. Of those 78 events, Dance ended the competitions by placing in the top 50 on 61 separate occasions.
Most impressively, Dance finished in the top 10 in 40 of those events! That's a remarkable 51 percent of the time. No other professional angler in any era comes close to that number. In fact, Roland Martin is second in that category among Greatest Angler Debate finalists and finished in the top 10 just a third of the time.
Dance's influence has also extended beyond television and tournament competition. He's the author of seven fishing books and numerous magazine articles and briefly published his own fishing magazine. He has been the spokesperson for more than 25 different companies and organizations and is an inductee in the National Fresh Water Fishing Hall of Fame.
Had Dance continued to fish competitively, it's hard to imagine that he could have maintained his impressive pace, but it's also quite possible that he might have improved upon his third place finish in the Greatest Angler Debate.
On Saturday, June 11, at 9:00 a.m. ET on ESPN2, BASS Saturday will profile Bill Dance. Fans will find stats and stories on the Greatest Angler Debate in the pages of Bassmaster Magazine, BASS Times, Bassmaster.com and on the weekly ESPN Outdoors radio show. On June 4, the debate heats up again as the fans choose between the top two anglers during a second round of voting on Bassmaster.com.
The debate will conclude in Pittsburgh — at the 2005 Classic — when two champions are crowned. One will be given the Classic trophy and the other – or perhaps even the same angler! – will be hailed as the greatest angler of all time.
For a chance to fish with one of the 35 greatest anglers of all-time plus have a walk-on role in an ESPN Outdoors show sign up for the ESPN Greatest Angler Debate Sweepstakes at http://r.espn.go.com/espn/outdoors/gad/.
Since its inception in 2001, ESPN Outdoors has strived to inform and entertain anglers, hunters, campers and people of all ages who enjoy the outdoors. ESPN Outdoors is committed to increasing awareness of outdoor activities, a direction best exemplified by daily television programming totaling nearly 1,000 hours annually on ESPN and ESPN2.
For more information, contact ESPN Outdoors Communications at (407) 566-2208.