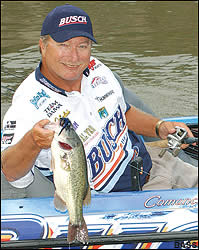 The Greatest Angler Debate presented by John Deere shows that the world's greatest anglers can come from virtually any background or geographic region. There are fishing guides from Arkansas (Mark Davis and Larry Nixon), furniture salesmen from Tennessee (Bill Dance), computer programmers from Texas (Rick Clunn) and new generation pros from California (Gary Klein) and Michigan (Kevin VanDam).
The number four angler in the Greatest Angler Debate just happens to be the only bricklayer from Nebraska to make the list.
Denny Brauer left a life in construction to chase fame and fortune on the BASS Tournament Trail. He found both.
Today, the 56-year-old angling superstar ranks as BASS' all-time leading money winner and one of the biggest money winners in the history of the sport. He's taken Angler of the Year titles with both BASS and FLW, won a CITGO Bassmaster Classic and 14 other BASS events and in 1998 became the first angler ever to be featured on a Wheaties box.
The Greatest Angler Debate presented by John Deere started with a list of 35 top anglers from the world of competitive bass fishing. That list was pared down to the sport's 10 best in January. Fan voting began in January and ended in March. The process ranked the pros third through tenth. The two finalists will face-off in a second round of voting that begins June 4.
Several weeks ago, the countdown began with angler number 10, Mark Davis. Since then, ninth ranked Gary Klein, eighth ranked Jay Yelas, seventh ranked Hank Parker, sixth ranked Larry Nixon and fifth ranked Kevin VanDam have been profiled. This week it's Denny Brauer's turn at number five. He'll be profiled on Saturday, June 4, at 9:00 a.m. ET on ESPN2.
If ever an angler and a technique were inextricably connected – at least in the minds of bass fishing fans – they would be Denny Brauer and flipping.
The two have served each other well. Flipping and pitching have helped make Brauer the all-time money winner on the BASS tournament trail. In return, Brauer has helped make flipping and pitching part of the arsenal of every well-rounded bass angler.
Of course, Denny Brauer is much more than just the tour's most famous advocate of the long rod. For one thing, he's far more versatile than that, having won major events using everything from a jig and pig to a tube to a spinnerbait. For another, he's been one of bass fishing's greatest ambassadors, having taken the sport into such unlikely venues as "The Late Show with David Letterman."
Now in his mid 50s, Brauer is still going strong, having fished his 18th Classic last year and finishing a very respectable 7th. Brauer won the Classic in 1998 and is one of only two anglers (fellow finalist Kevin VanDam is the other) to have won the angler of the year award on both of the major tours. He was BASS Angler of the Year in 1987 and FLW Angler of the Year in 1998.
Brauer's friends and competitors on the list have shown tremendous respect for him. Kevin VanDam, who finished fifth in the Greatest Angler Debate, commented on Brauer's focus and drive.
"Denny Brauer's tenacity is unmatched when he has a win in his sights – he gets it done," said fellow Greatest Angler Debate semifinalist Kevin VanDam. "He's a winner."
Four-time Classic champion Rick Clunn also heaped praise on Brauer, placing him on the short list of the sports greatest luminaries.
"In my mind, there are only four guys who should really be considered in the Greatest Angler Debate," Clunn said. "They are Larry Nixon, Roland Martin, Denny Brauer and me."
Not one for false modesty, Brauer made a case for himself when asked who is the greatest angler of all time.
"That's a tough question," Brauer replied. '"I think there are probably a handful of anglers who are on that top 10 list because they have the confidence to believe in themselves. They might even vote for themselves, but that's never been a politically correct way to go.
"When this top-35 deal came about, I think it forced some people to analyze who really is the top angler. Of course, it's strictly an opinion. I asked myself if the fact that I'm the all-time money-winner qualifies me to be that guy or whether it's somebody like Rick Clunn who's won four Classics, or somebody like Kevin VanDam who's been very, very consistent or somebody like Larry Nixon who's won four MegaBucks.
"So I analyzed the careers of a few of us that I really thought had the potential to be that guy and I divided the number of wins by the number of tournaments entered. I think I had a pretty huge margin over the next guy. That's why, if I was voting, I would vote for myself – not because I'm egotistical, but because statistically I can prove it.
In the end, Brauer will have to settle for fourth place in the Greatest Angler Debate, and that seems to be OK with him.
"I don't really know who the best is, but I do have a lot of friends on the list, and it's a great list," Brauer said recently. "I'm just happy to be in the top 10 whatever happens."
On Saturday, June 4, at 9:00 a.m. ET on ESPN2, BASS Saturday will profile Denny Brauer. Fans will find stats and stories on the Greatest Angler Debate in the pages of Bassmaster Magazine, BASS Times, Bassmaster.com and on the weekly ESPN Outdoors radio show. On June 4, the debate heats up again as the fans choose between the top two anglers during a second round of voting on Bassmaster.com.
The debate will conclude in Pittsburgh — at the 2005 Classic — when two champions are crowned. One will be given the Classic trophy and the other – or perhaps even the same angler! – will be hailed as the greatest angler of all time.
For a chance to fish with one of the 35 greatest anglers of all-time plus have a walk-on role in an ESPN Outdoors show sign up for the ESPN Greatest Angler Debate Sweepstakes at http://r.espn.go.com/espn/outdoors/gad/.
Since its inception in 2001, ESPN Outdoors has strived to inform and entertain anglers, hunters, campers and people of all ages who enjoy the outdoors. ESPN Outdoors is committed to increasing awareness of outdoor activities, a direction best exemplified by daily television programming totaling nearly 1,000 hours annually on ESPN and ESPN2.
For more information, contact ESPN Outdoors Communications at (407) 566-2208.