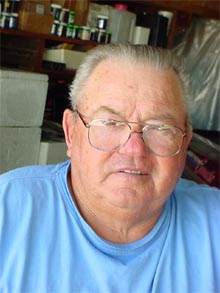 Novato, Calif. – Powell Rods announces that Dee Thomas of Brentwood, Calif., the father of the flipping technique and an inductee of three separate Freshwater Fishing Halls of Fame has joined their pro staff.
Thomas, who at 71-years-old, still successfully competes on Western professional and team tournament trails, brings his decades of tournament fishing experience to a growing company. Thomas is responsible for inventing and exposing the flipping technique to the country when he won the Bassmaster Arkansas Invitational at Bull Shoals Lake in April of 1975; his winning ways have been a part of the fishing industry ever since.
The Brentwood, Calif. hall of fame angler said that there were several factors that made joining Powell the right choice. "Two very good friends of mine, Kenny Schmitt and Chuck McCartney are a part of the Powell Rods team," Thomas said. "Knowing that Kenny and Chuck have faith in the Powell brand made it easier for me to make the decision."
Thomas said that the 98-year history of the company and the character of the management also made it an easy decision. "Powell makes the highest quality fishing rod," he remarked. "After meeting Keith Bryan, and hearing from Dave Myers what an honorable man he is, I decided to join the team."
Bryan was equally as complimentary of Thomas. "Dee is an exemplary competitor and a great guy with a tremendous amount of expertise in this market," Bryan said of Thomas. "He has been influential in our product line; even before joining the team, in fact our 765 XT telescoping flipping stick and our new 7'11" telescoping heavy swimbait rods were suggested by him."
Bryan also said that a mutual friend in the fishing rod business was influential in the signing of Thomas. "My former boss, Dave Myers worked with Dee at Fenwick for many years," Bryan said. "Knowing one of my mentors had such a good relationship with Dee, I jumped at the chance to have him come aboard."
"Dave was my boss when I first started working for Powell; he taught much of what I know about rod design and running a fishing rod company," said Bryan. "Dee joining our team is like seeing the circle completed; I am so proud to have someone of Dee's experience and quality as a part of our company."
Powell Rods is a 98 year-old company with its roots in fly-fishing. In 2005, Powell introduced their Max Series of fishing rods featuring proprietary high modulus graphite Maxumfiber blank material coupled with the world's highest quality rod building components.
Each Powell rod is the product of many years of rod building experience and the expertise of our design team that couples engineering and angler input; the result is a rod that of exceptional quality and high performance demanded by anglers. The Powell focus is to provide products with the highest quality standards, backed with superior customer service.
To find a Powell retailer near you, please visit our website at www.powellco.com, or call us at (888) 635-9763.