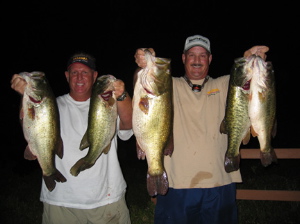 OAK VIEW – As they have done on countless occasions in the past, Mike Hart of Winnetka and Bill Siemantel of Castaic blew away the rest of the field at the second 2006 J&T Tackle Night Team Tournament Series event, held at Lake Casitas on Saturday evening, July 15th. Bringing in an incredible five-fish limit weighing 33.30 pounds, the veteran team bested their nearest competitors by over twelve pounds. Included in their limit was a huge 11.40 pounder, the largest bass of the contest.
"Bill and I caught all of our fish dropshotting oxblood colored Roboworms and Zanks worms," Hart told the awards ceremony crowd. "We had 28 pounds before dark, including Bill's big fish. We only caught five fish after it got dark," added Hart. Because the pair had wisely entered all of the options, they earned an impressive $4,840 in winnings. Siemantel also received a brand new pair of DSO polarized glasses for catching the biggest bass of the night.
Finishing in second place were Mike Brakebill of Moorpark and Chris Rodino of Simi Valley with an excellent limit weighing 21.11 pounds. Like the winners, Brakebill and Rodino caught most of their fish before dark while dropshotting red crawler colored Roboworms. They managed to catch a few more fish after dark on midnight colored 7 and 7 ½ inch Roboworms. For their efforts, Brakebill and Rodino collected $1,315 in winnings. With their victory at last month's series opener, they have now won a total of $6,425 and have a commanding lead in the Heavyweight Award standings. The Heavyweight Award offers additional prize money to the three teams with the heaviest combined total weight from all four tournaments.
Third place at the July 15th Lake Casitas night tournament was the father/son team of Dennis and Mark Taylor of Simi Valley with a great limit weighing 20.66 pounds. Just as the top two teams did, the Taylors also caught their fish dropshotting. They also used Red Crawler colored Roboworms and went through 15 keepers, most of which were caught in 10 feet of water. The popular pair earned a total of $1,375 in winnings for their excellent finish.
Finishing in fourth place were Josh Logerot and Rob Tomlin of Castaic with a fine limit weighing 20.27 pounds to earn $940 in winnings. Fifth place went to Doug Hanson of Camarillo and Mike Reese of Ventura with a 19.39 pound limit good for $640.
Of the 50 teams entered in the tournament, 38 teams weighed in fish. There were 163 fish brought to the scales for a total weight of 504.08 pounds. This figures out to be a very impressive per fish average weight of 3.09 pounds. There were 26 five-fish limits posted in the contest.
The third 2006 J&T Tackle Night Team Tournament Series event will be held on Saturday evening, July 29th, at Lake Casitas. On-site registration will be from 3 pm to 5 pm on Saturday afternoon at the Lake Casitas snack bar. Co-sponsors of the 2006 J&T Tackle Night Team Tournament Series are: Anglers Marine, Daiwa, DSO Eyewear, Revenge Baits, Huddleston Deluxe, Maxima, ABU Garcia, Roboworm, The Trolling Motor Doctor, Tru-Tungsten, and Cul-M-Rite XL Scales.