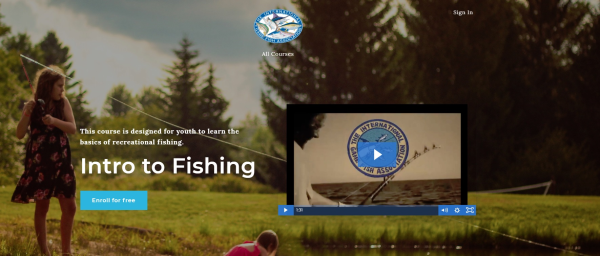 DANIA BEACH, FL –The International Game Fish Association (IGFA) today announced the official launch of its new Online Angling Modules for kids with the release of the Intro to Fishing module.
Available to the public at no charge, the IGFA's Intro to Fishing module offers an immersive curriculum covering angling basics and safety, aquatic and marine biology, fish anatomy, environmental stewardship and more. The IGFA's Intro to Fishing module is the first of several IGFA Online Angling Modules planned for release and includes the following courses presented on a fun, interactive learning platform: The Fish, The Habitat, The Basics, The Ethical Angler and The IGFA. The goal of the IGFA Online Angling Modules is to provide young and/or novice anglers with a strong foundation of angling knowledge in a comfortable, virtual setting that will give them the confidence to get out and go fishing in a responsible and ethical way.
"While getting kids out on the water and teaching them to fish in a hands-on environment is always preferred, we realize that this is not a viable option for everyone," said IGFA President Nehl Horton. "With the new IGFA Online Angling Modules, we will provide the knowledge and tools necessary to enable new anglers to actually go fishing and become lifelong stewards of the sport and the environment."
Each child who completes the IGFA's Intro to Fishing module will receive a customized certificate and will be counted towards the IGFA's 80th anniversary initiative to teach 100,000 kids to fish. Building the next generation of ethical and conservation-minded anglers will ensure that there are future stewards and advocates for marine and freshwater species and habitats, and it will help develop productive, lifelong relationships between individuals and the outdoors.
The IGFA Intro to Fishing module can be accessed through the IGFA's website using the following link: https://learn-to-fish.igfa.org/. There is no cost to complete the module and those wishing to participate are only required to register once before beginning the courses. To learn more about the IGFA's Online Angling Modules, please contact IGFA Youth Education Manager Lisa Morse atlmorse@igfa.org or 954-924-4340.
About the IGFA
Founded in 1939, the IGFA is a nonprofit organization committed to the conservation of game fish and the promotion of responsible, ethical angling practices through science, education, rule making, record keeping and recognition of outstanding accomplishments in the field of angling. The IGFA also maintains world records in freshwater, saltwater, fly fishing and junior angler categories. The IGFA has members in more than 100 countries.