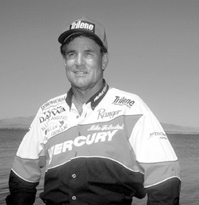 As we approach the spring of the year, Southern Californians are get excited, we know some of the biggest fish are caught this time of year and we are going to have a lot of fun. Because all the rain; fishing this year should be exceptional.
In March, the spawn is not in full swing and it's time to start fishing the breaks and drop-offs. Most of the fish will be sitting along the migration routes and along creek channels in 20 feet of water or less. Worm fishing and dropshotting will produce in these situations.
These are the time I like to use PowerBait worms or the new Berkley Gulp worms.
I think Berkley hit a home-run with the Gulp worms. They have been out for about a year now and I have used them extensively. It seems that when the fish are not extremely aggressive, I can get more bites with the Gulp worms. Also, the flavor of the worms tends to cause the fish to hang on just a little longer, enough to get a solid hookset. They also hold up well on the hook. Many people think they will fall apart, but you will be surprised to see how strong they are. Unlike regular plastics, you can't just keep them on the deck too long because they will shrivel up.
When I was fishing the WON Bass Oroville Pro-Am, I wasn't catching very many fish until I switched to the Gulp worms. That made a big difference in my fishing. When the fish are staging in Southern California, I like to dropshot, for that I prefer using the Yamamoto Senko. The Senko is a proven fish catching machine and even though there are others manufacturing Senko-style baits, none of them have been able to key in on the little things that make Senkos stand apart from the rest.
Other baits for the dropshot technique include 4-inch straight tail worms or 3-inch fry. I have found that color selection is crucial this time of year. Drab colors work best, under water, purple or green pumpkin will produce. The Berkley Tournament Strength PowerBait worms are perfect for dropshotting.
Line selection for dropshotting is important and I like a like a line that doesn't have much floatation, the idea is to keep the lure down near the bottom. Berkley's Transition Vanish is my new favorite line for dropshotting for a couple of reasons. First; because the line is a fluorocarbon it has virtually no floatation. Second; once it's under water it's nearly impossible for fish to see the line and third; above the surface, the line reacts to sunlight and gets bright yellow, making it easy for the angler to see every little twitch and movement, giving you a better shot at seeing the strike and hooking the fish. Most of the time I use 6-pound test Vanish when dropshotting. When I am dropshotting around rocks, I will switch to Berkley's Big Game. This is a tough line that will take a lot of abuse.
This is a great time of year to break out your jigs, you won't get a lot of bites, but the ones you get are generally bigger fish. I like to use either a Sweetwater craw trailer or a #11 Uncle Josh, although I have found that I prefer fishing with Super Pork pork trailers. Super Pork has excellent floatation and doesn't dry out as fast.
The key to fishing jigs this time of year is to look for structure off the deeper sides of a point. When you can find the structure within the structure, that's where you will get the better bites and the bigger fish. To do this requires truly understanding your electronics and then feeling the bottom with your jig. This takes sensitive rod and taking your time to understand what you are feeling down there.
You should keep your crankbaits handy, but understand that the time for highly active fish is generally short-lived. Reaction bites do happen, but only for short periods of time. This time of year you have to be ready to fish slow and methodically. Spinnerbaits or jerkbaits don't work 50 percent of the time. But try them occasionally and if they don't work, switch back to worms or jigs.
There are so many colors to choose from for plastics that it can become confusing but for this time of year but you can keep your selection limited. Browns, greens and purples will work on most Southern California lakes. Early in the mornings it's best to go with darker colors such as black, or Aaron's Magic; Folkestad's Special and oxblood also works well.
With jigs, keep it simple. A brown or brown and purple 3/8-ounce rubber skirted jig with an Arkie head and a weed guard will fill most purposes.
Jigs and plastics work so well this time of year because the bass aren't eating many shad. The shad are still deep so the bass are more on a crawdad bite.
Once the water warms up a bit and the reaction bite starts, get ready for some of the best spinnerbait action Southern Californian's have experienced in a long, long time. In the recent past, spinnerbaits haven't been highly effective in Southern California because so much of the structure has decayed and there hasn't been any new cover because of the low-water conditions but this year looks like its going turn around. The lakes are full or filling and the rising water is quickly covering new structure. With all the rain, it appears this will be a great year for spinnerbait fishing.
The rains are also stirring up the water and creating more stain than we have see on a while; again, this benefits everyone who loves to throw a spinnerbait.
This year you need to have several spinnerbaits in your boat, especially white and chartreuse baits with double-willow leaf blades. I suggest using a 3/8-ounce bait most of the time but keep a 1/2-ounce blade available for those times you want to go deeper.
I believe this is going to a great year for bass angling in Southern California and throughout the state. All the rain we've had will make a big difference.
Until next time, good fishing.