Every angler has a story… For Castrol Pro, David Dudley, it is one of legacy.
Like most of today's touring professionals, David Dudley of Lynchburg, Virginia dreamed of being able to make a living in competitive fishing since his youth. His father, James, regularly took his three children fishing. But it was young David in particular that displayed the insatiable appetite for the sport.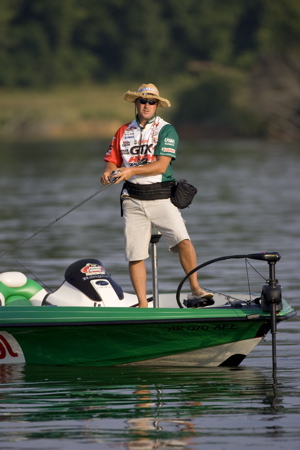 Photo - FLW Outdoors/Jason Sealock
"I knew from a very early age that fishing was what I was going to do. It was almost like I was purpose-driven. I knew, beyond a shadow of a doubt, that God had given me the talent to fish, but it was up to me to determine what to do with the talent. So, I was driven to do anything and everything I could to make it happen. I even used to answer the phone, 'This is the Bassmaster Classic Champion! How may I help you?'"
Tuesday Niters
With determination to achieve his dream, David fished every day that he could. By the age of 11, he was eager to start fishing tournaments and finally convinced his father to enter a Tuesday night team tournament on nearby Smith Mountain Lake. Prior to entering the tournament, however, James required David to earn his seat in the boat.
James recollects, "I told David that the entry fee was 25 dollars and that if he wanted to enter, he had to cut some grass to pay for his half of the entry fee. He worked hard and earned enough money for us to enter. We fished it, but did not win. The next Tuesday night was the same thing. He cut some grass and paid half of the entry fee. But, that time, we won. So we split the money down the middle, and he put his half in the bank."
For David, winning meant more than simply banking money. It was all about besting the competition.
David recalls, "I can remember coming to school the next day to brag that I had won $100 in a fishing tournament. I even saved the little yellow envelope that they placed the prize money in to show my friends."
David continued to develop his skills throughout school and built an impressive collection of other colorful prize envelopes. Upon graduation, when classmates were poised to enter college, David seized the opportunity to take his shot at competitive angling. To sustain his ambition, he served as a roofer by weekday and tournament angler by weekend. He fished three separate divisions of the Red Man Tournament Trail that year, acting on his father's advice to diversify his tournament experience. Although the schedule was very demanding, competing in three separate divisions offered a real-world dose of the hard life of professional fishing. He lived paycheck to paycheck and cut expenses wherever he could so as to afford entry into the following tournament.
"I ate peanut butter and jelly sandwiches. I was the biggest tightwad you had ever seen. All I was focused on was tarring roofs so that I could make enough money to go to the next tournament. I never really did great on the Red Man trail, but I did good enough to cover my expenses and complete the season."
As a successful angler on the local level, David's father, James, was aware of the elements that would place David in the best position to succeed for the future. One of the key principles that James would impress upon David was that of earning his way. So it only seemed natural for James to hand over the keys to his rebuilt 1985 Ranger - Mercury bass rig when David appeared ready. That moment would arrive when David, at the age of 18, had successfully competed in Red Man tournaments and had a burning desire to compete in the B.A.S.S. Invitationals. Everything from that point forward fell into place. James helped David secure a sponsorship to cover entry fees, and a friend of the family waited in person at B.A.S.S. headquarters to guarantee registration for the Invitationals. Without the monetary pressure of living event to event, David would quickly focus on the fishing and gain the necessary confidence to compete against the seasoned veterans.
Whooping the Pros
In 1995, David completed his first season on the B.A.S.S. Invitational circuit. The circuit would be his first true measure against tour-level competition.
James remembers the challenges that David faced, "He got into the B.A.S.S. side at a very young age. He had the ability more than several of the people he was paired with, and gaining respect from them was difficult. I'm sure some of them were thinking, 'You are young, and I am more experienced, so I am going to take control of the day.' I can remember David telling me that some of his partners would not want to go along with his ideas, even though they were good ones. Earning the respect that he deserved was the most difficult challenge that he faced."
David fought through the rookie stereotype and won the points title, qualified for the tour, and earned a birth into the Bassmaster Classic. He achieved all of those milestones by the age of 19 and was the youngest to do so in B.A.S.S. history.
David is still amazed at what he accomplished that first season. "Just think about it, I was a young kid who just whooped Rick Clunn, Larry Nixon, Roland Martin, Kevin VanDam, and won Angler of the Year. Would you be pumped up? I was. That there reassured me that I had the God-given talent to fish and compete on tour."
Later that same year, as a true touring professional on the Top 100 circuit, David won the James River event and had finally earned the first of many future lucrative honors. He continued fishing B.A.S.S. events until his career path would redirect him to the, then upstart, FLW Tour. David's early FLW career would be marked with modest success and his share of ups and downs. He continued roofing to supplement his fishing income and, in time, moved to the outer banks of Virginia in 2000. Shortly thereafter, he started a salt water guiding business. The benefits were twofold: he gained valuable time on the water and earned extra money. And, he caught lots of fish.
"In fishing you will get burned out in a heartbeat solely bass fishing. If you want to make it in the fishing world, you cannot be prejudiced to a certain type of fishing. Guiding helped me to not only spend time on the water, but it also helped me to learn to adjust to different situations. I found that it helps to fish for a species that you can get a lot of bites going after. I'm not lying when I say that we used to average 300 to 400 Striper bites a day when I was guiding. From feeling the bite to landing the fish, the repetition of catching lots of fish was great practice and it definitely improved my bass fishing."
The success that David experienced through his salt water guiding carried over to his fishing. He would soon become a household name after winning the 2002 Ranger M1 Tournament on the Mobile Delta just two years after his move towards the Virginia coast. It was at the M1 with a purse of one million dollars on the line, where David also showcased his ability to succeed under the most pressure-intensive settings in competitive angling. His $700,000 payday was the largest for a single event in bass fishing history.
Ups and Downs
Since the Ranger M1 tournament, David has accumulated career tournament winnings in excess of $2.5 Million, won Stren Series, FLW Series, and FLW tour events, taken home the FLW Championship Trophy, and earned the FLW Angler of the Year title. It wasn't all that easy, however. David, like other competitors, experienced performance slumps and the ensuing financial hardship. Those difficult times, as David will argue, now allows him to better cope with the stress of competition.
He explains, "I've been through the slumps. I've been through the hard times. I've been through every pressure situation that I think I could go through. So, hardly anything rattles me anymore. That's why people say I have veins of ice. You are not going to be as level-headed and successful if you let the pressure get to you. Once you've been through the hard times, it makes you work ten times as hard because you never want to get back into that situation again."
The greatest pressure, as David identifies, stems from the financial commitment that is required of both aspiring and established professional anglers alike. The effort involved in balancing the wide assortment of bills, monthly payments, and daily costs associated with tournament fishing can easily detract from an otherwise successful performance.
David advises, "You can't fish tournaments with a budget in mind. If you start letting money affect your decisions on the water, it will only hurt you. If possible, save enough money to fish the way you want to. I am not ashamed to admit that there have been times, even this year, where I felt that pressure."
Dudley's Rule
David's influence on the sport of bass fishing is not just associated with cashing big paychecks. He has been a maverick in the context of tournament strategy. In a risky move at the 2002 Ranger M1 tournament, he abandoned his primary fishing area and trail blazed his way into an untouched oxbow. And he did so going into the final day of competition seated second. Three years later, David made national headlines while exercising a unique practice strategy for the 2005 Bassmaster tournament on the Harris Chain of Lakes.
In 2005 and for the first time in its history, B.A.S.S. utilized a boat launch order system where contestants' position was determined prior to a given event. The new system was touted to benefit anglers by equalizing boat draws over the course of an entire season. The second event that year was to be held on the Harris Chain at the tail end of the spawn. David approached the event just like any other tournament where spawning bass would be a factor. He spent time searching for beds that other competitors would overlook. When located, he determined the aggressiveness of bedded fish by quickly flipping a lure to the fish without hooking it. In a well-known channel on the final practice day, he spotted two beds with bass that were willing to bite virtually any lure tossed in their vicinity. With a near-last boat position for the first day in the back of his mind, he decided buck conventional practice strategy and catch the fish. Much to the dismay of a witnessing Roland Martin, David hooked, landed, and released two bass. Later that day, he was protested for "catching fish during practice". Although there was no rule to prohibit catching fish during practice, media sources went into a frenzy and described the move as defensive fishing.
Some people dismissed his actions as foolhardy to defensively fish against so many other competitors. Others theorized that it was an innovative strategic move. David, however, felt that the situation was straightforward.
"I knew I was basically the last boat. With that in mind, I went into a channel to look for deeper beds that other guys could not see. When I was in there, I spotted a couple of beds that were the size of big inner tubes. The beds were so easy to see that I knew that every single person driving by spotted them. And the bass were just sitting there, waiving a flag, shouting, 'Here I am. Come and catch me. I weigh five pounds.' I knew that everyone going out in front of me were passing those fish, and that there was no way that I would get to those fish first. So when I flipped into the bed, and the fish went down on the lure, I decided to set the hook. I didn't concentrate my practice on catching fish so that other competitors couldn't catch a fish. I just knew that someone else would catch those fish the very first thing, the first day."
Although the protest was quickly dismissed, an alteration to B.A.S.S. tournament rules was instituted. One veteran angler congratulated David on the new rule policy.
"After the tournament, Rick Clunn came up to me, shook my hand, and said, 'Congratulations, Dudley!' I said, 'For what?' And he said, 'There's been rule changes because of me, there's been rule changes because of Roland (Martin), and now there will be a rule change because of you.' Rick was just joking, but when he came up and congratulated me, I found it pretty funny."
As a direct result of the controversy surrounding the Harris Chain event, the boat launch order grid was scrapped for subsequent seasons.
Beyond the Stage
David's success in fishing extends beyond the glamour of the weigh-in stage. It is also evident in his community. He has given back to those people, communities, and organizations that have supported him along the way.
One person who paid for David's entry fee into the 2002 Ranger M1 tournament was not only reimbursed for his original investment, but was given half of David's winnings – a commitment that David had made when he learned about the generous sponsorship. In addition, he has contributed to the One Body in Christ ministry set to start in the next year.
Faith has always played a big role in David's life. From his original recognition that God had provided him with the talent to fish, he has always been cognizant of the role that faith plays in his fishing.
On www.DavidDudley.com, he summarizes, "Because of being on the water so much I have a lot of quiet time. Through my years of fishing I have seen God work so much in my fishing career and life in general! I sometimes sit back and laugh when I am on the water thinking about the situation that just happened, the fish I just caught, or how the decision I just made could only have come from God."
In addition to his faith, David gives credit for his success to his family.
"I have a very supportive wife who understands my occupation. She supports me through thick and thin. And, my kids are my biggest fans. It is the greatest feeling in the world, to come into a weigh-in, have my kids run up to me, and ask me how my day was. They are always proud of their Daddy no matter how I finished."
Never Be Satisfied
With unwavering faith and a loyal family, David most recently attained one of the most coveted titles in bass fishing: FLW Angler of the Year. The title completed his quest to achieve every honor that FLW Outdoors offers. So, what's next? For David, the explanation is simple.
"So where do I go from here? That's a no-brainer. I want to be a two-time champion. And, what is after that? I want to be a three-time champion. That's what you have to do. My favorite motto is, 'Never be satisfied.' If you are ever satisfied with something, you will hit a plateau, and never improve. If you are working towards a higher goal, you will always strive to be the best."
There is no telling where one of the best anglers on the planet will go with the desire and motivation to achieve even more. In the meantime, other competitors can only hope that "Dudley's Rule" is short-lived.