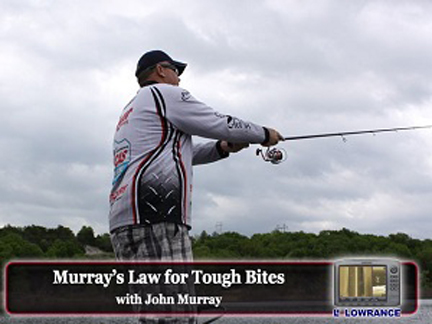 John Murray Law for Tough Bites - Wacky Jighead
Story and photos by Dan O'Sullivan

We are smack in the middle of one of the toughest times of the year to catch bass. The hot summer months can create a situation where the activity level of fish can be downright dormant. The hotter water temperatures reduce the oxygen content of the water and bass can become overheated and downright lethargic.

But, that doesn't stop tournaments from happening all over the country. The fact that there is a tournament that anglers are competing in mean they absolutely must put five quality bass on the scales to cash checks and get points towards their year-end championships.

While many anglers try and bank solely on the early morning bite to try and produce their weight for the day, the practice does not always prove to be fruitful. Anglers often turn to a frog or a Flippin' Stick to see if they can coax enough fish into striking, but that doesn't always do the trick either.

John Murray, a Bassmaster Elite Series pro from Phoenix, Ariz. knows how difficult these times can be, and several years ago, he found a tool that helped him cope with extreme circumstances.

That tool is a Wacky Jighead.

Uncommon Results
Ironically, the first time Murray used the Wacky Jighead was during the swimbait wackfest on Clear Lake during the tournament in which Steve Kennedy pounded out 122 pounds, 14 ounces on swimbaits en route to breaking the all time four-day heavyweight record in B.A.S.S. history. Murray finished that event in fifth place, but he was going against the grain slightly.

One might begin to wonder why Murray would be using a Wacky Jighead and a six-inch worm on six-pound-test line when most everyone else was using 20-pound-test and higher and throwing eight-inch swimbaits. Murray's answer was one of necessity.

"I had been throwing a swimbait for most of the tournament when live bait fishermen invaded my spot," he said. "The area that I had caught big bags on swimbaits for three days was so overloaded with live bait, that I couldn't get my fish to eat my swimbait any longer."

Murray needed a coping mechanism. He tried the dropshot, he tried the shaky head and a jig to no avail. When he tied on a Wacky Jighead, his fortunes changed. "I caught something like 70 bass that day and really had one of my best tournament days in a long time."

Why Wacky?
Murray said that since that day, he has found that rig to be the only thing that could compete with live bait. "There's something about the way this rig works that seems to make fish eat it," he said. "I'm not entirely sure why they eat it so good, but for some reason, it just appeals to them."

He said that it has become an excellent rig for him to use when he guides clients on the waters around his Arizona home in the offseason. "It's a great confidence rig, people catch a lot of fish on it."

Fishing the Wacky Jighead
The veteran pro recommends that anglers set themselves up for success from the beginning. He said it is important to have a rod with a soft tip, to use light line and to use a light a jighead as possible. "I try not to go heavier than 3/32 any time I am throwing a Wacky Jighead," he said. "I want the bait to have as natural a fall as I can get."

He said he uses two brands of jighead; an Owner Ultra Wacky Head around grass and smooth bottom and a Zappu Inchi Wacky head if he is fishing around rocky bottoms. The difference between the two is that the Zappu version is tungsten and it transmits feel around rocks better.

He rigs one of two worms on the jighead; either a Zoom Swamp Crawler or a 6-inch Fat Roboworm. He said he doesn't have a set reason to go with either, but has found that they are both effective, so he experiments between the two. He likes green pumpkin and watermelon tones primarily, but turns to blacks if the water has more color to it. He sets up a Powell 733 spinning rod and reel with six-pound-test fluorocarbon line and goes about fishing.

He suggested that anglers avoid doing too much with the Wacky Jighead. "The best advice I can give is to tell anglers to not do anything with their rig," he said. "Shaking it, or hopping it seem to keep fish from biting as good as they can. I truly let the worm sit as still as I can on the bottom and let the fish swim off with it."

Tips for Success
Murray said that all there really is to generating bites is that - cast it out and let it soak. However, he offered up a few tips to help anglers convert on the effectiveness of the rig. "I really think it helps to use a lot of scent on the worm," he said. "I spray my bait with scent before each cast, because I'm a huge believer in it."

He also said that anglers need to tone down their hookset. "I really wouldn't call it a hookset at all," he said. "I let the fish swim off with it, and let the line get tight then lean into it like a circle hook for live bait fishing.

"It's a really effective technique if you don't overthink it or overfish it, I really like it a lot."
See more like this at advancedangler.com