Super Clean pro John Myers of Atwater, Calif. stretched a Day One lead of less than two-inches to nearly 20-inches, winning the 2021 Wild West Bass Trail (WWBT) Kayak Series Championship presented by Headwaters Kayak on the Thermalito Afterbay. Myers added 79.5" to his Day One 75.25" for a tournament total of 154.75" to rocket above the 46-angler field.
Myers focused on tule islands on the north end of the lake, making a 40-minute run each day to his primary area.
"I would get the kayak right up against the tules," he said. "I would throw my lure to the points, bring it right to the outside of the point and crash it through the tule points around the berm. I would make multiple casts to the same spot, and I mean multiple casts.
"On the last day, I had to make an adjustment and what I did was instead of crashing into the tules, I had to pull back and fish in six-foot with the boat in eight-foot. There was some aquatic vegetation that I would have to nick with my spinnerbait to get the fish to bite."
The spinnerbait that Myers referenced was homemade. He described it as ¾-ounce with a blue/lavender skirt and double willows in chrome. It held a five-inch Zoom Grub in an iridescent pearl color.
"The blade size was extremely important," he said. "It was a key because, I tried bigger blades and it didn't work. They were a 3 ½ and 4. When I threw the spinnerbait, I had to stop it right before it hit the water so that it had a quiet presentation and the heavier weight helped me control it easier, plus it crashed through the tules a little deeper than a 3/8- or ½-ounce."
He varied his retrieve for different presentations to attract his strikes.
Along with this victory, Myers claimed Angler of the Year (AOY) honors in this season's WWBT Kayak Series.
"I make goals every year and I made the goal for Angler of the Year and to have a win," he said. "Next year, I hope to be Angler of the Year again. I like to be realistic and if I don't meet that goal, I still want to try."
Myers expressed appreciation for the support of Super Clean.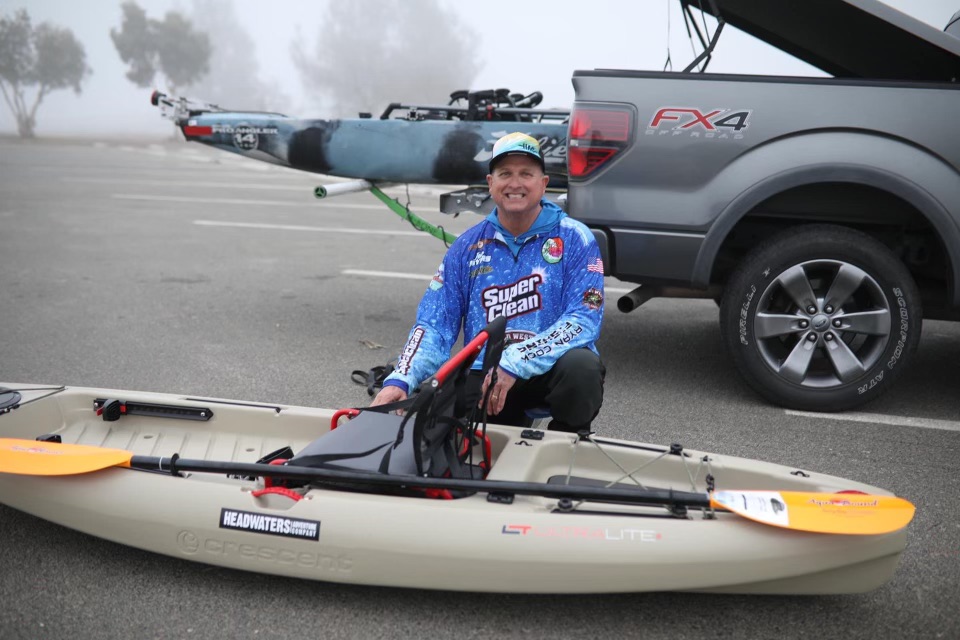 Climbing the leaderboard from 5th place with 54.50" on Day One, Kong Her of Oroville, Calif. took the runner-up position with 135.50". Landing a 20.25" largemouth, Her took down the Yamamoto Toad of the Tournament title as well.
"On the first day, I felt confident being in the top-five – knowing that lake," he said. "I felt like if I could catch five fish on Day Two, I would make it on top."
Her revealed he fished his history on the Afterbay, which allowed him to be more patient in productive areas. He focused on both the north and south ends of the lake.
"In the morning, I would spend most of my time fishing north at the tules right across from the ramp – only a five or 10-minute run," he explained. "Later I would make a run to the south and finish my day there."
Her landed four keepers on Day One and upped it to seven on Day Two. His most productive lure was a 3/8-ounce Coolbaits Underspin with a gold blade and a 3.8 Keitech in a natural shad pattern.
"I was slow rolling it, paralleling with the tules," he said. "I was fishing it in the range of five- to eight-feet of water. On Day Two, I fished another spot too. It was a protected tule patch."
Power-Pole pro Damian Thao of Fresno, Calif. filled in the last spot of the top-3 with 115.00".
Damian found the event to fish much differently than his practice. He began both days with a 30-minute run north and targeted windblown areas on tule islands.
"I was looking for the ones that had a little deeper water on them," he said. "Basically, I would pitch in the edge of the tules, work it really aggressively and then pull it out and pitch it again. I made like 100 rounds around one patch. I fished my main area for half a day and then moved to the next bay over."
Day one he had nine or 10 bites and boated three.
"I just couldn't get them in the boat, for some reason," he said. "It was really frustrating; but what I figured out is that if you got a bite, the area would reload in the same spot."
All but his biggest bass ate a drop shot, that included a 1/8-ounce cylinder weight and a weedless, nose-hooked, six-inch straight tail Roboworm in Margarita Mutilator on 7-pound-test Sunline FC Sniper. His line length from hook to weight was approximately nine-inches.
"I got my bigger one a black popper – a Rico," he added. "It wasn't that big of a fish; but a big one for Thermalito. It was 16-inches."
Day Two he added Yamamoto plastic into to his lure selection.
"I got my fish on a good mixture of the same dropshot and a weightless, Texas-rigged five-inch Senko in Green Pumpkin/Watermelon Laminate on 10-pound Sunline FC Sniper. I pretty much had the same gameplan; but I put more fish in the boat."
Rest of the Best
4th 113.75" Griffith Garrabrant
5th 105.50" James Croco
6th 98.50" M. Navarra
7th 89.25" Julio De La Rosa
8th 89.00" Scott Savko
9th 81.00" Michael Trang
10th 78.00" Garrett Clark
The Tournament of Champions concludes the WWBT Kayak Series for the 2021 season. The 2022 season has been announced with the first event blasting of at Lake Shasta on February 5.