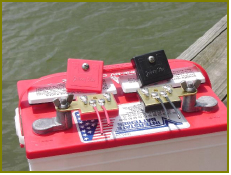 Johnny Ray Accessory Wiring Terminals have been arround for 20 years, but now can be utilized like never before with the introduction of On-Board Charging Systems. These type systems require two leads per battery, but provide a very weak mounting point to the battery post because the wing nut has to twist to tighten. This eventually breaks the eyelet if it is over-tightened, or if the battery is removed or installed frequently. This is where Johnny Ray Battery Terminals fit in. Simply wire the respective charging lead into the correct color Johnny Ray Terminal, and install the terminal to the post.
And the best part is, there is still plenty of room to put any other wires you may have beside the newly installed charging leads and they won't break the connector or loose connection ever again. Securing all of your wiring to the battery never got any easier. Plus all of the wires stay sorted based on polarity, in their own color coded case. Each Johnny Ray Battery Terminals is stud hole sized, which leads to one more less chance of re-installing them on the wrong post, no matter how many times you remove or install the battery. But for the best part, our Battery Terminals are small enough to fit inside virtually any type of battery enclosure on the market today. So there's no need to modify or omit the battery case cover.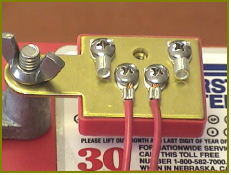 Another strong application for our Battery Terminals is for those fishermen who rig and customize the smaller Aluminum Fishing Boats, from Jon Boats up to the pre-rigged models. Most owners have to run every wire directly to the battery if they need to add any accessories, such as electronics, additional pumps, lights, etc. After a couple of accessories are added, the wires leading back to the battery look like those "Professional Over-Runs" we have all encountered with our fishing reels. And everyone knows that when you have a lot of wires going to the same place, connections get broken, polarity gets reversed which damages sensitive equipment, and could eventually lead to shorts and open arcing.
Nobody likes having to stop their fishing and fix wiring problems. Johnny Ray Battery Terminals eliminate all of this. Simply install all of your wires into each respective Terminal and secure it to the battery. No more tangled mess. No more broken connectors. No more guesswork as to which wire goes to which post. And best of all, no more interrupted fishing to repair those pesky wiring problems.
Each Johnny Ray Battery Terminal comes in two models; Our JR-600 for Freshwater Use, and our JR-600B for Saltwater or for Superior Freshwater Protection. The JR-600 Battery Terminals feature a .093" thick Yellow Zinc Plated Steel contact plate while the JR-600B features a .093" thick Yellow Brass contact plate. We provide four wiring connections per terminal; two 12-10 AWG connectors and two 16-14 AWG connectors, all of which are secured with stainless steel screws. More connections can be added, if needed. All outer cases are Injection Molded in color with Polyethylene to protect the terminals from shorting. And they all come with the same Quality and Durability that everyone has come to know from Johnny Ray, while at a price everyone can afford. Retail price on the JR-600 Freshwater Terminals is $12.95 per set, while the JR-600B Saltwater Terminals are $14.95 per set. They are widely available at leading retailers and dealers across the US and Canada.
For more information visit our website at www.johnnyraysports.com or contact us by mail or phone: Johnny Ray, LLC P.O. Box 1608 Gadsden, AL 35902 Phone: (256)442-5053 Fax: 256-442-6560 E-Mail: customerservice@johnnyraysports.com