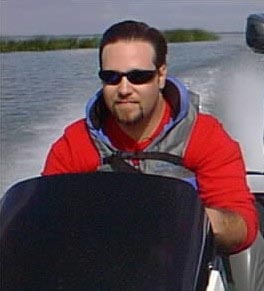 I must admit a personal prejudice; I have never been a fan of jointed hardbaits. To me the broken back style of baits had always been reserved for striper trollers who use big broken back minnows tipped with soft plastic trailers. The smaller jointed baits to me had a well-deserved reputation for catching small bass, usually by my father-in-law; my team partner for five years; in a tournament.
I would usually laugh in practice as he tied that shad colored Rapala Jointed Shad Rap and catch several eight to ten inch bass. My humor would turn to consternation on tournament day as he would again wield that little bait and catch small fish. Dennis developed a lot of confidence in that lure, and I must now admit that I am a recent convert into the world of jointed crankbait devotees, thanks to a new lure by River2Sea; the V-Crank.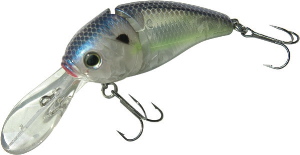 V-crank measures two and a half inches and has the body profile of a standard medium depth crankbait, it runs from four to six feet depending on the line size, and its real feature is that each side of the joint is equipped with small metal clickers that give the bait a unique feel throughout the retrieve, as well as what I am sure is quite a racket.
I had received a chrome / black sample of V-Crank from River2Sea's warehouse in Richmond when I was there for a meeting, and as a pro staffer I promptly placed it in my tackle box to keep around as a "show sample" for other anglers and dealers. I never really intended to throw the thing due to my previously mentioned aversion to this style of baits; that is until I fished a tournament on the Delta in October.
My partner Paul Boudreau and I were fishing his favorite summer / fall water where crankbaits are king, and some quality bass can be featured on the menu. Early in the morning, on about his tenth cast, Paul hooked and lost a fish that weighed at least eight pounds on a crankbait. We kept moving through the area and I caught a small keeper on a buzzbait before turning to flipping. Paul managed to boat a small fish as did I, and he also landed a 4.20 while flipping. With four fish in the livewell and about an hour and a half left to fish, we headed for another one of his favorite spots on the San Joaquin River to throw crankbaits until we had to make the run to weigh-in.
Like a lot people who fish the Delta, we had been pounding the shoreline with red crankbaits, trying to mimic the crawdads that big bass feed on. As we stopped on Paul's spot to wind up the day and began casting, I noticed that a lot of baitfish would flitter as the lure passed through them. I opened the storage compartment and looked for something to match the conditions, a lot of baitfish, but the water had been dirtied because of recent storms. I was looking through my box when the V-crank caught my eye, figuring that the clickers would add some additional attraction in the dirty water, while I still had the baitfish color I wanted. On my fourth cast, I became a devotee of jointed crankbaits.
As I retrieved the lure past the rocks closer to the boat, my S-Glass Revolution rod suddenly jolted and my reel handle stopped dead. I reared back with a sharp snap and saw the fish come towards the surface, "Paul, get the net, it's a good one!" I hollered. I fought her around the boat for more than a minute before she settled in the bottom of the net. A few minutes later I got another strike, and in my excitement rushed the fish to the surface where she threw the V-Crank back at me. Our big fish wound up weighing 5.88 pounds and the fish I lost was over three pounds. In the end we finished in ninth place of a Future Pro Tour event with 117 boats in division 2.
Forward to the Future Pro Tour Classic at Clear Lake and V-Crank again showed me something. Paul and I did not get on a pattern that would have won the event for us, and in fact probably settled for a program that put us in no position to contend for the championship. After weighing in with only 9.11 pounds on Saturday, we knew that we had to change things up to even have a shot at finishing in a respectable position. We settled on crankbaits, and V-Crank became one that I tied on as the day wore on.
Late in the day we entered Corinthian Bay on Clear Lake's western shore and began throwing a Bomber Model A and a Rat-L-Trap, when I thought about tying on the chrome / black V-Crank. As I retrieved the lure pas the piling of a dock, I got one of those bites that happen as the fish eats the lure headed straight back towards the rod tip; the vibration of the lure just disappeared. I set the hook, and the fish turned and ran straight into the middle of the dock, I couldn't stop her and she ripped the hooks out of her mouth. I never did see that fish, but she was very strong, and I would have loved to have seen it, because she was not going to stop for anyone. I continued to make casts around the docks, as did Paul with his Bomber; and while he was getting strikes on his crawdad colored bait, I opened the storage compartment of the ranger and pulled out a red V-Crank to better match Paul's action. After making sure the lure ran perfectly, I began casting it around the docks.
Then, on the right hand side of the bay, there is an area that is void of docks for about 100 feet. Not wanting to waste time by not casting, I made a quartering cast to burn up the bank, just in case. As the lure reached the four-foot zone, I again felt a bone jarring strike as a 3.01-pound largemouth joined us for a boat ride. Realizing that she had been in the sun keeping warm, I began casting to the edges of the shad, where the sun would warm up the water for the cool water bass to enjoy. As I was retrieving my red V-Crank from between two more docks, the lure again reached the four-foot zone and it got crushed again. This time we boated a 3.54-pound largemouth to complete our limit with only fifteen minutes left to fish.
We were not able to catch anymore fish that afternoon, but I bet if we had another half an hour, the bite was just starting to turn on, we could have come in with a really healthy bag of bass. I am now a total convert to "the jointed one," as in now perhaps two total hours of fishing, I have had five bites on it; I landed a 3.01, a 3.54 and a 5.88, I lost two more, another three pounder, and a fish I could not stop if I would have had a leash on it.
River2Sea's designers really hit a home run with this one, and as a pro staffer and marketing person, I am proud to introduce V-Crank to you. However, as a competitive angler, I am very upset that Simon and K.K. require us to promote it. On second thought, don't buy any V-Crank's, they are the worst crankbait I have ever thrown, and I am going to demand they return every one of them to the factory as rejects. However, because I am a responsible promotional staff member, I will volunteer to dispose of them properly… in the storage compartments of my Ranger, just to save the return shipping charges.