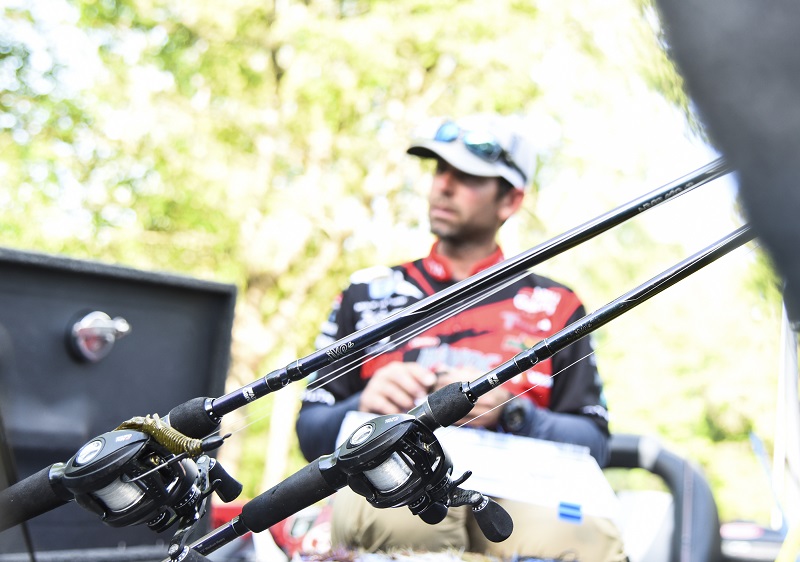 With the Bassmaster Classic quickly approaching, the 52 anglers who qualified for the event are formulating strategies and gameplans. Mike Iaconelli and Justin Lucas are both vying for the title and have a similar approach to tackle both the boat traffic and the bass at Lake Conroe.
Positives and Negatives of the Conroe Bassmaster Classic
Lake Conroe is known for big bass and all of the competitors and fans across the country are anxiously waiting to see what crosses the scales.
"The great thing about Conroe is that it has a tremendous amount of big bass. There are also lots of options and patterns that will be going on, we can basically fish our strengths," says Iaconelli.
On the other hand, the lake is relatively small and spectator boats are expected to be a factor in this event.
"With it being this time of year you are going to have nice days and being so close to big cities like Houston and Dallas, there are going to be fans watching everywhere," says Iaconelli who should have a large following each day given his popularity. "If you have a good day you can have 50 or 60 boats following you the next day." This does factor due to the boat wakes, noise and top pros factor this into their strategy.
Lucas thinks it will be rough because of the boats and expansive sections of seawalls around the lake. "It's pretty small and I will definitely need to have a plan to manage the boat traffic so you can fish effectively," he says.
Predicted Winning Techniques for the Bassmaster Classic
There are a number of techniques that could realistically win the event. Iaconelli predicts a crankbait, Texas-rig and finesse tactics will be his best shot at another Classic title. Lucas has similar thoughts and agrees a shaky head, crankbait, and flipping and pitching a Texas-rig will be his go-to baits at the Classic.
Although they chose the exact techniques, they differ some on their approach and gear selection.
Crankbaits at the Bassmaster Classic
"Conroe is a good cranking lake at all depths, but I think the 10-foot and shallower range will be key," begins Lucas, who says he will lean on a Berkley Dredger 10.5 and Squarebull (formerly Pitbull) 5.5. "For the Dredger, I'll use a 7'3", medium Abu Garcia "Ike" Delay Series and for the squarebill, it will be the 7' medium of the same rod." For both cranking applications, he will use an Abu Garcia Revo SX in the 6.4:1 retrieve and will use anywhere from 10 to 15-pound Berkley Trilene 100% fluorocarbon.
Iaconelli feels a "coverage or search bait" is needed this time of year. "It could be a spinnerbait, vibrating jig or crankbait, just something to cover water. A shallow running Rapala DT-6 or DT Fat 3 will be my choice at Conroe," he says and prefers his signature series 7'3', medium cranking rod that Lucas will also be using. "The rod is a composite and that is what you need for trebles." He will use a 6.4:1 Revo Premier with 12- to 15-pound Berkley Trilene 100% fluorocarbon.
Finesse Tactics for the Bassmaster Classic
Given the anticipated fishing pressure and time of year, finesse may be the way to go when things get tough. "There could be finicky fish up shallow and nothing beats a shaky head in those situations," says Lucas. His setup is a 7' medium-heavy Abu Garcia Fantasista Premier rod with a size 30 Revo Premier spinning reel. "That rod is the best shaky head rod I have ever used," he adds. His bait of choice is a 6.25" Berkley Havoc Bottom Hopper in the tried and true Green Pumpkin color. He prefers a braid to fluoro setup and will be using a new Berkley braid that will be released soon in the 10-pound size with a 10-pound Berkley Trilene 100% fluorocarbon leader.
"Everybody is thinking big baits for big bass, but a finesse technique could be a sleeper. It could be a shaky head, dropshot or Neko rig," says Iaconelli. For all of these techniques he uses the same rod, a 7', medium action spinning rod in his signature series in the Power lineup. "It is the best all-around spinning rod and if you could only get one, that is the one to get," he says. He prefers a Revo MGX reel in the 30 size and uses 15-pound Berkley braid with a 8- or 10-pound fluorocarbon leader.
Flippin' and Pitchin' at the Bassmaster Classic
"I'll be fishing any docks, brush and whatever else I can find in the water," begins Lucas. He plans to use a prototype Berkley creature bait that he calls a 'game-changer', and will rig it up on 4/O straight shank Berkley Fusion19 hook with a 7'6" heavy Abu Garcia Villian 2.0 and Revo Rocket spooled with 20-pound Berkley 100% fluorocarbon.
Iaconelli agrees and says soft plastics will play a role. "It could end up being any type of plastic. The magic will be finding which bait they want, where to fish it or using a different retrieve since everyone will be using some sort of soft plastic," he says.
For pitching soft plastics, he likes a 7'2" medium-heavy rod in his Power lineup and uses a Revo MGXtreme reel with 15- or 20-pound Trilene 100% fluorocarbon.
Classic Excitement
The Bassmaster Classic is the pinnacle of the sport of bass fishing and anglers who qualify amp up their excitement level each time they qualify. Mike Iaconelli, himself a past winner, is especially ready for this year's event. "I'm excited because this one is a true spring event after having winter tournaments for years. It is going to be a true shallow water event and I think you will have to focus on water less than 10- or 12-feet to have a chance to win," he says.
Lucas thinks the bass will be in all phases of the spawn and the big ones should show. "I was checking the results of a recent big bass tournament and saw around fifteen over eight-pounds weighed in. There should be some really good bags."