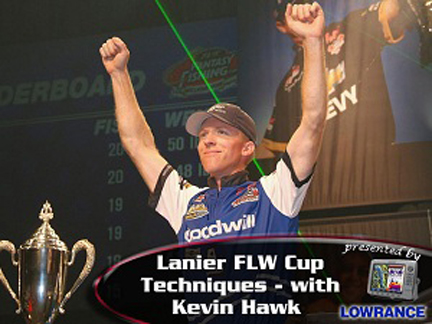 8/7/2012 - story by Dan O'Sullivan - photos courtesy Kevin Hawk and FLW Outdoors

Yesterday we did a preview of the 2012 Forrest Wood Cup on Lake Lanier. We had one glaring item left out of our discussion because we did not actually speak to the man who won the event last time The Cup was contested on those waters; we did not quote Kevin Hawk.

Our plan for Cup Week was to get together with the 2010 Forrest Wood Cup Champion and find out what he felt it would take to win this year. As someone who spent nine months prior to that tournament in 2010 familiarizing himself with Lanier, we felt he gave us a unique perspective on what the 2012 version would require.

We recapped a his 2010 pattern a little yesterday, but we wanted to get his exact thoughts on how the event would pan out based on his experience. Not surprisingly, Hawk had some feeling about how things would go, and we wanted to know what they were.

No one better than a previous champion to get those thoughts from.

Not Much Different
Hawk, who was on his way to the final Bassmaster Northern Open of 2012 when we connected said that he expected the 2012 Forrest Wood Cup to go down much the same as the year he won it. Despite the fact that the lake level is supposedly down as much as seven feet; he feels the deep bite should still be the winning one.

He said that he felt that the consistency of the spotted bass bite would outweigh the potential for a big day upriver. "It wouldn't surprise me to see a guy get a big bag one day upriver," he said. "But, I don't believe the largemouth bite upriver is going to have enough to last for the full event."

He also had the feeling that the zone anglers would be targeting. "I bet that the majority of the anglers will be fishing in that 24 to 28 foot range," he said. "It wouldn't surprise me is they were caught slightly deeper, but I bet that zone is the most productive."

One thing he said would be different is that the brushpiles most anglers fished in 2010 would not be as effective due to the low water levels. "Those brushpiles I fished will be too shallow now," he said. "They (the competitors) would have had to been putting out new brushpiles or finding deeper ones this year."

How Would He?
Even though he will not be competing in the field in 2012, Hawk said he knows how he would be fishing the event if he was. "I would be running multiple brushpiles each day with two patterns," he said. "I would have the Sworming Hornet Fish Head Spin and a Dropshot rig on at all times."

He said he would prefer to have the Fish Head Spin, tipped with a 3.5" blue pearl Yamamoto Saltwater Swimbait on it, at all times. "The Fish Head Spin gets the best overall bites, but it doesn't work all the time," he said. "I'd throw that when it was sunny, and the Dropshot when it was cloudy."

That may seem like it is kind of a backward philosophy, but he said the Fish Head Spin produced best on days one a four; when it was sunny, and the dropshot was best in the overcast days. "The fish loosen up on the structure in low light conditions, and it requires the vertical presentation of the dropshot to catch them."

He said he would cover as many brushpiles as possible, making only four or five casts on each one. He said that catching a bass off of a brushpile pulls the school off of it, but he also said he knew that if he didn't get a bite in the first couple of casts, that no one was home on that stop.

"I'd basically have two rods rigged," he said. "An iRod 703 with an Abu Garcia Revo SX and 10 to 12-pound-test Berkley Trilene 100% Fluorocarbon line for the Fish Head Spin and a dropshot rod with a Revo Premier size3 and 6-pound-test Berkley Trilene 100% Fluorocarbon. I like a 1/0 light to medium wire Roboworm Rebarb hook and a 3/8-ounce Skinny Bear Thin Dropshot and a Roboworm; my favorite color at Lanier has been Morning Dawn."

With those rods he said that he would position the boat so that he could first cast the Fish Head Spin 20 feet past the brushpiles and count it down half way to the pile. After the count it down to at least 10, he would engage the reel and slowly reel the lure through the strike zone. His approach would be to slowly reel the Fish Head Spin past the pile, or above it as close as possible without snagging in it.

He would make three to five casts with the Fish Head Spin, then make a drop or two with his drop shot rig on top of the pile before moving on. "I'd have at least a dozen brushpiles that I felt would produce, and then some as backups," he said. "That way, I could hit them quick and move on to the next one and
make a milk run out of them."

He also said that he felt the winning weight would be within five pounds of the 50-pound,14-ounce weight he won with in 2010. "12 to 14 pounds a day on Lanier is really good this time of the year," he said. "A three pounder is like gold and if a guy can put three of those and some solid two pounders in the boat, he'll be in really good shape. I expect it to be a really tight, hard fought event."