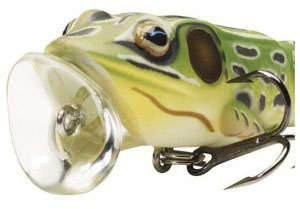 Koppers Aiming For Awards Hat-Trick
The Niagara-on-the-Lake, Canada, company, which enjoyed back-to-back wins in 2010 and 2011 in the soft lure category, is unveiling its Popper Frog at the event this week.
"A win in the hard lures section would be a great success story," said company founder Grant Koppers. "The bait is unique, innovative and looks fantastic in the water.
"The challenge with conventional poppers has always been the profile," added Koppers. "Most appear as cone-shaped and very unnatural. We have designed a fleeing frog profile with a built-in clear popper lip. As a result, fish will focus on the frog profile and 3-D anatomical markings and are more likely to engage."
Available in two sizes and five colours, the popper will complement the current LIVETARGET frog line-up, adding to the hollow body and walking frog series.
Koppers will also be launching a new Crappie and Tilapia series. The Crappie will be available in lipless rattlebait and flat-side crankbait tools, while the Tilapia will be a favourite with Americans in the south and come in wakebait and lipless rattlebait models.
Business contacts. Tel: + 1 905 468 4448 Email: info@koppersfishing.com Web: www.livetargetlures.com