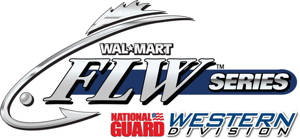 TRI-CITIES, Wash. (Sept. 20, 2008) – Pro David Kromm of Kennewick, Wash., caught a five-bass limit weighing 10 pounds, 15 ounces Saturday to win $100,000 in the $1 million Walmart FLW Series® National Guard Western Division tournament on the Columbia River with a four-day catch of 20 bass weighing 55-12.
The catch gave him the win by a solid 4-pound, 2-ounce margin over Ronald Hobbs Jr. of Graham, Wash., who caught a total of 20 bass weighing 51-10 and earned $32,849.
"Today the wind was ugly," said Kromm, who has six top-10 finishes in FLW Outdoors competition. "Anyone who knows me knows I like to fish in the middle of the river in the big stuff. I was praying for wind today but it was a little too much.
"I had my first fish in the boat at 9 but it was only 11-ounces," Kromm added. I knew that I would have to do something to get some fish in the boat and being a local isn't always an advantage.
"I have way too many spots to fish on this river and it's all about making the right decisions."
By 1 p.m. he had a limit of fish that weighed only 4 pounds. In the last 20 minutes of competition Kromm culled three fish and one was a 3-pound, 5-ounce fish.
Kromm caught a total of 10 keepers today drop-shooting a Robo worm and throwing a green-pumpkin tube.
"It is such an awesome feeling to win on my home body of water," Kromm added. "Having all my friends and family here cheering me on is great."
Kromm opened the tournament in fifth place Wednesday with five bass weighing 14-01. On Thursday he added another five bass weighing 14-04. He then caught five bass weighing 16-08 on Friday to make the crucial top 10 cut in first place.
Rounding out the top five pros are Neil Russell of Nampa, Idaho (20 bass, 50-14, $26,280); RJ Bennett of Roseville, Calif. (20 bass, 50-10, $19,710) and Ken Wick of Star, Idaho (20 bass, 45-14, $13,138).
Cody Meyer of Redding, Calif., caught the biggest bass of the tournament in the Pro Division Friday – an 6-pound, 10-ounce bass – that earned him the day's Snickers Big Bass award of $329.
Team National Guard co-angler Justin Lucas of Folsom, Calif., won the Co-angler Division and $25,000 Friday with a three-day total of 15 bass weighing 27 pounds, 13 ounces followed by Robert Flowers of Roy, Wash., in second place with 14 bass weighing 26-13 worth $7,030.
Lucas opened the tournament in fifth place Wednesday with five bass weighing 18-08 while fishing with pro Duane Dunstone of Reno, Nev. On Thursday he slipped to sixth place with a five-bass catch weighing 6-08 while fishing with pro Ken Mah of Elk Grove, Calif. He wrapped up the win Friday with a five-bass catch weighing 10-13 while fishing with pro William Gibbs of John Day, Ore.
"I never thought I would win today," said Lucas, who now has four career victories as a co-angler. "I had a bad morning and caught some 12-inchers, but I just tried to fish hard. Every day I tried to make as many good casts as I could."
On the first two days of competition, Lucas threw a Carolina rig to land his limits. On the final day of competition, Lucas said he switched to a green pumpkin finesse worm on a drop-shot rig and enhanced it with Berkley Gulp! Alive! spray attractant.
"The Gulp! makes a difference on the smallmouth," Lucas said. "When you fish for smallmouth up here or anywhere else, it works."
Lucas, the Land O'Lakes Co-angler of the Year points leader, also won the Columbia River event in 2007.
Rounding out the top five co-anglers are Jason Bryan of Spokane, Wash. (12 bass, 26-02, $6,325); Gary Haraguchi of Brentwood, Calif. (13 bass, 25-06, $5,624) and J.R. Wright of Truckee, Calif. (15 bass, 24-03, $4,920).
Marvin Hawkes of Mesa, Ariz., earned $212 for the Snickers Big Bass award in the Co-angler Division thanks to a 4-pound, 5-ounce bass he caught while fishing with pro Johanson.
Coverage of the Columbia River FLW Series tournament will be broadcast to 81 million FSN (Fox Sports Net) subscribers in the United States as part of the "FLW Outdoors" television program airing Nov. 23. "FLW Outdoors" is also broadcast in Canada on WFN (World Fishing Network) and to more than 429 million households in the United Kingdom, Europe, Russia, Australia, Africa, Asia, and the Middle East through a distribution agreement with Matchroom Sport, making it the most widely distributed fishing program in the world. The program airs Sunday mornings at 11 Eastern time in most markets. Check local listings for times in your area.
The next FLW Series National Guard Western Division tournament, hosted by the City of Oakley, will be held Oct. 8-11 on the California Delta in Oakley, Calif. Boats will launch from Russo's Marina in Bethel Island, Calif., and the final weigh-in will be held at the Walmart located at 4893 Lone Tree Way in Antioch, Calif.
After four qualifying events are complete in the National Guard Division, the top 30 pros and 30 co-anglers will advance to the BP East-National Guard West Fish-Off Nov. 20-22 at a yet to be announced site. There they will face the top 30 pros and 30 co-anglers from the BP Eastern Division for a shot at advancing to the $2 million, 2009 Forrest Wood Cup. The winning pro at the Forrest Wood Cup will earn as much as $1 million – the sport's biggest award.
Tournament anglers aren't the only ones winning big this season. With the introduction of FLW Fantasy Fishing™, FLW Outdoors® offered anyone the opportunity to enter for their chance to land the catch of a lifetime with the opportunity to win $7.3 million in cash and prizes. Players could become a virtual pro angler by signing up for Player's Advantage, which provided them with exclusive insider information that could have guided them to a $100,000 victory at every Walmart FLW Tour® stop and the Forrest Wood Cup. Player's Advantage gave them an edge over the competition and increased their shot for the $1 million cash grand prize awarded to the FLW Fantasy Fishing cumulative points winner. Visit FantasyFishing.com today to find out more information and to register for next season.
FLW Outdoors, named after Forrest L. Wood, the legendary founder of Ranger Boats, is the largest fishing tournament organization in the world. In 2008 alone the organization is offering more than 90,000 anglers the chance to win over $40 million through 230 tournaments in 10 circuits. FLW Outdoors is also taking fishing mainstream with the largest cash awards in the history of fantasy sports, $7.3 million.
For more information about FLW Outdoors and its tournaments, visit FLWOutdoors.com or call (270) 252-1000. For more information about FLW Fantasy Fishing and Player's Advantage, visit FantasyFishing.com.
FLW Outdoors historically maintains a 98 percent live release rate in all of its bass tournaments.