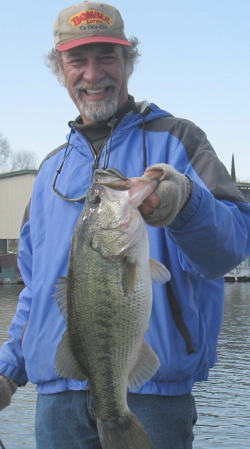 Man, what a season of highs and lows for me on the
BASS trail
. A bothersome trip at
Columbia
, yet later found out I hung in there for a decent finish, then the complete disaster at Shasta. Man was I depressed after that event. I knew my
Classic
chance for this year was gone and now, getting back into the Kmart 150 status was gonna be a long shot. To say the least, for the four months preceding this March event, I was not looking towards heading down to
Mead
. I had never been to this lake before. And it's huge, I'd heard it's tough and can git down right nasty at times.
But I'm never one to give up and I was committed to this trek and path I've chosen. I must admit, a 9.12 in the BASS Fed, the 2nd in the 100%, then a limit (There were only two) and 4th in the Bass Fed last Sunday, kinda changed my whole perspective and attitude the last 4 weeks. So after that Bass Fed on Sunday, I left straight from Ladd's at 4:30p and headed on my way to Vegas. Originally, I was stopping and spending the night in Bakersfield, but I was emotionally higher than a kite, and soaring on Red Bulls and Ginko Biloba. Three sets of Bryan Lee Live later, next thing I know, I'm charging through Barstow and it's 9:15p. Wow, can't believe the time I'm making. Heading over the summit at 15, it's starting to rain, the boats not covered and I'm starting to get a bit tired. I'm only 2 hours from Vegas and in no hurry at all. So I pull over at a rest stop near the summit, cover the boat and am fast asleep by 10:30p. Alarm goes off at 4:00a and I crawl out to find an inch of snow on the boat. Man, what am I in for!
I drive about 45 minutes down the road and realize that I'm still tired as hell. So I figure what the heck, I'm still way ahead of schedule and Mike Sisco is not expecting me till 10:00a at Pro Tackle. I'll be staying with Mike and his wife Suzy for the week. So I pull over and catch a few more ZZZs before awaking at 6:15 and moving onward. I arrive in Las Vegas just after 8:00a, call Mike, make arrangements to meet and then head over to Sam's Town to drop off my insurance papers so I'm legal for the practice days and event.
"Alarm goes off at 4:00a and I crawl out to find an inch of snow on the boat. Man, what am I in for!"
I meet mike at 10:30 at the new shop. Great place, and man does he have some of the neatest of the new Japanese baits. He's also got the biggest selection of Yamamoto Baits that I have ever seen, well, cept fer my garage. HAR! I spend some time looking at the bait selection and take notice of what's missing. I figure this will clue me in on what colors might be working on this pond.
A lot of great and valuable information can be gathered at these local bait shops, I use my time there well before heading up to Mike's house. Big beautiful house, my room is finer than any suite I've ever seen and I've seen a lot of em in my business, working with 4-5 star hotels. Mike lives at Calico Ridge, it's the last housing project off of Lake Mead Drive heading to the lake. I'm 15 minutes from Calville and less than two miles from the fueling stations and my daily supply of Red Bulls. This stuff is great, it helps ta keep me so alert, yet does not over amp me like some of those other drinks that are loaded with caffeine.
First day on the lake and I git out on the water about 1:00p. I spend all my time on the "T" motor viewing the bank around the launch, then venture down towards the Vegas wash to look at areas there. I see some bass cruising the bank, they are very skittish and not willing to chase anything I toss at em. My mind is already set that I'm sticking with 4 baits for this tournament, a jig, a 4" Zipper, a blade and a Senko. Some areas here, the water is gin clear others I find some slight stain. I'm seeing fish in both and notice most of them are hangin round the various small brush clumps on the points near chunky rock. I do manage to find an area where a few bass are hunkered in the brush and I can toss my Senko to them and they'll come git it. I do stick one 3-pound fish on the 215 cinnamon red/blue 9 Senko. It's time to head off the water.
I meet Greg Guttierez at the ramp and we help pull each other's boats out. We then spend some time talking up in the parking lot. Greg's been here a few times before, but not much. He stayed local and didn't have such great success this first day either. We decide to run and work together for the next two days. Tomorrow, we're gonna make that run up to the Overton Arm. Dirty, heavy cover areas, this is my strength and a flipper & pitcher's paradise. This practice day was huge, I've found what I believe to be my key area to fish in. A 6, couple of fours and a number of three pounders has me somewhere around a 17-20 pound limit. We also find a number of areas with LOTS of smaller fish mixed in with some good ones. Most of the fish I'm catching are coming on the black jig w/black/blue pork. I've caught a couple of good ones on a rock rubble wash with the brown jig w/black/blue as well. I even caught a couple on a white spider jig. The fish in this muddy water don't seem to care what color we throw.
We also catch a couple of fish over in the Muddy arm. We found a little bay, that had two big rocky points out front and a bunch of this brush. Greg gits one first on a white paddle tail Zipper. I then get a number of bites on an Iovino TomCat zipper in S20 color. All in all, this first day of practice has me thinking that if it holds up through out the tournament, we could have stumbled onto some tournament winning fish. We head back and discuss what we wanna do fer the next morning. This working with two minds is really working out for us both and tomorrow, we'll have Craig Eller with us in my boat. Now we got three minds all working to figure this pond out.
Greg and I have decided that we ARE making this run the first day of the tournament, so it might be in our best interest to head that way again and see what we can find to try and duplicate what we found in other areas while running up there and back. Our first three stops provide us with absolutely nothing and it seems like we've waisted almost 3 hours. We stop fer a pow wow and decide to again head to the back of the Overton and the two river arms. Might be better off, looking for additional areas up there, to bounce around to and from during the day while the event is going on. This turns out ta be a very smart decision. We find a couple of new areas and catch a few nice fish and git a few more bites. I've change my Zipper to a 4" RoboWorm in Brown Purple, this color just turns me on and I've gotten some really good bites on it today.
About 1:00 we decide to head back down towards Calville. We're gonna separate the rest of the day and go looking for different things. Craig and I head down to the Vegas Wash while Greg searches other areas above the big basin before the Narrows. We don't find much or catch any fish, but I take notice of an area down near the Gov't Wash that to me, looks promising. We head out of the launch area, heading our separate ways, vowing to meet right after the draw to confirm our plans for day one. We certainly have enough areas to share, just need to be clear on where and when we plan to arrive at each spot. And who's going where first. I am very comfortable working with Greg, he's a true professional. We've shared a lot of similar stories the last two days, stories, fitting, for the teeniest of flies. He and I, think a lot alike and have the same values. He has my utmost respect.
Wednesday night's draw is being held at Sam's Town. I draw Darryl Berkhardt and Greg gits Kataro Kiriyama. Turns out, Darryl's fishing the exact same kinda stuff as me in the back of the Overton. Without even thinking or conversation I suggest we take his boat. Greg gits a tough draw, Kota wants to stay low, he's dropshotting (who'd a guessed! HAR!) Kota doesn't wanna make the run and was whining some, Greg assures him he has no choice. Good for you dude! Might work out best, catch a few dropshot fish, then run for that afternoon big bite, best bite up there has been after 11:00a. It's a concern I start ta think about. What happens if'n we don't git bit early, fortunately, both Darryl and I have prefished both river ends, we should have plenty of places to bounce to. Now I'm excited fer the first time.
We get to the lake and blast off in flight 3B, wind is blowing and we got a bumpy rid from the Narrows all the way down to the Virgin. Jim Reese and Gadlegde are in the boat ahead of us, I instruct Darryl to stay on Jim's tail. We certainly knew when we saw that Ranger crash a wave to be ready for the next roller, this tactic seemed to make our ride a little bit smoother. Once we turned into the main basin, Jimmy did exactly what I expected he'd do, he too a course to the far east where it was much calmer than running down the middle of the basin. We musta passed 8-10 boats by taking this wide southern course. Jimmy veered off somewhere past the Echo and we headed down into the Virgin. As we came around the bluff, I could see about 5 boats down near my start spot. ARGH! When we got there, everyone was off the bank, my fish on Tuesday were in 1 foot of water. I was cold, we figured the other guys musta thought this drew the fish out to the secondary brush lines. Darryl got one and I missed two before we left. There ere about 10 boats down here now, so much fer my secrete spot. Always happens like this in a BASSmasters, you are never the only one to find the fish.
Spot number two, we see Don Iovino sitting on one side of a big rock rubble pile, we start at the other end with the brush and I miss yet another fish. No other bites here before we head back to flip the shallow rock wall. Nothing. 2.5 hours have gone by and we head over to the Muddy side to one of Daryll's spots. He gits yet another one. Then I get two and miss one more. He misses one. This is a good little point, but the fish are just grabbing the jig as I pull it up and out of the middle of the brush. Today, they are not roaming the gravel flats, they have for some reason hunkered into the middle of the brush. Darryl gits one more before we run over to a little point I found. Till now, I've caught my first two on the black jig, he's using brown, my fish are bigger. On this new spot, I start using the 4" Zipper, they would not eat the jig on this spot during practice. I miss one, then pitch right back in and catch it. He has 4 and I have three, the bite is very slow. We run back to the Virgin, I miss two more fish in the middle of a tree before I thunk a solid 2+ on a deep rock point with a small stick up on it. We head home, I have 7.3 and it's got me in 34 place. I'm very happy with that, although, I could have had a little better limit. Weird bites, not my fault, nothing to complain about.
Day two I draw Kurt Howard of Las Vegas. Kurt fishes a lot of teams on Mead and is the GM of a local hotel. He's boatless, so we're taking mine. The run up there was much smoother, but chances and wind warnings are out for later in the day, gonna be very important ta catch em early and git back before the wind starts up. First stop is much like the previous day, there are boats all over the area. I'm actually the first one there and we git first shot at the deep wall. Kurt flips the first fish, then I git a solid one in the middle of a small tree. It comes off at the boat. We move out front to the area with the points and brush, bunch of boats here today. We see Hopper and Furr I believe. They are camping on my honey hole point. We move just ahead of them and I git two solid keepers on the Zipper. I start bouncing around from place to place, No bites. I can feel the pressure of panic setting in. I try and block it and just focus on fishing. We head back around to the Virgin to the transition point and Hopper is still there. We just start fishin. Then I see him git one about 3 pounds, culls a nice little fish. Hmmmm. They're here, we should have camped too. Then I watch as Hopper boats one well over 5 pounds. Damn! He culls a real nice fish. Dudes got a big limit, no doubt. I'm getting some narly stares and they so much as won't speak to us. I git this feeling he thinks I'm encroaching. I'm not, I've fished this spot 4 days in a row. And I have been very careful to always be working away from him.
Yet it's uncomfortable for me and I decide with only two fish, it's time to leave. I'm purty discouraged, but have hopes to find something back in Calville the last 30 minutes. We pull into the bay and Kurt points to the coves to the left of the ramp, "Real good fishin over there dude". But I choose not ta do that, I fished it every day, nothing. It looks great, but no bites fer me. Plus there were about 10 boats over there and no less than 4 started there. To much pressure for a late afternoon bite. I point to a small cove to the right. 4 boats out fishin deep, but nobody is up on the bank where the trees are. Third pitch of the jig and number three is in the boat. We talk about what time we gotta be in. 2:40. It's now 2:17, plenty of time to work the point and the next little cove. We git into the next cove and a pitch into the middle of the trees produces a 4 pounder. WHOA! Dude, great call Cooch! How much time Kurt? It's a 2:28 Cooch, DAMN! We gotta go. And in my excitement, we took off for the weigh-in. He Cooch, why ya here 15 minutes early? WHAT! Oh man, what the hell was I thinkin. We couldn't go back once going in. What a mistake. I know I coulda caught number 5.Them fish were "Snappin!" (That's a new term I learned from the young dudes at this event, when the fish turn on, their "snappin") Man they was snappin!
Man, what a roller coaster that last hour was, from a low when we left Overton, to the high after netting the 4 pounder, to the absolute low of finding out I came in 15 minute early. I was quite upset with myself. But then I found that the bite was very tough. I had almost 9 pounds and actually moved up 9 spots. Now I'm on a high again and think, dude, yer in 26th, with one day ta go, you got a chance to make another move and salvage this thing. Heck, a 17-18 pound bag might even git ya a boat! It's quite possible. Hopper got 15+ on that point. I get paired up with Vern Ridgeway of Mesa the final day. He's got 10 something and is in the mid 50s somewhere. He's got a small boat, so we're gonna take mine. He says Cooch, your in 26th, the day is yours tomorrow, do what ever it is that ya need to do. I got a number of choices, I'll let ya know what that is gonna be in the morning.
I pondered long and hard what ta do. The weather forcast was predicting some nasty stuff. Everyone was rumbling, it was actually blowin purty good at 3:00p during the weigh-in, a light breeze considerin what we was in store for. Do I make the long run and gamble on some early big bites, in an area that is getting extremely heavy pressure. I gotta be careful if'n I go with the weather, I could actually loose more than 2.5 hours of fishing time with the runs. Or do I stay local, hope for the best and cherry pick a limit down here. I certainly will git ta fish all day long. After thinkin long and hard, the choice was actually simple. I needed a limit, I didn't care how big, I just needed a limit. And ta git a limit, my bait needed ta be in the water as much as possible, I had ta stay home.
I started, where I finished the day before. I saw a couple of huge fish out roaming the point. Heck who knows, might be time fer ole Cooch ta git lucky in one of these and stick a pig. NOT! It was Verns day, he tossed a crank out and one of them big roaming sows grabbed it. That big ole toad came up out of the water, and like a sea lion with a salmon, tossed his crank bait halfway up the bank. Whoa, dude, that bass, was easily a 10 pounder. Vern then stuck a two on a worm in about 25 foot of water. Man, this is starting ta git to me. Just like as has happened in the first two days, the non-boater has got the first fish in the boat on my water. I block this thought out and just keep fishin. Aaron rolls by as we're working these bushes. He says he's been in the area fer all three days. We kinda play leapfrog. Aarons working a little deeper than I. I miss yet another fish. Aaron burns to the bank and pulls around the corner out of sight. I figure, rather than fish behind him, we'll go deeper into the cove and work our way out.
This stuff is awesome back here, water is even stained, but I can't git bit. Then I miss another one. Never felt that fish, it just swam off with the Zipper worm. Then I miss one on a tree out of a rock pile. Toss in there again, this time I git him in the boat. Okay, there's number one. Hang in there and just keep fishing dude. We don't git any more bites in this area. Aaron comes by and they only got two, no better than us. He heads to the back, I move over to a deep rubble wall. Hey I got some real good ones on a wall like this up in the Virgin. Just at the end, I git another keeper. Alright, now I'm cookin at one an hour, I can live with this pace. We cover a bunch more water with nothin.
We then meet up with Aaron again. They too have three now. We both move out and start talkin bout this lake and then the Delta. Then Aaron gits one on a drop shot, then his partner Boyer gits one. Then Aaron gits another one. Damn, what's goin on here, we're fishing the same dang identical Japanese little baits here. They didn't come up with "Aaron's Magic" for nothin. Aaron's got his limit and is leaving fer bigger fish down in the Vegas wash. I manage to actually catch a couple of small dropshot fish. With Four fish I too decide to head down to the area near the Gov't wash where I had seen the long finger points. I git two fish right away out of one bush. Cullin time! Whoo hooo! Then I miss one and the bites stopped. Weird, that one bush had three fish and that's it! I got one more cull fish on a submerge hump and it was time ta go. Oh man, thank you Lord! It worked, I finally got a limit on the day it counted most.
As we got to the scales, it was evident that a number of guys struggle. A good number of guys ahead of me had fallen, I knew, I was gonna end up good in this one. Much better than I had hoped for prior to coming down here. The gamble and early morning call of staying local, staying confident and persistent paid off. I know I was doing the right thing, that Zipper worm, on them bushes on the points was the ticket. Jack won this tournament doing just that. He just knew far more areas of the lake than I. I ended up in the top 20. This moved me into 25th place over all for the points. That fire to git into the Top 150 is now burning out of control heading into the last event on the Delta.
A big thanks goes out to all my sponsors, Mike Sisco for putting me up, Greg for the prefish time together and each of my days partners, Darryl, Kurt and Vern. Each and every one of you was an important part of my success here at Mead this last week.
Stay focused dude, just go fishin and have some fun. Works every time. See ya all at The Hook!
Cooch