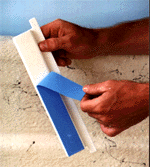 If you have your mind set to become more environmentally conscience when you're boating there is a new product out designed just for you. It's called the TRASH TRAPPER.
The TRASH TRAPPER is a polyester mesh bag that hangs from a plastic holder attached to a boat, RV, golf cart, auto or just about anywhere you need someplace to put your trash. The bag has an elastic band at the top to keep it closed but still allow the user to easily dispose of trash.
Back on shore take the TRASH TRAPPER off of its holder, unzip the bottom, and release your refuse into a designated trash receptacle, or sort the contents for recycling. A rinse with the hose, if needed, reattach the bag, and you're ready for your next outing.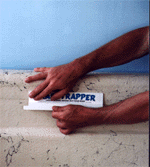 Replacement bags should be available from the dealer where you bought your TRASH TRAPPER or you can order them from the manufacturer by filling out the form packaged with the unit.
Attaching the TRASH TRAPPER is easily done. There is an adhesive strip on the back of the bag holder that adheres to clean, dry wax free surfaces. You just peel the protective backing from the adhesive and apply. While the bag is designed to be removable, the holder is designed to stay attached to the mounting surface. For this reason be sure that you install the holder in the correct position the first time. The holder can be removed, if desired, but the adhesive cannot be reused. It can also be mounted by using screws through the holes in the bag holder or by strapping it around a rail using electrical ties through the holes. It can also be mounted on the inside of a hatch cover so that the TRASH TRAPPER is out of sight when the hatch is closed.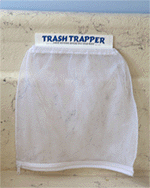 Detailed mounting instructions are included inside the TRASH TRAPPER package.
The unit can also be used as additional storage on any boat for items you'd like to get to quickly but don't want to stow away in another storage away. In fact, if you mail the manufacturer with new unique ideas about where else you might use the TRASH TRAPPER, they'll consider it and may very well send you one for FREE!!!
Suggested retail price for the TRASH TRAPPER is $12.95. For more information contact the manufacturer at 1-877-487-2773 TOLL FREE or check out their website at http://www.trashtrapper.com/