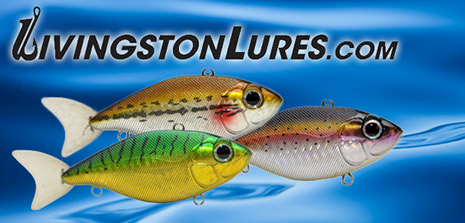 BIRMINGHAM, Ala. - With exclusive new lure technology for bass anglers, Livingston Lures has signed on as official Supporting Sponsor/Hard Baits of the 2013 Bassmaster Tournament Trail.

Livingston Lures plans to be active at events within all the Bassmaster circuits: Bassmaster Elite Series, Bass Pro Shops Bassmaster Opens, Cabela's B.A.S.S. Nation and Carhartt Bassmaster College Series. The San Antonio, Texas-based company is planning on-site giveaways, product demos, contests and educational events for fishing fans, according to Fred Battah, CEO of Livingston Lures and its parent company SPFM L.P., a 27-year-old consumer products distributor.

"We see the Bassmaster Tournament Trail as a way to introduce our lures to bass anglers," Battah said. "Fishermen are instantly intrigued when they see the craftsmanship, detail and realistic swimming actions of our lures. When they have a chance to experience the difference that our exclusive vibration and sound technology makes, they'll get hooked - and so will the fish.

"We've also signed a sponsorship agreement with Jeff Kriet, Bassmaster Elite Series angler, and we are confident that Jeff will help to make anglers across the country aware of Livingston Lures' ability to call the fish to you."

"We are very pleased to have Livingston Lures on board as an official Supporting Sponsor," said Bruce Akin, CEO of B.A.S.S. LLC, owner of Bassmaster events. "I'm confident that our new partnership will be a great marketing tool for Livingston as we both work to grow fishing."

All of Livingston Lure's new crankbaits and topwaters are equipped with proprietary technology that activates when the lure hits the water. The lures produce a sound that mimics the croak made by a real baitfish in distress. In addition, a proprietary chamber produces vibration during retrieve. All models contain this audio technology, and most are enhanced with the additional visual trigger of an LED light that subtly fades in and out intermittently.

"This exclusive combination of lure action, vibration, sound and flash help Livingston Lures accurately mimic an injured or panicked, fleeing bait fish," Battah said.

Inventor Robert Castaneda developed the products over several years of research, design and testing. A lifelong angler, Castaneda said the idea occurred to him while fishing. "I observed that fish make sounds under distress and that always stuck in my head. I realized that if I could duplicate those sounds and vibration patterns in an artificial form, I would have something truly special and joined forces with SPFM."

Livingston exhibited at its first ICAST trade show in July 2012. "It was gratifying to hear the reaction of fishing pros and anglers who confirmed that we have set a new standard in the industry," Castaneda said.

Battah describes the new Livingston Lures as "technology mimics biology." He expects the products to appeal especially to younger, tech-savvy anglers who look for the latest in technology in all their gear.

The Livingston lineup for 2013 includes Dive Master in three depth ranges; Pro Ripper, a lipless crankbait; Pro Sizzle, a walk-the-dog topwater; Pro Wake, a wake bait; and Stick Master, a jerkbait. All have the croaking sound and rattle chamber. The LED lights that naturally fade in and out are built into larger body styles. Many of the models are offered in saltwater versions, featuring specially developed patterns for popular inshore gamefish.

Also in the bass lineup is Livingston's Scuttle Buzz, the industry's first inline multi-lure rig. "This hybrid design of an inline spinner, buzzbait and umbrella rig puts the hurt on big bass without tiring the angler," said Castaneda. Compact and lightweight (about one-fifth as heavy as a typical umbrella rig), the Scuttle Buzz gets into tighter areas where big bass hang and typical multi-rigs can't reach.

For in-depth information about Livingston products, visit www.livingstonlures.com. Go to Bassmaster.com for more about Bassmaster events in 2013.

About B.A.S.S.
For more than 40 years, B.A.S.S. has served as the authority on bass fishing. The organization advances the sport through advocacy, outreach and an expansive tournament structure while connecting directly with the passionate community of bass anglers through its Bassmaster media vehicles.

The Bassmaster brand and its multimedia platforms are guided by a mission to serve all fishing fans. Through its industry-leading publications - Bassmaster Magazine and B.A.S.S. Times - comprehensive website Bassmaster.com and ESPN2 and Outdoor Channel television programming, Bassmaster provides rich, leading-edge content true to the lifestyle.

The Bassmaster Tournament Trail includes the Bassmaster Elite Series, Bass Pro Shops Bassmaster Open Series, Carhartt Bassmaster College Series, Cabela's B.A.S.S. Nation events and the ultimate celebration of competitive fishing, the Bassmaster Classic.

B.A.S.S. offers an array of services to its more than 500,000 members and remains focused on issues related to conservation and water access. The organization is headquartered in Birmingham, Ala.