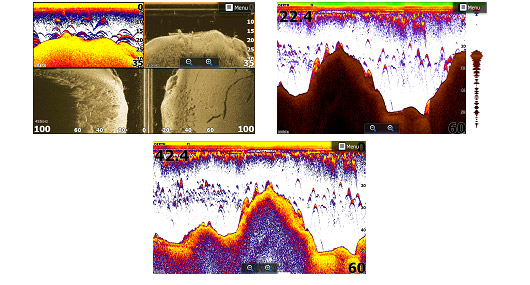 Tulsa, Okla. – Lowrance and Simrad Yachting announced today the SonarHubTM Sounder. Delivering best-in-class StructureScan HD and CHIRP fishing technologies in one compact module, SonarHub is ideal for marking fish and tracking lure action, and can provide easy-to-understand, picture-like views of structure and bottom detail.
Adding StructureScan® HD and CHIRP sonar technology to compatible Lowrance HDS and Simrad NS multifunction fishfinder/chartplotter displays, the SonarHub performance module is a plug-and-play network solution that makes it easier than ever to identify productive fishing areas. Offering a powerful performance advantage in any situation, the new module's Frequency Sweeping Pulse Compression technology – known as CHIRP sonar — provides high-definition detail to depths of 3,500 feet; while its StructureScan HD functionality gives boaters picture-like displays for more productive fishing, diving, and search and recovery operations.
An exclusive combination of DownScan Imaging™ technology and side-scan imaging, StructureScan HD includes an enhanced transducer design that features three dedicated signals for best-in-class side-scanning range and resolution, and crisp, clear views directly beneath a boat for a stunning presentation that separates and clearly exposes fish targets from surrounding structure. CHIRP provides anglers with digitally purified, crystal-clear images of individual fish markings and clear separation of fish from other targets, structure, thermoclines and the bottom. When paired with an Airmar® TM150M transducer, CHIRP sonar has extremely efficient pulse generation that provides improved target resolution and noise rejection, as well as wide coverage for perfect arches that clearly identify fish targets.
"The new SonarHub module delivers the benefits of our revolutionary StructureScan HD and CHIRP technologies in one device," said Leif Ottosson, CEO, Navico. "The all-in-one module adds meaningful benefits by offering two unique views that are sure to help anglers make the most of their time on the water and catch more fish."
Plug-and-play compatibility with the Lowrance HDS Gen2 and Gen2 Touch fishfinder/chartplotter models, as well as Simrad NSS Sport, NSE Expert and NSO Offshore multifunction displays, SonarHub has three built-in Ethernet ports that allow quick and convenient networking without the need for an addtional Ethernet networking module. The sounder is compatible with a range of transducers including the Airmar TM150M single-channel CHIRP transducer and existing StructureScan HD transducers. The module is also compatible with the all-new SpotlightScanTM Sonar* surround-scanning trolling-motor transducer that pinpoints structure and fish targets ahead and around the boat without disturbing areas before having the chance to fish them. The SonarHub Sounder is protected by a two-year limited warranty, and backed by the Lowrance and Simrad Advantage Service Programs.
The SonarHub Sounder can be purchased for US $599 from authorized Lowrance and Simrad Yachting dealers and distributors throughout the United States and Canada beginning November 2013. Suggested retail prices of SonarHub and transducer bundles are: Airmar TM150M - $799, StructureScan HD transom mount - $799, Airmar TM150M transom mount - $299, and TM150M & StructureScanHD transducers - $999. For more information on the new SonarHub Sounder module, or to locate authorized Lowrance and Simrad Yachting dealers, please visit www.lowrance.com or www.simrad-yachting.com.
* SpotlightScan Sonar trolling-motor transducer is only compatible with Lowrance HDS Gen2 and Gen2 Touch displays. The addition of a SonarHub Sounder module is required for SpotlightScan Sonar operation with HDS Gen2 non-Touch models.