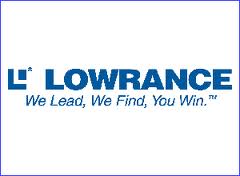 Tulsa, Okla. - Lowrance, a world-leading brand in marine electronics since 1957 and GPS navigational systems since 1992 - announced today additional service products to its global consumer-support program. Adding to its best-in-class service and support program - including the 5-Year Advantage trade-up option -- the new Lowrance Advantage Service now includes the Certified Dealer Advantage, OnBoard Advantage, System Builder Advantage, SIS Advantage and 24 Swap Advantage. Delivering comprehensive marine-electronics support around the world, the Lowrance Advantage family of services efficiently provides dealers with powerful resources to address consumers' needs, and ensures that issues with product performance are resolved quickly - with the highest level of quality.

"In recent years, Lowrance has aggressively launched new products that lead the marine-electronics industry through innovative performance," said Louis Chemi, chief operating officer, Navico Americas. "Now, through enhancing our Advantage Service Program, we take another significant step forward with user-friendly, resourceful tools and comprehensive policies that provide best-in-class support to meet and exceed both dealer and consumer satisfaction."

5-Year Advantage

Introduced in 2011, the 5-Year Advantage offers comprehensive support on Lowrance products for five years, including upgrade options to current technology products. In the unlikely event that a qualifying Lowrance product fails within the first five years after purchase, the program guarantees that consumers have the option to upgrade to current model technology at an attractive discount. Dealers execute the program using a Navico web-based portal to facilitate service swaps.

Certified Dealer Advantage

The Certified Dealer Advantage program provides a framework for dealers to demonstrate technical proficiency for Lowrance products. As a result, this network of Certified Dealers will be authorized to provide timely, high-quality OnBoard Advantage support, and they will be clearly identified on the Lowrance website. Dealers also gain access to online tools and technical information via a new B2B Portal which provides extensive vessel detail, and technical information such as technical bulletins, product briefs, manuals, FAQs and troubleshooting training documents, videos and calendars. Previously certified Simrad Yachting and B&G Dealers are automatically authorized as Certified Lowrance Dealers. All Certified Dealers will be required to recertify annually.

OnBoard Advantage

The OnBoard Advantage program can be purchased as an additional coverage option by consumers and provides warranty service by a Certified Dealer onboard the consumer's boat for the first two years after the marine-electronics purchase. Lowrance systems under warranty and valued over $2,500 will qualify for OnBoard Advantage when they have been installed or certified by a Certified Dealer, or Navico-authorized factory. The Lowrance system must also include at least one HDS multifunction display. Select limits apply to labor- and travel-related costs as detailed by the program guidelines.

System Builder Advantage

The System Builder Advantage offers Certified Lowrance Dealers an Apple iPad tool that combines a current price book with a product information guide, and more, in an easy-to-use shopping cart-style purchase format. The system allows dealers to provide instant quotes and networking schematics to help consumers choose the ideal system, as well as ensure all necessary components are included. Allowing for local currencies, freight and duty, the System Builder provides detailed installation quotes. Standard packages and boat builder packs can be pre-loaded and configured during the quoting process. Estimates and drawings can be shared with consumers and multiple recipients for seamless supply chain operation. A convenient and flexible service tool, dealers can also use the system to build a database of consumer details and quotes for future reference.

SIS Advantage

Under the SIS Advantage Program, boat owners with Lowrance systems installed by a Certified Dealer or authorized factory are positively assured of trouble free operation from day one. Providing a thoroughly inspected-and-tested installation, and one-on-one boat owner training on system operation, consumers can enjoy the confidence that comes from knowing that their marine electronics system is working perfectly for peak performance. For Certified Lowrance installation partners, the program will result in fewer system-troubleshooting calls and increased consumer confidence.

24 Swap Advantage

The 24 Swap Advantage program ensures that if a qualifying Lowrance product is identified as defective, consumers have the option to be shipped a replacement product within one business day, for an expedited service fee. Lowrance products under this program may change from time to time. Lowrance customer-care specialists will maintain a current listing of qualifying products.

The expanded Lowrance Advantage Service Program will take effect January 1, 2013, enhancing the Lowrance 5-Year Advantage currently available to consumers. For more information please visit www.lowrance.com.
About Lowrance: The Lowrance® brand is wholly owned by Navico, Inc. A privately held, international corporation, Navico is currently the world's largest marine electronics company, and is the parent company to leading marine electronics brands: Lowrance, Simrad Yachting and B&G. Navico has approximately 1,500 employees globally and distribution in more than 100 countries worldwide. www.navico.com