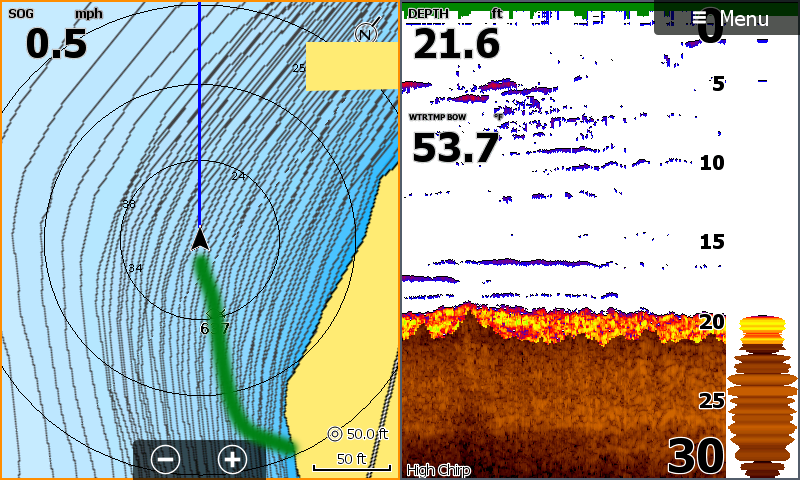 LOWRANCE SCREENSHOT #1 | SMALLMOUTH NEAR SHARP DROP
As late summer gives way to cooler fall temperatures, many of the larger lakes and rivers cool down dramatically. It's not uncommon to see the water temp warm as much as 8 degrees throughout the day, but be sure to pay attention to which parts of the lake are warmer than others.
This smallmouth was hanging near a sharp drop. The key forage is crawdads, but kokanee are also present and show up in massive schools this time of year. The single fish located along the bottom are the bigger smallmouth hanging around for lunch; they don't have to move very far for a reward. Find school of baitfish like this and you instantly up your chances for bigger fish!

LOWRANCE SCREENSHOT #2 | SHALLOW FOR AGGRESSIVE FEEDERS
Warm afternoons can certainly impact fish movement. Windy bays and shorelines tend to warm up fastest, especially on larger bodies of water. As the water warms, try working shallow for aggressive feeders. A combination of rock, sand and weeds can make for an explosive trip. Seeing baitfish on your Lowrance should still be common, but the schools might not be as large. Look for crappie and perch schools around the 8 to 10-foot mark when the sun is at its highest. Docks, fallen trees and other wood targets can hold a lot of potential especially as the overnight lows tend to drop.

LOWRANCE SCREENSHOT #3 | BIG ONES HANGING AROUND FOR EASY MEAL
Lowrance has enabled me to get off of the bank and explore the unknown. While StructureScan provides excellent eyesight from left to right, traditional 2D DownScan still provides an enormous amount of information as the water temps drop into the 50s.
This screenshot shows that a few big ones will hang around for an easy meal regardless of water temp. From low 50-degree water all the way up to the 60s, smallmouth bass know winter is well on its way. Over the next couple of weeks, this instinct to feed night and day will kick in, so if there's ever a time to hit the water, it's right now. Use your electronics to find the baitfish and then take the time to learn what you need to do to catch the feeders. Most of the time, a tube, dropshot and swimbait are enough to make everlasting memories for years to come!
Follow Lowrance on FB