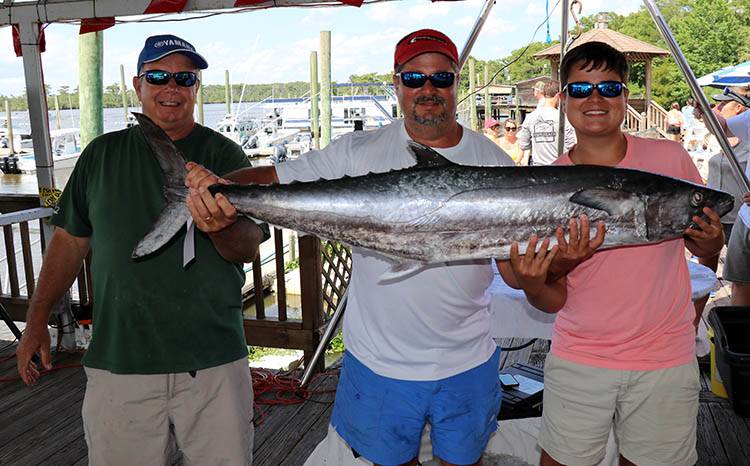 2019 Kingfish Winner Captain Randy Howell and Team Hammer Time. The winning fish weighed in at 37.02 lbs. Southern Kingfish Assoc.
Saltwater provides it own unique set of challenges and it is very hard on equipment.
The same can be said of covering and operating multiple large-scale fishing tournaments. One person who lives both of these realities is Capt. Jay Feimster, who along with his brother Price founded PointClickFish.
They cover 30 events every year plus run an additional 40 events for the Southern Kingfish Association (SKA), the world's largest saltwater tournament trail.
Doing this, racks up many miles on the trucks they drive to 70 events each year. They rely on Lucas Oil to protect their trucks and boats and also to keep them looking their best.
Look Good, and Do It Fast
With so much travel to and from events, they typically arrive and get started setting up for tournaments. In their business, appearance is key and they trust Lucas Oil Slick Mist to keep their rigs looking clean.
"We have five enclosed trailers that we use for events and we are always on display. The great thing about Slick Mist is how quickly we can get everything clean and looking good once when we arrive," said Feimster.
Miles and Miles
Feimster said that he drives 40 to 50,000 miles, every single year and the bulk of those miles are spent using his diesel trucks to pull boats and trailers. They use the Lucas Fuel Treatment for to protect their trucks and for added peace of mind.
This product cleans and lubricates the entire fuel system and is safe for both gasoline and diesel vehicles.
Ethanol Dangers
The horror stores of outboard engines running gas with ethanol are common and anglers are just starting to realize there is an easy solution. Lucas Safeguard™ Ethanol Fuel Conditioner with Stabilizers is something that Feimster and his team run in his Blue Wave 2400 PureBay with a 350hp Suzuki.
"My boat has a 78-gallon gas tank and that is a lot of ethanol that goes in on every single fill-up. Our boat is nothing compared to the huge center console boats some of the guys are running for the SKA tournaments," he said. "Some of them have quad outboards with 250-gallon gas tanks. Many of them have over $100,000 tied up in outboards so $20 dollars worth of ethanol treatment is nothing."
He added that the 300-425hp sizes are the standard in these events and nearly everyone has three or four of them mounted to the back of their boats. With that much fuel consumption happening, it only makes sense to do something about it and to help to protect against the dangers of ethanol.
Lucas Oil offers this product in standard 5.25 ounce sizes that treat up to 25-gallons and a larger 16-ounce bottle that will treat up to 80-gallons of ethanol fuel.
They Fish, Too
When the crew is not covering events across the southeast, they are avid saltwater anglers. One thing that Capt. Jay uses religiously is the Lucas Oil Reel Oil and he says it is a great benefit for saltwater anglers.
"Of course, with saltwater you have that possible corrosion, if you do not spray off all of your reels. But, the biggest thing I see is how well it protects against sand," he began. "Sand and mud are everywhere that we fish and the Lucas Reel Oil prevents it from building up and you don't end up getting that gritty feeling when using your reels."
The product also offers rust and corrosion protection and it is simple to use thanks to the precision needle applicator. "It is really easy to use and to reach those neglected areas on your reels," added Feimster.
It's All Good
These are just a few of the many products that Lucas Oil makes and Feimster was quick to point out that they make something for just about any moving part on a boat or vehicle.
"Just a few weeks ago we were in New York for a media event and one of the guys had a power steering issue. We knew that they carry Lucas Oil at NAPA stores and we went in and he purchased the Power Steering Stop Leak and was able to make it all the way home to Mississippi," he shared.
Lucas offers a wide range of products for nearly any issue.
"Four stroke or two stroke engines, gas or diesel trucks, they really do have a solution for everything," added Feimster.
When you travel the road covering saltwater fishing tournaments and also spend every spare moment saltwater fishing, it is essential to protect your equipment. Capt. Jay Feimster has learned that Lucas Oil products are an effective way to handle it all.