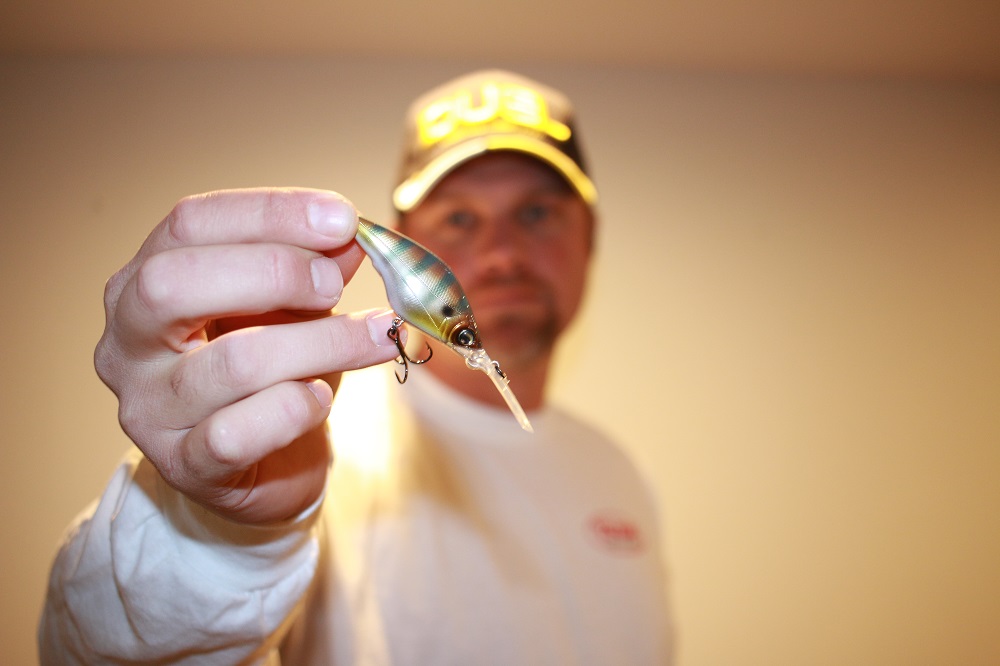 This year's Bassmaster Classic will be held on Lake Hartwell in South Carolina and will be a little later than previous Classic visits. This should only help the fishing and qualified anglers are already developing a plan of attack.
Bassmaster Elite Series pro Luke Clausen will be making his first Classic appearance since his win in 2006. He has proven he knows how to win the big event and has a good amount of Hartwell knowledge, having fished three FLW Tour events there during the same time of year as this year's Classic. He sat down with us and gave his predictions for lure choices, how the lake sets up and what it will take to win.

Lay of Lake Hartwell
Clausen said the lake is made up different sections that vary greatly in water clarity and cover available.
"Up the rivers, the water is very dirty and clears some as you move down the creeks towards the main lake and then down the lake is really clear and there are more docks," he begins. Since each part of the lake varies so much, so does the lure selection.
Forage and Target Species
Hartwell is known as a blueback herring lake, but it also features plenty of shad and crawfish. Depending on where an angler chooses to fish and how the spring weather plays out, each of the three can be a factor.
"Down the lake, there are much more herring and also less shad. Up the rivers you are going to have much more shad," says Clausen. "Crawfish are all over the lake and in the rivers and could play a big role if the water warms up and that is what the bass are feeding on."
The lake also has a healthy population of both largemouth and spotted bass. Both could be a factor.
"I've seen 20-pound bags of both species, but I think to win this tournament it will take a mixed bag," he adds.
Lure Choices for the Bassmaster Classic
There are five main lure styles that Clausen feels will be needed to win this event. He says that jerkbaits, lipless crankbaits, shad profile crankbaits, square bills, and jigs could all factor into the winning pattern.
Jerkbaits
According to Clausen, Hartwell is an excellent lake for jerkbaits.
"There is always a good jerkbait bite there and especially first thing in the morning if the herring are active and more fish are shallow," he says. His choice of jerkbaits when imitating herring is the Duel Hardcore Minnow Flat 110SP. "It is a perfect size and they have several great colors that match herring."
Lipless Crankbaits
If the water warms, Clausen says the lipless bite could be on fire.
"Fishing a bait like the Yo-Zuri Rattl'n Vibe is a great way to both cover water and have a chance at a giant bag."
Shad Profile Crankbaits
If the water stays cold longer than normal, a shad profile crankbait with a tight wobble might be the best bet.
"Anywhere up in the creeks where there are shad, the Duel Hardcore Shad will catch those pre-spawn bass. It is a smaller bait but heavy enough to cast on baitcast gear and really shines when the water is cold but the bass still want to chase a lure," he says.
Squarebill Crankbaits
Since the rivers flowing into Hartwell typically have off-colored water, they set up perfectly for a square bill.
"I have had success up the rivers banging a square bill around cover this time of year and it is a pattern I am going to check out," he says and added that the Yo-Zuri 3DB Square Lip Shallow in Black Back Chartreuse is a bait that will work anywhere in the country during the spring.
Jigs
If crawfish are the predominant forage, Clausen may pick up a jig or Ned Rig.
"These are a given during the spring and if the bass are really keying on crawfish it may be the best way to catch a big bag. I'm hoping for a reaction bite to cover more water but will have a jig and Z-Man TRD rigged and ready to go," he adds.
Predictions of the 2018 Bassmaster Classic
Since the previous Classics were held earlier in the year, it may be hard to predict what weights the anglers will bring to the scales.
"When Casey Ashley won it (2015), he had just over 50-pounds. That is about 16.5-pounds a day and I think it will take more this time," he begins. "I think it will take around 18-pounds a day because I have seen so many big bags come from Hartwell in late March.
No matter how the fishing ends up at the Bassmaster Classic on March 16th to 18th, somebody is going to take home the big trophy. Clausen is hoping it is him and will be ready to put his predictions to the test when he launches on Lake Hartwell.