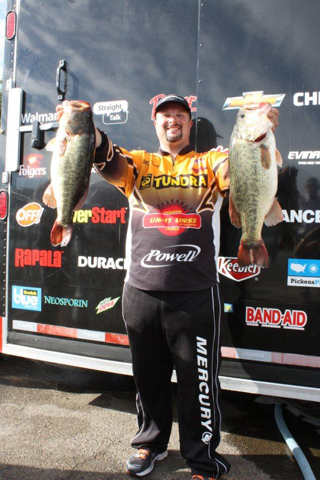 Mike Tuck…FLW Clear Lake Champion
By John Caulfield
How often do we find a winning pattern during pre-fish? How often do we find a pattern that holds up solid for a 3-day tournament, like the recent FLW EverStart Series event at Clear Lake? It seems like, 99 percent of the time these "winning pre-fish patterns" we find, might produce well for the first day of an event, only to shut down almost completely for day two. That is why, we try to establish several back-up patterns…just in case. However, there are exceptions to everything.
I recently had the pleasure of speaking to Mike Tuck, a Granite Bay, CA resident, who has clearly made his mark in the bass fishing world with numerous wins at both pro and team type events throughout northern California. Even with all the wins to his name, Tuck has struggled over the years to earn a victory in the FLW events he has competed in. He has come close with several top-10's, including a couple of 2nd place finishes; but often he just couldn't seem to get that last bite he needed to earn him a victory…until now.
Mike Tuck finally won an FLW EverStart Series event last week and had a great story to tell. He shared his thoughts with WesternBass about the before, during and after regarding the event. His situation is one of those rare instances where a pattern held up from pre-fish through the final day cut to the top-10.
The Before
Tuck, who owns his own company Capitol Fire and Backflow, tries to squeeze in pre-fishing whenever he can, as his busy schedule allows. He was able to get a day and a half of practice in during the three weeks prior to the tournament. He then managed another two and half days of practice right before the event. Being no stranger to Clear Lake, which is one of his favorite fisheries, Tuck used past experiences and developed some hunches about where to go.
"I have studied the drawdown of water level at Clear Lake each year during the fall and discovered some patterns and locations that have often produced well for me over the years," said Tuck. "I tested my knowledge of these bass movements during practice and was able to verify that my hunches were correct during practice. I could only cross my fingers and hope the pattern I found would hold true, come tournament time."
"I found the fish I felt I could win a tournament with weeks before and just prior to the tournament. I was feeling cautiously optimistic; because I know how great the bite can be this year and this could be anyone's game. I've come in 2nd way too many times to get over-confident in what I had found," continued Tuck.
The days of pre-fishing just prior to the event only needed quick verification that the pattern he had discovered weeks earlier was still holding true…and it was. The remainder of his practice time was spent looking for back-up patterns, "just in case". He ran all over the lake checking rock piles, docks and other key spots around the lake. He found plenty of nice fish; but none quite as good as the primary pattern he had established.
"I was feeling really good about my chances and even told my wife that if my pattern held up, I could have a really strong shot at winning this tournament," said Tuck. He stated he had a real calm, quiet confidence prior to the tournament and that it really felt right.
When I asked Tuck about areas he was fishing, he was understandably hesitant to share that info as he and his team partner Ron Diacon have two team TOC's coming up at Clear Lake and they'd like to try to keep the pressure off of the areas they will be fishing. Giving a general area, Tuck said he focused on key weed beds in the north end.
One thing Tuck did share was his winning lure, the All American Trash Fish made by local lure manufacturer Little Creeper Baits. "Those are some of the most awesome swimbaits I have ever used. I throw them on a 7 ½-foot Powell Medium Heavy Swimbait Rod and rig them the way they are shown on the package," said Tuck
"They flat out catch bass better than any other swimbait, I have ever tried. I think it's all about the fins; they are so unique and apparently, they drive the bass nuts. The flaring fins is what makes them so different. It catches those bass that are typically just followers. Bass see those flared out fins and their unique action and they friggin' pound it, unlike any other bait," continued Tuck.
He elaborated on the bait by talking about its durability, "Those baits are made of the highest quality plastics available and they really hold together way longer that other swimbaits. Benno Heune, the lure maker is very meticulous about his baits and takes no shortcuts when making these unique swimbaits. I've used just about every swimbait made and this one is amazing."
The During
Tuck felt that day one was one of those days that makes an angler feel good that they are really on to something good. His pattern held up and he managed to get a nice limit of bass weighing 23 lbs, 13 oz. His lure of choice, of course was the Trash Fish. "When I had what I thought was enough weight for day one, I decided to save some fish for day two. I also did not want reveal to other anglers where I was fishing by working my spots all day," explained Tuck.
The next day, his pattern and areas were producing much like the previous day and he boated another nice 25-lb limit, doing basically the exact same thing. This was enough to make the top-10 cut and move on to the final day.
I asked if he was able to sleep that night before the final day and he said he was having the time of his life, his quiet confidence continued and he was ready to win a tournament, as long as nothing catastrophic occurred. He answered, "I slept well and was ready and hopeful for the final day. I thought...bring it on!"
He continued saying , "I finally resolved my ongoing outboard problems, weeks ago when I switched to a Mercury outboard. Mercury and C&C Marine really stepped up and took care of my issues. Mercury worked with me and made sure I got everything I needed to make the switch out in a timely fashion. C&C Marine in Citrus Heights showed how much they care about customer service, as usual and worked their butts of to get my new motor installed and running, beautifully. That's the kind of peace of mind I need when I fish competitively. I also recognize the fact that Mercury Marine sends a tech to all of these tournaments, just in case there is an issue. No other motor company supports the anglers using their products better than Mercury."
Tuck talked about day three, "It was a special day for me. I really felt that everything had finally come together, in all aspects and this would be my day. Although the weather was changing a bit. with a cold front approaching, It was one of those days we all dream about."
Tuck could only hope and pray that the awesome pattern he was on would hold up. Well, it did. He didn't get quite as many bites; but the quality seemed to improve with the addition of a light wind. Keeping with the same pattern, Tuck used a combination of 4-inch and 6-inch Trash Fish in basically, the same areas and boated a 27 lb, 12 oz limit for a total of 76 lbs, 9 oz.
Mike Tuck finally won his 1st FLW Tournament beating Joe Uribe Jr. from Lake Forest, CA who weighed in a 3-day total of 71 lbs, 10 oz.
The After
I asked Tuck what his plans were for next year since he finally broke the ice with an FLW victory. Was he going to go full-time pro fisherman? Tuck laughed and said, "No way, I am way too busy running my own business and cannot take that kind of time off. My plans are to fish the FLW tournaments, again next year, as well as, some WON Bass Pro Ams, Angler's Choice Pro Ams and an assortment of team tournaments. I'm in this to have fun now and I think that is making a real difference in my recent successes this year. I am way less serious than I used to be; although I still fish as hard as I can, when I get the time to do it."
Mike Tuck was a gracious winner congratulating all of his top-10 competitors and wishes to thank the many people and companies that have helped him including C&C Marine in Citrus Heights, Mercury Marine, Powell Rods, Minn Kota, Lowrance Electronics, Limit Lures and of course, Little Creeper Bait Co. for designing such an awesome bait... The All American Trash Fish.