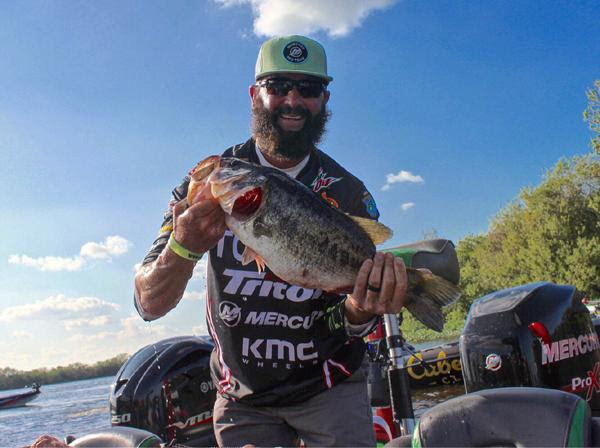 WEST POINT, MS - Mossy Oak is growing into the fishing market and is excited to continue that progress with the addition of Gerald Swindle to the Mossy Oak Fishing Team.

Established this year in conjunction with the launch of Mossy Oak Elements, the Mossy Oak Fishing Team is growing with bassmasters KevinVanDam and Ott DeFoe and saltwater fisherman Mark Davis already on board.

Swindle has been fishing B.A.S.S. tournaments for 20 years with 16 Bassmaster Classic appearances and 51 top-ten finishes. In 2016, he was the Toyota Bassmaster Angler of the Year. With nearly $2 million in career winnings, Swindle said, "I have to fish to afford my hunting."

"The obsession Gerald has for the outdoors is on par with everyone at Mossy Oak," said Ben Maki, Senior Vice President and Chief Marketing Officer at Mossy Oak. "Adding him to the Mossy Oak Fishing Team was a must. He is a true ambassador for the outdoors whether he's fishing, hunting or sharing it with others."

"I've always had my eye on Mossy Oak. I'm proud to be part of one of the most recognized brands in the outdoors world," said Swindle. "Mossy Oak is my kind of people. I've called this home for a long time and now it's official."

For more information on Gerald Swindle, visit www.geraldswindle.com or follow him on Facebook at www.facebook.com/GeraldSwindle.GMAN. To learn more about Mossy Oak's Elements pattern, visit http://www.mossyoak.com/our-obsession/blogs/press-releases/2017/07/10/mossy-oak-launches-elements-pattern-line-at-icast-2017.


Haas Outdoors Inc. is headquartered in West Point, Miss., was established in 1986 and is home of Mossy Oak. For more than 30 years, Mossy Oak has been a leading outdoors lifestyle brand that specializes in developing and marketing modern camouflage designs for hunters and outdoors enthusiasts. The Mossy Oak Brand and patterns can be found on a multitude of products worldwide. Haas Outdoors Inc. is the parent company of
Mossy Oak
,
BioLogic
,
Mossy Oak Productions
,
MOOSE Media
,
Nativ Nurseries
,
Nativ Living
,
GameKeepers
,
GameKeepers Kennels
and
Mossy Oak Properties
.Mossy Oak is the official camouflage of the
National Wild Turkey Federation
,
Ducks Unlimited
,
Quality Deer Management Association
and
Mack's Prairie Wings
and the official pattern of
B.A.S.S.
,
Major League Fishing
and
Cabela's Collegiate Bass Fishing Series
.