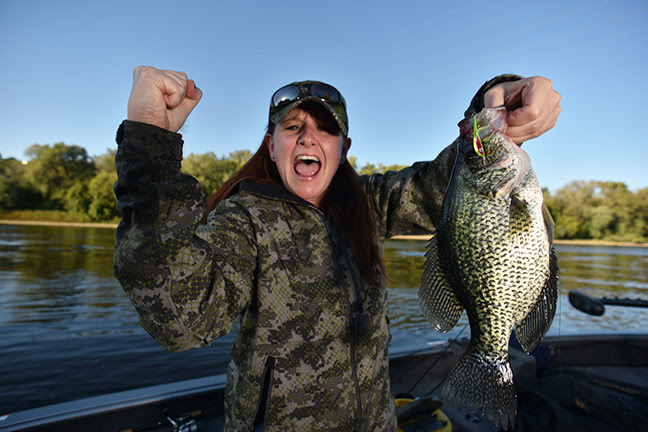 Hunting and Fishing Mother's Day Gift Ideas
Whether she likes to shoot skeet or shoot the docks, here are 16 gifts Mom will love
Minneapolis, MN (April 29, 2019) – Mom loves fishing, hunting and the great outdoors. You love Mom. Mom will love you, too… if you present her with one or more of these great gifts for Mother's Day that will increase her safety, success and satisfaction in the field.
Howard Leight Impact Sport Electronic Earmuff
Impact Sport's internal circuitry allows low-frequency sounds to be safely amplified up to four times to a peak of 82dB, making it easy for Mom to hear range commands or approaching game and conduct conversation, even in noisy environments. Amplification automatically shuts off at 82dB, attenuating hazardous impulse noises from gunfire. Impact Sport features a sleek, extremely low profile earcup design with carefully engineered cutouts to help maintain clearance from the firearm stock. Lightweight and comfortable, Impact Sport incorporates a padded headband with vertical height adjustments for a secure, non-slip fit. When not in use, the headband and earcups fold for easy, compact storage. Durable, recessed microphones—one on each side—reduce wind noise while providing stereo sound. Impact Sport is also equipped with auto four-hour shutoff, an external 3.5mm AUX jack and an included cord for convenient connection to a phone, computer, MP3 player or scanner. Impact Sport retails for $67 and is available in eight colors, including purple, teal and pink. Learn more at HowardLeightShootingSports.com.
Gill OS24JW Rain Suit
Gill's new OS24JW was designed and built to be the final word in on-the-water comfort for women. Advanced composite waterproof fabric featuring a combination of hydrophobic and hydrophilic technologies efficiently transport moisture away from the skin while keeping the wearer 100% protected from the elements. With a mostly female product design team, Gill created the OS24JW from the ground up. After extensive testing, this women's jacket was created to keep you warm and dry on, off, or around the water. Features include fully tapered seams, laminated moisture-management fabric technology, a high, fleece-lined collar to keep the wind out, double adjustable cuffs for added water resistance and warmth, interior pockets for small items like a cell phone, GPS, etc., and a high-vis hood for added safety and visibility on the water. The jacket also features a 2-way zipper protected by a double storm guard, as well as hand warmer pockets protected by YKK Aquaguard® water resistant zips and internal security pocket. The bib technology also includes a specially designed drop seat for easy on and off capability. The OS24JW is available in Red, Graphite and White/Blue and is available in a wide variety of sizes to accommodate all female anglers. Bibs are a matching graphite colorway. Suggested retail price is $349.99 for the jacket and $239.99 for the bibs.
Z-Man SlingBladeZ
Z-Man consulted with expert metallurgists to construct the SlingBladeZ Spinnerbait (Double Willow and Willow/Colorado) with high-grade 17-7 stainless steel wire, delivering superior reverberation, strength and resiliency. Riding on the SlingBladeZ's trademarked low-vis LiveWire frame, blades are stamped from custom dies and electroplated with a flashy, jeweler-quality finish. The blades offer a lower-frequency pitch that bass hear best, vibrating harder and swinging wider on the retrieve. Z-Man's StabiliTrack head channels water across the underside of the bait and along special side flanges for total stability at all retrieve speeds. The lure is finished with a 5/0 VMC O'Shaughnessy hook for improved hooksets and a wire trailer keeper. A 100-percent silicone skirt adheres tightly to the lure's head with hand-tied copper wire for superior durability and longevity. Offered in double-willow leaf or tandem willow-Colorado blades and 3/8-, ½- and ¾-ounce (MSRP $7.99 or $8.99), each available in eight dynamic color patterns. www.zmanfishing.com.
LIVETARGET Hollow Body Craw
Available in stores, LIVETARGET's Hollow Body Craw is a paradigm-shifting blend of critical elements from two distinct lure families—bass jigs and hollow body topwaters. The result is a must-cast lure for both largemouth and smallmouth bass. Its revolutionary design features amazing three-dimensional anatomy, rendering it superior to traditional bass jigs. The lure's hollow head and cephalothorax anchor a snag-resistant design, and together with its extra strong custom hook, provide exceptional hookup ratios. The hook eyelet protrudes from the top of the slightly curved abdomen, orienting any retrieve the way nature intended, with the craw moving in reverse—head, pincers, antennae, and silicone skirt flared up just like a fleeing or defensive craw. Additionally, the internal jig head weight produces the tapping, clicking, and clacking that attracts bass from afar. The LIVETARGET Hollow Body Crawfish is available in three lengths and weights and eight bio-realistic color schemes, allowing Mom to Match-the-HatchTM in any bass waters she fishes. MSRP: $9.99-$11.49. If Mom fishes the salt, be sure to check out the LIVETARGET Fleeing Shrimp. Learn more at LIVETARGETLURES.com.
Hobie Outback Kayak
The redesigned Hobie Outback was a game changer last year for anglers looking for storage and rigging features, but with less bulk and easier transportation. Hobie maximized efficiency while maintaining a 425-pound capacity and removing 33 pounds from the hull weight. At 12' 9'' long and 34 inches wide, the new Outback remains extremely stable and roomy. Borrowing features from both the feature-rich Pro Angler and sleek Compass models, Hobie designed a kayak that hits all the marks for the angler looking for features and portability. Outback delivers forward and reverse with easy pedaling Mirage 180 Drive ARC cranks. Great for bed loading and car topping, the Outback allows Mom to be nimble and mobile without giving up features. Suggested retail price: $2,799.
Fish Monkey Face Guard
Featuring the latest in Sun Protection Technology, Fish Monkey feather-weight Face Guardsfeature a super breathable fabric and an integrated laser-cut, sunglass fog-resistant mouth pattern. No more frosted fish glasses! The lightest weight, most comfortable and functional face guard on the market, Fish Monkey Face Guards offer complete UPF 50+ sun protection. Quick-drying, 4-way stretch material affords all day comfort. Tapered back conforms to your neck, while stitching in other key areas provides a better, more comfortable fit. Available in 14 eye-catching color patterns, including Mom's favorite… the exclusive Fish Monkey Voodoo Swamp patterns. MSRP $22.95, fishmonkeygloves.com.
Seaguar InvizX Fluorocarbon Fishing Line
Hordes of anglers—including numerous pros—turn to Seaguar's InvizX, a 100% fluorocarbon fishing line that's great for casting, all-around use, or as a reliable leader material. It works extremely well as the main line on spinning reels and in higher pound test on baitcasting reels. It's soft and supple with superior sensitivity. It's virtually invisible, has advanced hook-setting power, casts smooth and exhibits superior knot strength. This popular line is now available in a versatile 600 yard format that Mom can use to spool-up multiple reels. It's considerably smaller than a bulk 1000-yard spool and also more economical than purchasing three 200-yard spools. Suggested retail price: $67.99. Learn more at seaguar.com.
Raymarine Element Sonar/GPS
Give Mom the power to make smarter decisions on the water. Whether installed on her bass boat, skiff or kayak, Raymarine's new Element Sonar/GPS delivers the sharpest views of the underwater world with HyperVision™ 1.2-megahertz super high-resolution sonar technology. HyperVision technology takes DownVision, SideVision, and Raymarine RealVision 3D sonar to the next level of precision imaging and fish identification, letting Mom see structures, vegetation, and fish with lifelike clarity. Element's onboard quad-core processor delivers instantaneous chart redraw, fast response, and smooth RealVision 3D imaging, while the built-in RealBathy™ personal depth map generator lets Mom make her own high definition bathymetric maps on the fly. As with all Raymarine electronics, the rugged and durable Element's build quality is top notch. Element is available in 7", 9" and 12" models starting at $679.99. Learn more at raymarine.com/element/.
Tree Spider Venom Harness
Tree Spider safety products kill excuses and save hunters' lives. Help Mom make the shot and stay safe with the Tree Spider Venom Harness. Lightly padded and flexible for added comfort and ease of movement, Venom features easily adjustable shoulder, leg, and rear straps, quick connecting leg buckles and vertical climbing loops. Includes carabineer, tree strap and suspension relief strap. MSRP is $69.99. Learn more at BlockerOutdoors.com.
Blocker Outdoors Sola Drencher Waterproof Jacket and Pant
Mom's hunt doesn't end when the skies open up. Help her prepare without trading protection for performance. Blocker Outdoors' Sola Drencher Jacket (MSRP $79.99) and Pant (MSRP $69.99) will keep Mom dry in the field, while preserving stealth, functionality, critical odor-control and comfort. Featuring S3TM silver antimicrobial technology for odor prevention and a waterproof, ultra-quiet design, Sola Drencher apparel is available in Realtree Edge or Mossy Oak Break-Up Country in women's sizes S-2X. Learn more at Blockeroutdoors.com.
OZ100 Small Room Deodorizer
Nobody likes a smelly house or apartment, especially Mom. That's why she'll appreciate the OZ100 Small Room Deodorizer by ScentLok. Simply plug this powerful marvel into any 110V wall outlet and let the odor destruction begin. Perfect for kitchens, bathrooms or anywhere in the home or garage, the OZ100 is specifically designed to emit a powerful stream of ozone molecules that seek out and destroy virtually all types of odors, bacteria, fungus and mold. CycleCleanTM technology moderates ozone output by alternating active and resting phases to achieve maximum efficiency. Retail price is $99.99. Learn more at ScentLok.com/ozone.
ScentLok Rogue 2285 Backpack
Responsible for more blown hunts than perhaps any other piece of gear, hunting packs are notorious scent bombs, collecting and broadcasting all manner of odors that are unnatural and alarming to whitetails and other game. Offering 2,285 cubic inches of storage space in three total compartments, the durable and lightweight Rogue Backpack features ScentLok's proven Carbon AlloyTM technology for maximum odor adsorption in the field. Sized perfectly to hold all her hunting essentials, the Rogue 2285 is the ideal daypack for the stand or blind. Transform Mom's pack from a liability to an asset, with the highly comfortable, versatile and odor-controlling ScentLok Rogue Backpack. Available in Realtree Edge or Mossy Oak Break-Up Country, the ScentLok Rogue 2285 Backpack retails for $99.99. Learn more at ScentLok.com.
St. Croix Premier Fishing Rods
St. Croix's most popular U.S.-built rod series for six decades features an attractive combination of high performance, value and classic styling. Premier rods (Spinning and Casting are available in 39 models covering every freshwater species from panfish and trout to pike and musky. Prices range from $120 to $180. Some models are available in a fashionable pink! Learn more at stcroixrods.com.
iBall Digital Trailer Hitch Camera
Designed in the USA, the iBall Digital Pro Wireless Hitch Camera allows for easy trailer to ball connection the first time, every time. New XC Digital Pro signal provides unsurpassed video clarity and powerful transmission (even through metal surfaces) up to distances of 100-feet. Color 3.5" LCD is powered by any 12v auxiliary outlet, while wireless hitch camera attaches instantly to any metallic surface via extra-strength magnetic mount, powered by rechargeable lithium ion battery. 5.8GHz wireless signal avoids interference from other wireless devices. MSRP: $169.99, AquaVu.com.
Muck Boots Women's Arctic Hunter
Whether actively stalking or waiting it out in the stand or blind, Mom's feet will never be cold again… as long as she's wearing Women's Arctic Hunter Tall boots from the Original Muck Boot Company. Featuring a warm fleece lining and an insulation package rated to -40 degrees, the Arctic Hunter is built for rugged performance over tough terrain. Women's Arctic Hunter features a beefy outsole for solid traction and a slimmer design for a woman's foot, while an extended rubber exterior ensures waterproof performance while minimizing scent dispersion. Available in Bark or Realtree Xtra, MSRP is $180. Learn more at MuckBootCompany.com.
American Range Systems Ranger 280 Bullet Trap
American Range Systems brings the range to the shooter with the strongest, safest and cleanest lineup of bullet traps available today. Specifically engineered for the handgun enthusiast, the Ranger 280 is American Range Systems' strongest pistol trap. Its compact, space-saving design will allow Mom to train with her favorite pistols, whenever and almost anywhere she wants to shoot. MSRP is $2,399. Learn more at AmericanRangeSystems.com.