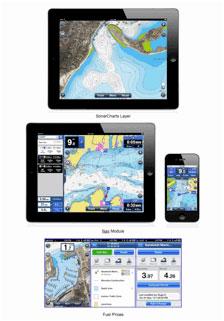 Wareham, Mass. - Navionics, the leader in electronic charting and navigation data, announced today the latest round of additions and enhancements to its powerful app-based charting solutions. Offering significant new functionality for mobile devices, and debuting unparalleled online chart access, Navionics allows users to explore, plan, and make informed cartography decisions from virtually any platform. Combining cutting edge chart views, navigation tools, and advanced accessibility options, as well as expanded resources for adding to and improving user generated content (UGC), the Navionics Marine & Lakes mobile app and new online WebApp forge new grounds in the way boaters can access and interact with cartography.

Designed for use with Navionics popular Marine & Lakes app for the Apple iPhone and iPad, the latest App additions - SonarCharts™, Nav Module, Fuel Prices, Easy View, and Rate & Review - greatly enhance the functionality and overall user experience for any on-the-water activity. SonarCharts™ includes a new high-definition bathymetry layer providing incredible seabed detail not available on existing cartography. Users can switch from standard chart layer to the SonarCharts layer by tapping the toggle button on the map. Nav Module replicates GPS plotter functions on mobile devices and is ideal for route planning, and determining ETA and distance to arrival, time and distance to next waypoint, fuel consumption and more. Using the powerful Fuel Prices function, Navionics users share and compare fuel prices of fuel stations that are shown on their charts. Stations can be sorted by price or distance. Individuals can add new locations with prices updated for sharing with the community. With the useful and convenient Easy View, users can magnify icons and text on the map for easier reading in all lighting and sea conditions. Rate & Review allows users to add 1 to 5 star ratings and write reviews on any of the hundreds of thousands of points of interest (POIs) as well as other valuable information the Navionics user community has already contributed to enrich Navionics maps.

The new WebApp, brings high definition chart viewing to the Navionics.com website and gives users the power to explore the seas, lakes, oceans, and uncover virtually every water surface of the planet from a web browser, using the same familiar Navionics charts available for a chartplotter. PC and Mac compatible, WebApp allows users to verify destinations and plan itineraries, and helps ensure the selection of the best coverage chart for use on a GPS plotter or mobile app. WebApp also integrates a bathymetric map layer with new Navionics SonarCharts functionality, revealing unprecedented seabed detail for even more localized knowledge. The new Web App is currently available in English, French and Italian, with German and Spanish slated for release later this year. Organizations and individuals who want to promote on-the-water activities on their websites will be able to integrate or embed chart content using the WebApp developer API available from Navionics.

"Navionics' new app capabilities provide our customers unprecedented tools and capabilities to enhance their boating experiences," said Don Black, global vice president of sales and marketing, Navionics. "Our enhanced mobile apps innovate in functionality while providing even more ways for our rapidly growing community to contribute and enrich their content; and our new WebApp breaks down the platform barriers ensuring that our extensive chart library is universally accessible."

Pricing and Availability:
Navionics new features for mobile devices are currently available from the iTunes App Store, or as In-App upgrades. SonarCharts, including one year of updates, and the Nav Module are priced at $4.99 (iPhone) and $9.99 (iPad), and $1.99 (iPhone) and $4.99 (iPad), respectively, while Fuel Prices, Easy View, and Rate and Review are all free enhancements. SonarCharts is currently in beta testing and scheduled for release in Q4, 2012. The Navionics WebApp, currently in beta, is available online at Navionics.com and is free for all users. For more information on the Navionics WebApp and Marine & Lakes App enhancements visit http://www.navionics.com or the iTunes App Store. To learn more about Navionics and its entire product line, contact 800-848-5896 (toll-free) or visit www.navionics.com.

About Navionics:
For more than 25 years, Navionics® has developed and manufactured electronic navigation charts and systems for marine, inland lakes and rivers, and outdoor use. Navionics is based in Viareggio, Italy and operates worldwide with offices in the United States, UK, India and Australia.