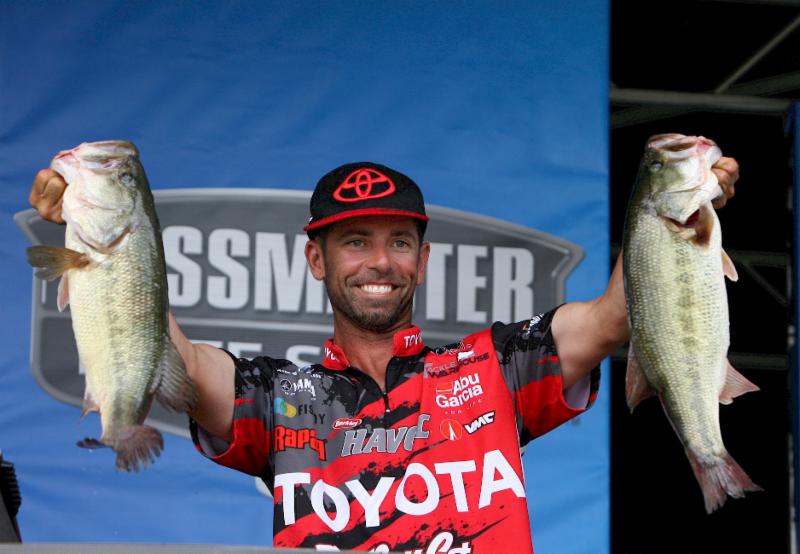 COLUMBIA, S.C. After 3 years of intensive research and development with Elite Series Pro Mike Iaconelli, Abu Garcia debuts the much-anticipated Ike Rod Series at the 2015 Bassmaster Classic event in Greenville, SC. Consisting of fifteen different models, the Ike series caters to a variety of techniques and situations. 
Rod blank construction consists of 36-ton, high-modulus graphite for the majority of the series along with some unique, high-strain glass (HSG) cranking rods. "Blank selection was paramount for getting the appropriate action and performance out of each rod," said Iaconelli. "For example, we utilized high strain glass composite for the Delay series of cranking rods in order to deliver the right amount of delay needed for consistently hooking and landing fish. In the Power and Finesse series, we used premium 36-ton, high-modulus graphite in order to achieve excellent sensitivity and lightweight performance."
"We take great pride in working directly with Mike to design and dial in specific actions," said Andrew Wheeler, Abu Garcia Brand manager. "The goal from the beginning was clear: create a set of rods that caters to Mike's unique fishing style. Each rod in the series is technique specific, and we have taken steps to make this easy for the consumer to identify."
"Extensive R&D testing in combination with premium components including Fuji reels seats, stainless steel guides and my unmistakable custom cosmetics set these rods apart from the competition. We spent countless hours with the engineers in the lab and in the field to dial in these rods. The result is a high performance series that is designed to give anglers an edge," added Iaconelli. 
The Ike Series is available in 10 casting and five spinning models. MSRP is $129.95 - $149.95 depending on selected model.
For complete specifications and information on the new Ike rods and other products from AbuGarcia, please visit  http://.abugarcia.com. 
Pure Fishing, Inc. is a leading global provider of fishing tackle, lures, rods and reels with a portfolio of brands that includes Abu Garcia®, All Star®, Berkley®, Chub™, Fenwick®, Gulp!®, Hardy & Greys™, Hodgman®, Johnson™, Mitchell®, PENN®, Pflueger®, Sébile®, Shakespeare®, SpiderWire®, Stren®, Trilene® and Ugly Stik®. Pure Fishing, Inc. operates in 22 countries with a dedicated workforce conversant in 28 languages. Pure Fishing, Inc. is a subsidiary of Jarden Corporation and is part of the Jarden Outdoor Solutions business segment, a leader in developing outdoor and active lifestyle products. Additional information can be found at http://purefishing.com.
About Jarden Corporation
 Jarden Corporation is a leading provider of a diverse range of consumer products with a portfolio of over 120 trusted, quality brands sold globally. Jarden operates in three primary business segments through a number of well recognized brands, including: Outdoor Solutions: Abu Garcia®, AeroBed®, Berkley®, Campingaz® and Coleman®, ExOfficio®, Fenwick®, Greys®, Gulp!®, Hardy®, Invicta®, K2®, Madshus®, Marker®, Marmot®, Mitchell®, PENN®, Rawlings®, Ride®, Sevylor®, Shakespeare®, Stearns®, Stren®, Trilene®, Völkl®, Worth® and Zoot®; Branded Consumables: Ball®, Bee®, Bernardin®, Bicycle®, Billy Boy®, Crawford®, Diamond®, Dicon®, Fiona®, First Alert®, First Essentials®, Hoyle®, Kerr®, Lehigh®, Lifoam®, Lillo®, Loew Cornell®, Mapa®, NUK®, Pine Mountain®, ProPak®, Quickie®, Spontex®, Tigex® and Yankee Candle®; and Consumer Solutions: Bionaire®, Breville®, Crock-Pot®, FoodSaver®, Health o meter®, Holmes®, Mr. Coffee®, Oster®, Patton®, Rival®, Seal-a-Meal®, Sunbeam®, VillaWare® and White Mountain®. Headquartered in Florida, Jarden ranks #356 on the Fortune 500 and has over 30,000 employees worldwide. For further information about Jarden, please visit http://jarden.com.
About Mike "Ike" Iaconelli 
A South Philadelphia native now living in southern New Jersey, Mike is an eight time Bassmaster champion. He has earned over $2 MM in prize money and is the only anglers to win Bassmaster Elite, Classic and Open championships. He hosts Ike Live!, an interview and call-in show for fishing fans, each month, live-streaming from his website http://mikeiaconelli.com. Previous shows are available on the website and via iTunes subscription. Fans can follow Mike on his Facebook page, MikeIaconelliFishing
.   
Mike and fellow fishing champ, Pete Gluszek, run The Bass University, which offers intense 2-day fishing classes that bring avid amateurs and professional fishermen together. Last month, Mike and wife Becky launched The Ike Foundation, which provides fishing equipment to youth fishing club to "get kids hooked on fishing."