Gamblers newest addition's are sure to have anglers excited. 
The Ugly Otter
is one of the most versatile baits to hit the market.  Flip it, pitch it, rig it, or swim it.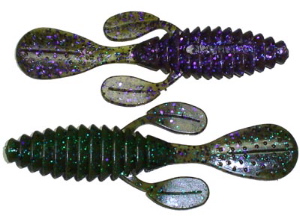 The Ugly Otter has a ridged body that moves some water.  In addition the two side appendages can be cut or left solid.  The large tapered tail puts out a vibration that fish can focus in on and can be split, cut or left whole.  Available in 13 fish cathcing colors, loaded with salt and garlic so fish hang on longer.  Try them today and see why this is one of the hottest lures on the market.
Gambler Lures has also released the New and Improved Florida Rig Weights.  These new weights have been redesigned to be more versatile then ever.  The weights eliminate the screw head that damages your baits and can potentially break your line as the line bends around or cuts through the sleeve.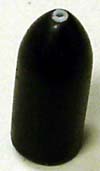 No more toothpicks, rubberbands, or other pegging devices needed. 
In addition since the screw has been removed the new weight can be fished on a wider variety of baits that could not take the old screw-in design.  The self pegging system allows the weight be fished right next to the lure or slid up the line similar to a Carolina Rig.  These weights are available in tackle stores so be sure to ask for them at your dealer of choice or check them out on-line.  Currently available in both lead and brass rattle designs.
Gambler Lures has made their New Bleeding Bait Series.  Gambler's unique pouring process has allowed them to develop a truely unique Bleeding Baits Series. 

The shot of red gives each lure the appearance of injured prey resulting in more hits from all types of fish.  Fish love them and so will you.  Available in our Super Stud and Flappn Shad family of products.
For more information check into the Gambler Lure online web site at http://www.gambler-bang.com/.