Ontario, CA: Okuma Fishing Tackle continues to alter the face of modern bass fishing with advanced rod and reel systems that deliver completely on angler desires for lighter, more responsive equipment. For 2012, Okuma introduces the Helios family of low-profile baitcast reels and mini guide bass rods. Helios low-profile reels break down barriers in the ultra-light category, weighing just 6.3 ounces while maintaining a full aluminum frame and handle-side aluminum side plate. Helios bass rods begin at just 3.6-ounces, with even the most powerful rod in the selection, a 7'6" heavy, weighing just 5-ounces flat.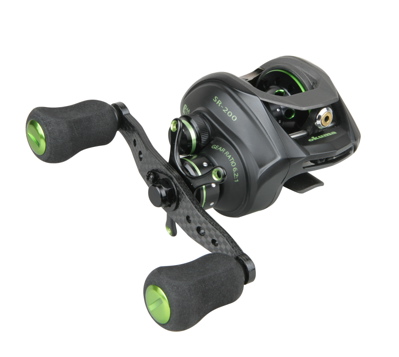 The Helios low-profile baitcast reel is a marvel of efficient, refined engineering. Its' ultra-light 6.3 ounce overall weight is achieved while maintaining core aluminum structural elements including the frame, handle-side side plate and machined spool. On the inside, Helios features ultra-light yet powerful aluminum gears and shafts, components commonly reserved for reels twice Helios' cost. Where reels in this category continue to include more and more composites, Helios enters as a leaned out fighter; all the muscle with simply less mass.
Designed and constructed to exceed the needs of the most demanding anglers, Helios baitcast reels advance with a full complement of tournament-level components. A ten bearing system includes Japanese ABEC-5 rated spool bearing for incredible casting performance. The left side access port provides fast access to the 7-position Velocity Control System. On the business side of the reel, a multi-disc Carbonite drag system, delivering up to 14-pounds of drag, is governed by micro-click adjustment. Helios comes to life through an ergonomic carbon fiber handle with oversized EVA handle knobs, each greatly reducing weight without sacrificing overall strength.
Okuma's CRC or Corrosion Resistant Coating process protects all components from the elements, so much so that the Helios baitcast reel features a 3-year limited warranty. The HS-262V holds 130-yards of 12-pound mono, or substantially more small-diameter braid. Available in right hand retrieve, Helios carries an MSRP of $219.99.
Helios mini-guide rods highlight the very latest in ultra-light fishing rod construction. They begin with 40-Ton Carbon blanks for lightest and most powerful base possible. The Alps Mini Guide System downsizes rod guide presence, while hard Zirconium inserts provide incredible durability for braided lines. Handle construction includes split grips with Pac Bay Minima reel seats, machined aluminum threads and Fuji hood, ultra-light EVA grips, zero fore-grip to further reduce weight while increasing sensitivity, and a moveable Fuji hook keeper for precise placement as required by the angler.
Helios mini-guide rods include five models from 7- to 7-1/2-feet in length and powers including medium, medium-heavy, heavy and extra-heavy. The HS-CM models include the 701M, 701MH, 701H, 761H and 761-XH, weighing in at 3.6, 3.7, 4.0, 4.3 and 5.0-ounces respectively.
Helios rods feature a limited lifetime warranty and carry an MSRP of $174.99.
For anglers who suffer from fatigue over a long day, losing concentration and not executing to their very best, or simply those that want to feel absolutely everything, the Okuma Helios family of bass and inshore product offers powerful, high-performance rod and reel combinations beginning at less than 10-ounces total weight.