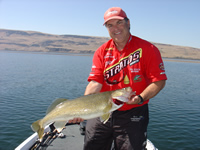 Walleye
03 kg (6 lb)
13 lbs. 12 oz. - 6.25 kgs
Columbia River Lake Wallula
Marc Marcantonio
Sept 25, 2004
SFW; LC
StateFW-LC; WorldRec
Although my scales indicated the weight of the walleye was 14.01 pounds, they list the record as weighing 13.75 pounds. This beats the previous world record of 12.00 pounds caught in 1995.
This walleye was caught in the Columbia River in the Lake Wallula section at TriCities during a Northwest Bass Tournament (Sept. 25, 2005). The fish was released alive at the same spot after weighing on certified scales upon capture, and taking measurements and photos.
It was caught using the following tackle:
Lamiglas Titanium TBS663 spinning rod
Shimano Stradic 2500MG reel
Gary Yamamoto Sugoi 6-pound test fluorocarbon line
Gamakatsu #4 Dropshot Hook
3/8-ounce QuickDrop Dropshot Sinker
4" Clearwater Tackle Tapeworm (Sand #110)
The walleye was caught while vertically dropshotting the edge of the main river channel in 27 feet of water.