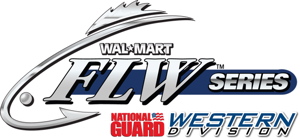 OAKLEY, Calif. (Oct. 8, 2008) – Pro Scott Nielsen of Salt Lake City, Utah, landed five bass weighing 22 pounds, 5 ounces Wednesday to lead day one of the Walmart FLW Series® National Guard Western Division tournament on the California Delta. He now holds a slim 3-ounce lead in the $1 million tournament featuring anglers from across the United States.
"The fish were biting better today," said Nielsen, who is currently 37th in the points race in the National Guard Western Division. "The tide worked in our favor today. We had incoming water all day."
Nielsen is running approximately 45 minutes to his key area from the take-off site, Russo's Marina. He said that his key area is deep and that he has to watch the current to get the right bites.
"I have around 15 spots that I am fishing," Nielsen said. "I plan to stick with the same pattern tomorrow and fish the same areas that I did today. Hopefully, I will get the quality bites that I got today."
Nielsen remained tight-lipped about the exact technique he used to land his solid stringer, but did say that he caught around seven keepers today on a heavy jig.
Mike Reynolds of Modesto, Calif., trails Nielsen in the No. 2 spot with five bass weighing 22-02.
Rounding out the top five pros are Nicholas Kanemoto of Elk Grove, Calif. (five bass, 20-13); Shaun Bailey of Lake Havasu City, Ariz. (five bass, 20-10) and Ken Schmitt of Livermore, Calif. (five bass, 20-07).
Nielsen earned the day's $329 Snickers Big Bass award in the Pro Division thanks to a 10-pound, 1-ounce bass he caught on a jig.
Overall there were 513 bass weighing 1,230 pounds, 13 ounces caught by 118 pros Wednesday. The catch included 80 five-bass limits.
Pros are competing this week for a top award of $125,000 plus valuable points in the hope of qualifying for the BP East-National Guard West Fish-Off and a shot at advancing to the $2 million, 2009 Forrest Wood Cup, where the winning pro will earn as much as $1 million – the sport's biggest award.
Tournament anglers aren't the only ones winning big this season. With the introduction of FLW Fantasy Fishing™, FLW Outdoors® offered anyone the opportunity to enter for their chance to land the catch of a lifetime with the opportunity to win $7.3 million in cash and prizes. Players could become a virtual pro angler by signing up for Player's Advantage, which provided them with exclusive insider information that could have guided them to a $100,000 victory at every Walmart FLW Tour® stop and the Forrest Wood Cup. Player's Advantage gave them an edge over the competition and increased their shot for the $1 million cash grand prize awarded to the FLW Fantasy Fishing cumulative points winner.
Visit FantasyFishing.com today to find out more information and to register for next season.
National Guard co-angler Justin Lucas of Folsom, Calif., and Dan Cranston of Visalia, Calif., share the lead in the Co-angler Division each weighing in five bass at 15-10 followed by Michael Bryant of Discovery Bay, Calif., in second place with five bass weighing 12-14.
"I did my own thing today. I never do what my pro is doing," said Lucas, who is fresh off a win on the third stop of the National Guard Western Division at Columbia River in Tri-Cities, Wash. "I cast in different spots and use different baits."
Lucas caught his quality bass throwing Berkley worms on a drop-shot. He is fishing in 5 to 6 feet of water
"Tomorrow, I plan on doing the same thing behind a different pro and hopefully it works out for me," Lucas added. Rounding out the top five co-anglers are Randy Bruno of Huntington Beach, Calif. (five bass, 11-12) and Mike Dispensiero of San Marcos, Calif. (four bass, 11-09).
Jacob Crawford of Laguna Niguel, Calif., earned $212 for the Snickers Big Bass award in the Co-angler Division thanks to a 7-pound, 6-ounce bass.
Overall there were 277 bass weighing 505 pounds, 13 ounces caught by 95 co-anglers Wednesday. The catch included 27 five-bass limits.
Co-anglers are competing this week for a top award of $25,000. Like the pros, the top 30 co-anglers from both FLW Series divisions after four qualifying events are complete will advance to the East-West Fish-Off for a shot at qualifying for the Forrest Wood Cup.
Anglers will take off at 7:15 each morning from Russo's Marina located at 3995 Willow Road in Bethel Island, Calif. Thursday and Friday's weigh-in will be held at the marina beginning at 2 p.m. Saturday's weigh-in will be held at the Walmart store located at 4893 Lone Tree Way in Antioch, Calif., beginning at 4 p.m. Children will also be treated to a Family Fun Zone prior to Saturday's weigh-in from noon to 4 p.m. at Walmart. Activities in the Family Fun Zone include a trout pond, a Ranger boat simulator and assorted fishing-themed games. All activities are free and open to the public.
In FLW Series competition, pros and co-anglers are randomly paired each day, with pros supplying the boat, controlling boat movement and competing against other pros. Co-anglers fish from the back deck against other co-anglers. The entire field competes for the first three days, and co-angler competition concludes on day three with the winner determined by the heaviest accumulated three-day weight. The top 10 professionals continue competition on day four, and the winner is determined by the heaviest accumulated weight from all four days.
Coverage of the California Delta FLW Series tournament will be broadcast to 81 million FSN (Fox Sports Net) subscribers in the United States as part of the "FLW Outdoors" television program airing Dec. 14. "FLW Outdoors" is also broadcast in Canada on WFN (World Fishing Network) and to more than 429 million households in the United Kingdom, Europe, Russia, Australia, Africa, Asia, and the Middle East through a distribution agreement with Matchroom Sport, making it the most widely distributed fishing program in the world. The program airs Sunday mornings at 11 Eastern time in most markets. Check local listings for times in your area.
FLW Outdoors, named after Forrest L. Wood, the legendary founder of Ranger Boats, is the largest fishing tournament organization in the world. In 2008 alone the organization is offering more than 90,000 anglers the chance to win over $40 million through 230 tournaments in 10 circuits. FLW Outdoors also took fishing mainstream with the largest cash awards in the history of fantasy sports, $7.3 million.
For more information about FLW Outdoors and its tournaments, visit FLWOutdoors.com or call (270) 252-1000.
For more information about FLW Fantasy Fishing and Player's Advantage, visit FantasyFishing.com.
FLW Outdoors historically maintains a 98 percent live release rate in all of its bass tournaments.